Support Our Partners
Thanks to an incredible partnership with ALEX AND ANI | CHARITY BY DESIGN, patients, family members, supporters and friends of the Joe Andruzzi Foundation from around the globe can wear a "Live A Happy Life" Charm bangle on their arm as a reminder of our (Up)Beat philosophy and a source of inspiration every day.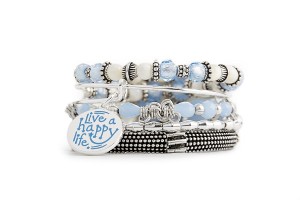 Twenty-percent of the sale price from every bangle directly supports JAF's mission of providing help, hope, and a reason to smile for cancer patients and their families by contributing financial and emotional support when it is needed most.

The Meaning Card that accompanies each bracelet perfectly encapsulates our mission. It states, "The path to living a happy life is inherently paved with hopefulness, and the journey offers no shortcuts. Hope cannot be fabricated or counterfeited – it is manifested in only those who first believe in its existence. You can find hope and you can give hope; we must always remember: as long as hope exists, the road to a happy life awaits."

Over the course of nearly four years, donations from ALEX AND ANI bangle sales have allowed JAF to assist nearly 700 patients and their families battling cancer. Simply incredible!

To learn more about the "Live A Happy Life" bangle, click here.

"Partnering with the Joe Andruzzi Foundation was a natural for us given our shared philosophy of approaching life – in spite of its challenges – with a positive attitude. When we learned about Joe Andruzzi's story – how he battled and overcame an aggressive form of cancer all while maintaining a sense of humor and a positive outlook, and how he has since co-founded the Joe Andruzzi Foundation to help others battling cancer – we knew we shared a core guiding principle of applying the power of positive energy to make a difference."

--Carolyn Rafaelian, Founder and CEO of ALEX AND ANI

The Joe Andruzzi Foundation is proud to partner with Honey Dew Donuts, New England's largest locally owned coffee and donut shop chain, to support cancer patients and their families.


In addition to month-long October initiatives in both 2014 and 2015 – where Honey Dew led consumer call-to-action campaigns to raise money for JAF by selling branded window decals – the North Attleboro, MA-based company helps raise awareness for our foundation by featuring the Joe Andruzzi Foundation logo on coffee cups found throughout more than 145 of its stores across Massachusetts, New Hampshire and Rhode Island.

Participating Honey Dew locations also sell a JAF-themed "(Up)Beat Donut" – a red and blue-sprinkled, chocolate frosted donut inspired by our Foundation's (Up)Beat Cancer mission. A portion of the proceeds from sales of the (Up)Beat Donut benefits JAF patients and their families.

To learn more about Honey Dew Donuts, visit www.HoneyDewDonuts.com, or visit one of their 145 stores across the region.

"We've built our business on the loyalty and support of our customers, and are always looking for ways to give back. We value the fact that the Joe Andruzzi Foundation is a local organization that serves our very own community in such an important way. We think one of the best ways to show our appreciation to our customers is to pay it forward, and JAF is a great partner because its mission perfectly aligns with our longstanding commitment to supporting cancer research and aid."

--Richard Bowen, Founder and President of Honey Dew Donuts

The Joe Andruzzi Foundation is proud to partner with NRG LAB, a fitness center located in Mansfield Crossing, on a number of initiatives this – including the gym becoming the Official Fitness Club of the JAF Employee Wellness Program. Additionally, local JAF cancer patient financial grant recipients will receive a free 90-day NRG LAB membership, and the fitness center has also become the proud partner of Team JAF athletes – offering membership opportunities and hosting quarterly JAF fundraisers for those raising money for the Foundation through events like the Boston Marathon® and the New Balance Falmouth Road Race®.

The center offers fantastic programs, a wonderful approach and an overall great wellness community our foundation is thrilled to be involved in. JAF looks forward to developing our relationship, and partnering on future events, in the months to come.

"We are thrilled to partner with the Joe Andruzzi Foundation and assist in driving awareness to the organization's mission. We are committed to providing a healthy lifestyle to our members and the community we serve."
 
— Luther White, President of NRG LAB


The Joe Andruzzi Foundation is excited partner with 20Lighter – a doctor-supervised weight loss program completely personalized for each individual client (like JAF President Joe Andruzzi!).

Visit www.20Lighter.com to learn more – and mention JAF when signing up and a portion of your program fee will be donated back to support Joe Andruzzi Foundation patient families!