Taking back the streets from Hopkinton to Boston, Team JAF's 21 athletes stepped out in full force, successfully completing the 126th Boston Marathon on Monday, April 18!  The sun was shining, the music was pumping, and spirits were high at JAF's cheer station.  While the training routes were long and challenging leading up to this legendary marathon, on this Monday, the roads were lined only with well-wishers and cheerleaders championing the resilient Team JAF runners many of whom were competing for the first time and all of whom carried their own personal inspirations.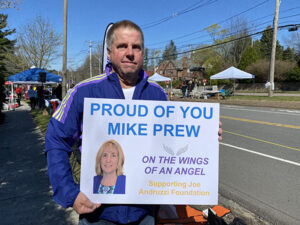 "It's an emotional day," said Herb Prew whose son, Mike, is a member of Team JAF. "He's running for his mother who we just lost this year to cancer.  We're so excited to be here to cheer him on and be a part of the JAF family.  We are so proud of Mike."
Frank Rispoli was also with his family at JAF's cheer station to watch his son, Nick, cruise through.  "We're so proud of him for taking on this challenge and for such a great cause."  Indeed, this was Nick's first-ever marathon, and he ran a solid pace being among the first runners to reach the JAF camp at mile 17.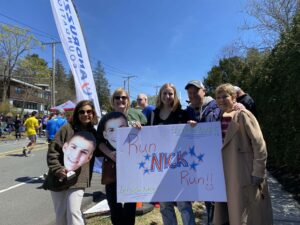 A sincere thank you goes out to all our Team JAF athletes – Lauren Arbeiter, Keri Blanchard, Casey Bradley, James Cole, Erin Columbare, Scott Conroy, Diana Garvin, Erin Gettys, Nolan Greene, Julie Moore, John Ponte, Michael Prew, Muzaffar Qazilbash, Nick Rispoli, David Santoro, Laura Schulz, Jordan Smith, Bart Stires, Todd Texeira, Celia Westbrook, and of course, JAF President and CEO Jen Andruzzi – for their months of training and hard work, and their steadfast commitment to the JAF mission. JAF's Marathon team turned 11 years old this year, Marathon runners raised more than $291,000 for patients and their families!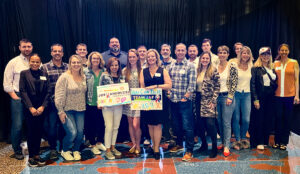 On the Saturday before the Marathon, Team JAF athletes met at Davio's Northern Italian Steakhouse in Boston's Back Bay, where they resumed their traditional pre-race pasta dinner after taking a year off due to the pandemic. There, a few of our athletes received special Team JAF superlatives. This year's winners are:
•
John Ponte AND Bart Stires
as Top Fundraiser
s
for their unwavering commitment to raise money for the Joe Andruzzi Foundation as a member of Team JAF.
•
Erin Columbare
 as Spirit Award winner for the runner who best represents an (Up)Beat attitude and dedication to JAF's mission throughout Marathon season.
•
Emily Gettys
as Best JAF Ambassador Award winner for the runner who's shown the most dedication to increasing awareness of the JAF mission throughout Marathon season.
•
Michael Prew
as the Unsung Hero Award winner for the Team JAF runner who best displays passion, perseverance, and determination throughout Marathon season.
JAF's success isn't possible without the talented organizations and individuals who generously gave their time or resources to the Foundation to help Team JAF conquer the finish line. They are:
•
John Hancock Non-Profit Program
,
B.A.A
,
and all the
marathon
volunteers
.
•
CharityTeams
–
Susan Hurley, Patrick McMahon
and
Rebecca Brown
and their official photographer,
Bud Morton Photography
for your
unwavering
support!
•
JAF
patient inspirations
– Julio, Jennifer, and Malia
.
•
Boston T-Party
for hosting
a
fundraising
event
to support
ALL
our runners and in
memory of
their
friend "T"
who loved Marathon Monday most of all
.
•
New Balance
for donating the AMAZING runner apparel
!
•
Davio
'
s Northern Italian Steakhouse
for hosting our annual pasta dinner.
•
The Jimmy Fund
's Lisa Scherber and
their
p
atients
for creating cheer signs.
•
Stacey Howard Photography
as
JAF's
official photographer.
•
617 Wedding & Events
and
DJ Julio Sanabia
,
Honey Dew Donuts
, Zen WTR, DMSE Sports, Miller's Famous Roast Beef
and all our 'cheerleaders' for
helping us to
creat
e
the best cheer station for runner families!
•
Marathon Sports
and
Star Market
for supplying
aid to fuel runners throughout the season
and to the
JAF water
s
top volunteers
who were
out in
all-weather
to support
our
athletes
!
If you couldn't watch the Marathon in-person this year, check out our Facebook photo album (below) for the best moments of the 2022 race.
Once again, thank you to all our dedicated runners, donors, and supporters who helped make Team JAF's journey to the finish line on Boylston Street a big success. If you still wish to donate, we will be accepting them until May 20. Click here to support an athlete!
2022 Team JAF Boston Marathon Runner Spotlights
JEN ANDRUZZI:  Foundation CEO to Run in Memory of Grant Recipient and Marathon Runner
JAMES COLE:  Right Timing for Boston Native to Run Marathon
LAURA SCHULZ:  With Her Own Parents in Mind, Team JAF Runner Asks Others to Donate a Mile of the Race to a Cancer Warrior
JORDAN SMITH: Team JAF Runner Takes Leap of Faith in First Marathon
BART STIRES:  Runner Honors Mother's Lesson of Giving Back