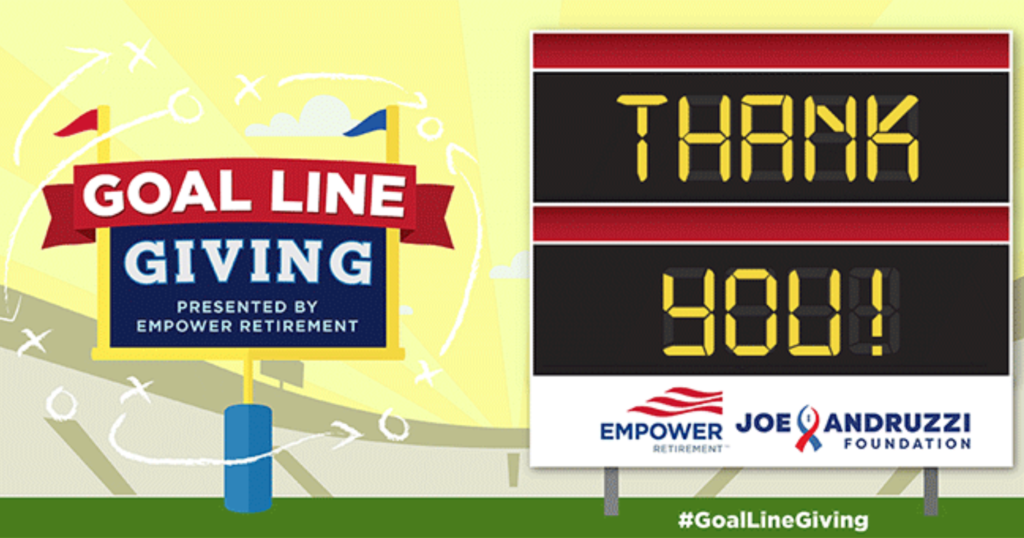 The Joe Andruzzi Foundation once again teamed-up with Empower Retirement to tackle cancer's impact on the football field through the 2018-2019 Goal Line Giving campaign!
For every point New England scored during the 2018 regular season, Empower Retirement pledged to donate $50 towards the Joe Andruzzi Foundation's mission of providing financial assistance to cancer patients and families – helping them focus on recovery, not bills.
That meant New England points scored on the football field had even greater meaning this past season – allowing the Joe Andruzzi Foundation to potentially support families in numerous ways, for example:
Touchdown (6 points = $300) – assisting with a patient's car/automotive payment
Field Goal (3 points = $150) – cost of a patient's monthly gas bill
Safety/2 Pt. Conversion (2 points = $100) – helping the Foundation assist with a patient's phone bill
Extra Point (1 point = $50) – helping with a patient's electric bill
After a successful year on the field, New England scored a total of 436 points – equaling a donation of $21,800. Empower Retirement then generously rounded-up the donation to an even $25,000 donation!
Thank you, Empower, for your commitment to JAF's mission, as well as everyone who followed along and engaged-with the 2018-2019 campaign!
"The Joe Andruzzi Foundation is committed to doing some outstanding work in support of families who need help during difficult times. We are proud to support those efforts and to help raise awareness of the Foundation's mission. Every time New England scores this season we'll have even more reason to celebrate."

– Edmund F. Murphy III, President, Empower Retirement