Annual Impact Report – 2019
MESSAGE FROM OUR PRESIDENT AND CEO
Dear Friends,
2019 was an important year for the Joe Andruzzi Foundation — one in which the organization reached a significant, if not bittersweet, milestone. After 11 years of hard work, dedication, and drive, JAF's Financial Assistance Program awarded its 10,000th grant to a local cancer patient in need. On that special day at Dana-Farber Cancer Institute in Boston, Joe and I had the honor of hand delivering this grant to Katie Crowell — a strong-willed wife and mother of two beautiful girls, who has been fearlessly battling stage IV breast cancer since she was pregnant with her youngest in 2015. While the time we spent with Katie was one of the most inspiring moments in JAF's history, it was also a time for thoughtful reflection as we understood the reality facing us — that there are another 10,000 patients just like Katie who are also in need of JAF's assistance.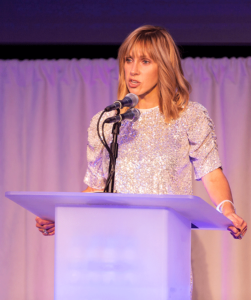 The issue of the cost of cancer goes deeper than just the staggering number of lives that are impacted. It is the understanding that behind each statistic is a person who is scared and alone, potentially facing the impossible choice between life-saving treatment or safely staying in their home while they heal.
Since the Foundation began, we have worked tirelessly to help New England cancer patients and their families who share stories of being blindsided by unexpected out-of-pocket medical expenses at a time when their household income has significantly decreased — all while their everyday bills keep piling up. By providing direct financial assistance for household bills, JAF has been able to help ensure that the financial barriers of cancer treatment do not mean the destruction of a patient's health and financial security.
Now more than ever, JAF remains committed to raising awareness of the financial barriers cancer patients face and providing financial support so they can focus on their medical treatment and recovery.
On behalf of the New England cancer patients and families we serve, thank you for your continued support and belief in our mission.
With gratitude,
Jen Andruzzi
President and CEO
Joe Andruzzi Foundation