Annual Impact Report – 2020
A MESSAGE FROM OUR PRESIDENT AND CEO
Dear Friends,
The Joe Andruzzi Foundation (JAF) would describe our story in 2020 as nothing short of remarkable. In a year defined by a global pandemic, the Foundation found inspiration, renewed purpose, and even managed to innovate during the most uncertain times.
Despite all the hardships associated with COVID-19, the Foundation was blessed to have the wisdom of our volunteer Board of Directors and Committees providing their guidance, keeping us focused on our mission and strengths.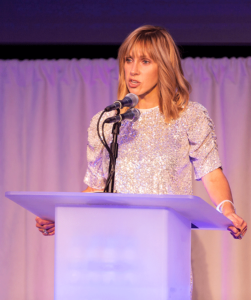 We created a COVID-19 Task Force to help navigate the ever-changing protocols and prioritize the health and wellness of staff and our patients. We listened carefully to our New England medical community partners, who shared their first-hand knowledge of what patients were facing and what they needed. To say our staff pivoted in 2020 is an understatement. The JAF team worked tirelessly to raise critical funds and award them almost simultaneously without missing a beat despite every challenge thrown their way.
The world now had a unique perspective on some of the daily struggles patients living with cancer had faced long before COVID-19 arrived — isolation, fear, and economic uncertainties. Once exclusive to those facing the disease, the pandemic gave all of us a sense of what it means to live with those feelings. While the world cautiously moves back to its pre-pandemic norms, we hope the awareness and empathy remain.
JAF has taken the valuable lessons learned in 2020 into 2021, emerging as even better and more creative stewards of our resources. The Foundation remains committed to alleviating the financial burdens that too often accompany a cancer diagnosis, serving as a lifeline and allowing patients to focus on their care. It is no coincidence that the very mission that drives our work at JAF — help, hope, and a reason to smile — is precisely what allowed us to navigate an unprecedented year.
We are grateful to each of you who joined us on our journey in 2020. Thank you for believing in our work and so often being the light we needed to help so many others in need.
With gratitude,
Jen Andruzzi
President and CEO
Joe Andruzzi Foundation