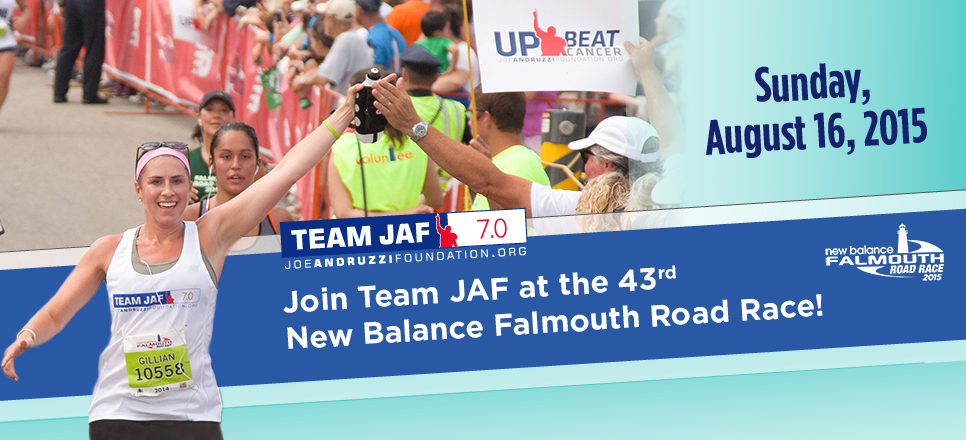 It seems like we just crossed the Boston Marathon finish line, and now we're on to Cape Cod – will YOU come along for the ride?
The Joe Andruzzi Foundation's Team JAF runners will once again take strides against cancer at the 43rd New Balance Falmouth Road Race in Woods Hole on Sunday, August 16, 2015, and we're looking to field our strongest team ever!
Members of Team JAF will join the field of more than 12,000 runners as we gather for the scenic 7-mile run in the heart of Cape Cod – all to raise funds in support of JAF's mission of providing help, hope, and a reason to smile for cancer patients and their families. The event is widely regarded as one of the most enjoyable road races in New England, and has become a staple in not just the coastal community, but also the charitable one.
Do you want to run with Team JAF this year? Visit our Falmouth Road Race event page and fill out our online application (a $35 non-refundable fee applies for all submissions). Runners who need a guaranteed entry through the Foundation are required to fundraise a minimum of $1,250, and runners who have their own entry but wish to join the team are required to fundraise a minimum of $500 — all of which directly supports Joe Andruzzi Foundation patient-families.
Our team had a blast running the gorgeous course in 2014, raising more than $100,000 for the Foundation – and we're looking to exceed it in 2015!
We set the bar high, but each dollar we raise helps cancer patients pay necessary bills, allowing them to focus on what really matters — getting better.
Team JAF runners are also encouraged to spread our (Up)Beat philosophy as they fundraise and compete, showing how a positive attitude can conquer any hurdle. From something as simple as running a race, to something as strenuous as battling cancer, a positive outlook can transform the outcome.
So push yourself, help support cancer patients, and run with us towards the finish line. And remember the Team JAF mantra – Always Run To. Always Run For. Never Run From.
Happy running!
– Jen Andruzzi