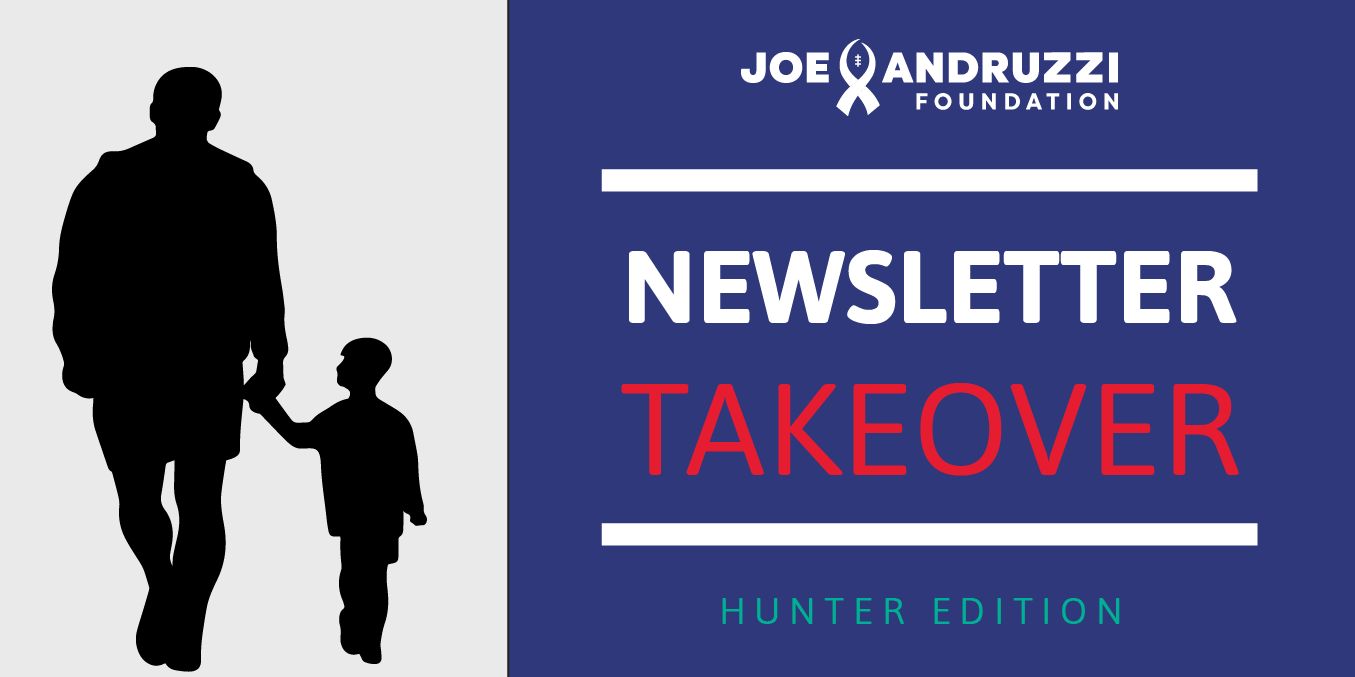 (Up)Beat (Up)Date
My first experience with cancer started in 2002, at age 5, when I met a teenage boy who introduced me to the wonderful world of video games. From playing "ATV Offroad Fury" or "Madden NFL" (always as the New England Patriots) on a PlayStation 2 to sitting in his parent's living room learning how to play "Mancala", he taught me so much.
That new friend was CJ Buckley, a young man who inspired so much of my parents' early work in the cancer space. At that young age, I had no idea the pain and suffering that CJ endured or what was to come for my own family.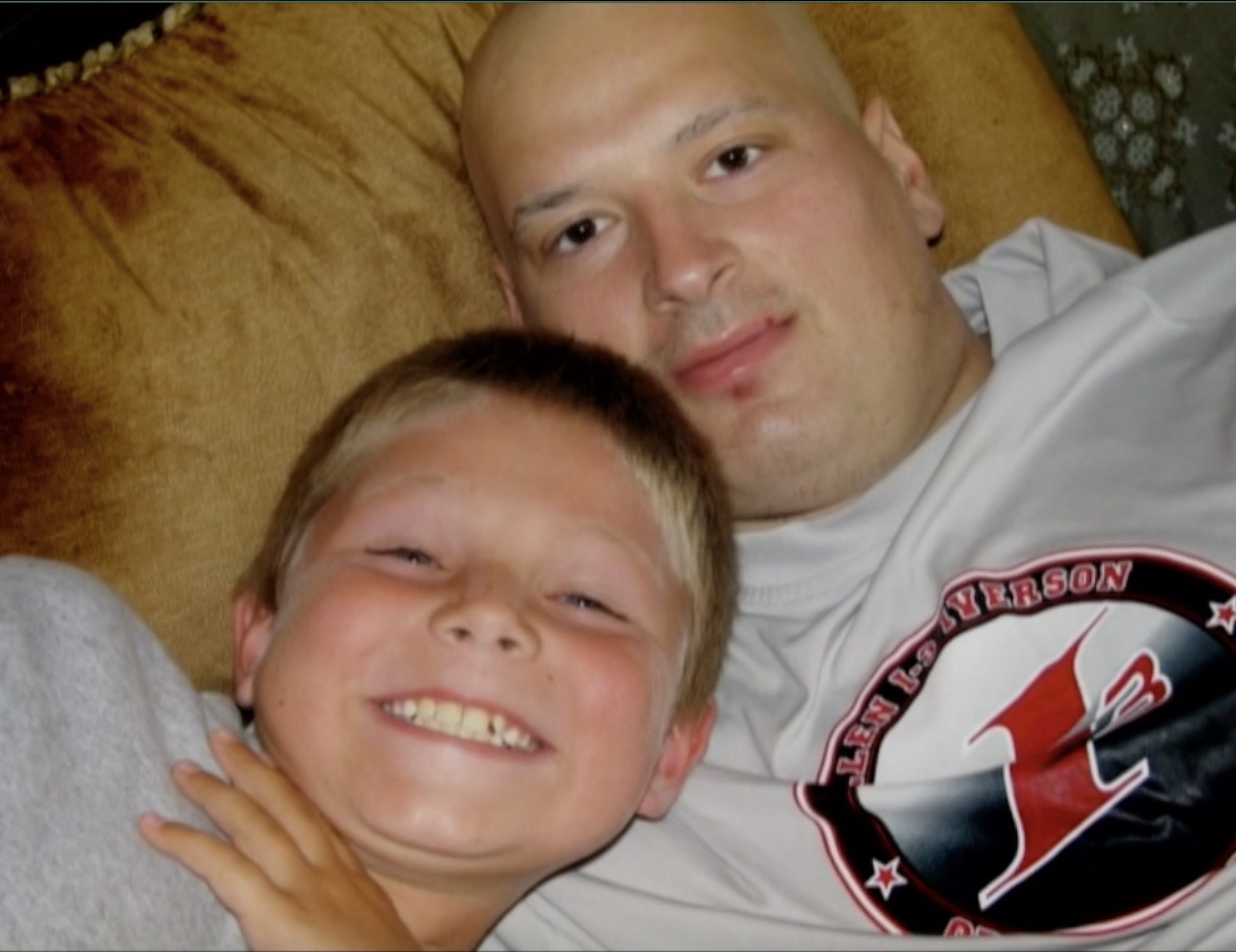 In 2007, cancer came closer to our family. At age 10, I was far more aware of what was truly happening and saw that it was much more than just losing your hair or staying in bed. From the moment my mom sat us down and read us the book When Someone You Love Has Cancer by Alaric Lewis, I knew things were serious.
Listening to the pain in my mom's voice as she flipped through the pages, I realized that I could be losing the person I admired and dreamed of being like one day, my dad, Joe Andruzzi. Whether sitting in his hospital bed watching Everyone's Hero or watching the original Mario Brothers show, being near him and making sure he was okay was all I wanted to do. Those moments together, laughing or doing 'normal' things, made all the difference.
When my parents started this foundation in 2008, I always saw myself contributing to the mission someday. So, I was thrilled when the opportunity to formally join the team arrived in June. Working alongside my colleagues in the Programs Department every day, we help deliver support directly to cancer patients, creating events and opportunities that bring joy, laughter, and relief to others going through a cancer journey (something that helped me many years ago).
Our work to help cancer patients manage the emotional challenges accompanying a cancer diagnosis is truly meaningful. Being a part of our Programs Department, helping create our (Up)Beat Events and Wellness activities is something that I love doing. If you'd like to join me in developing more moments of joy for cancer patients and their families, please reach out to me at hunter@joeandruzzifoundation.org!
Hunter Andruzzi
Patient and Family Wellness Coordinator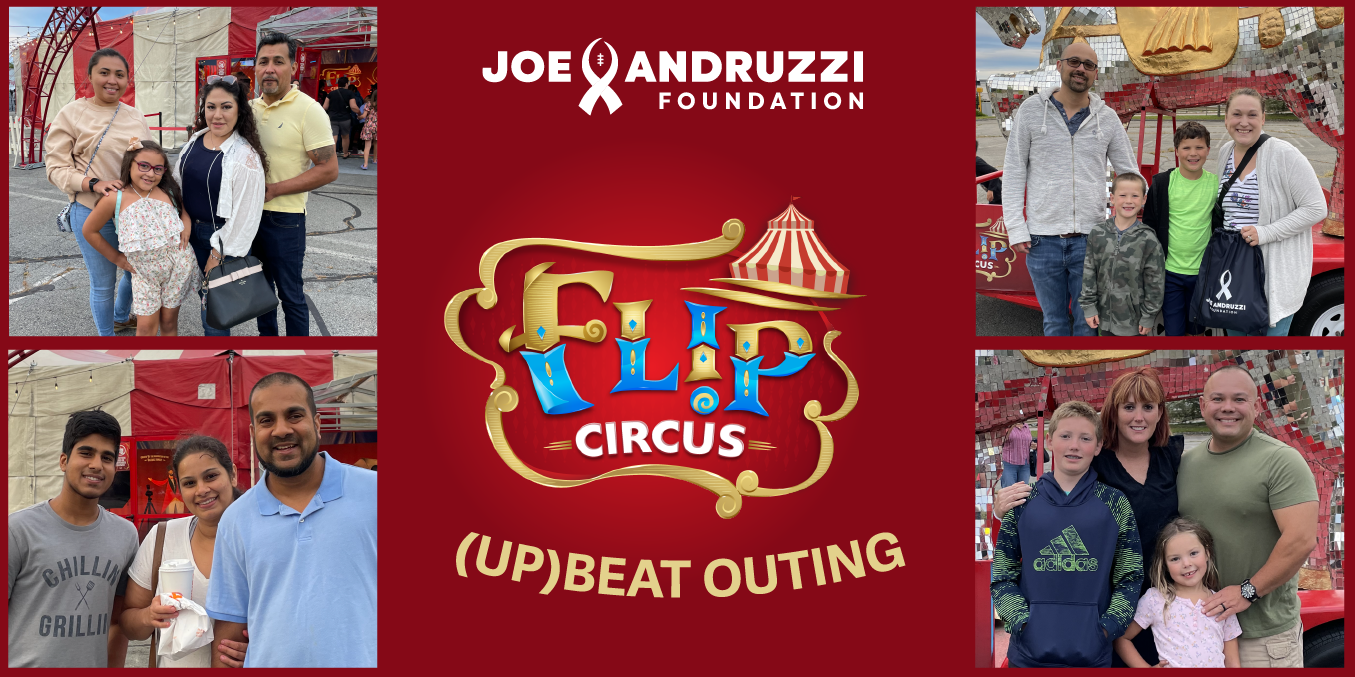 Patients 'Flip' for Day at the Circus
On Thursday, August 24, six JAF patient recipients and their families enjoyed a night full of daring feats at the Emerald Square Mall in North Attleboro, MA. Guests entered the red and white striped tent to smells of popcorn and wowed at jaw-dropping sights of performers jumping over six people at a time!
Each patient recipient and their family received a Foundation swag bag full of yummy treats, a signed photo from Joe Andruzzi, and a generous gift card provided by BJ's Restaurant and Brewhouse. Thank you to everyone at Flip Circus for bringing joy and laughter to our patients!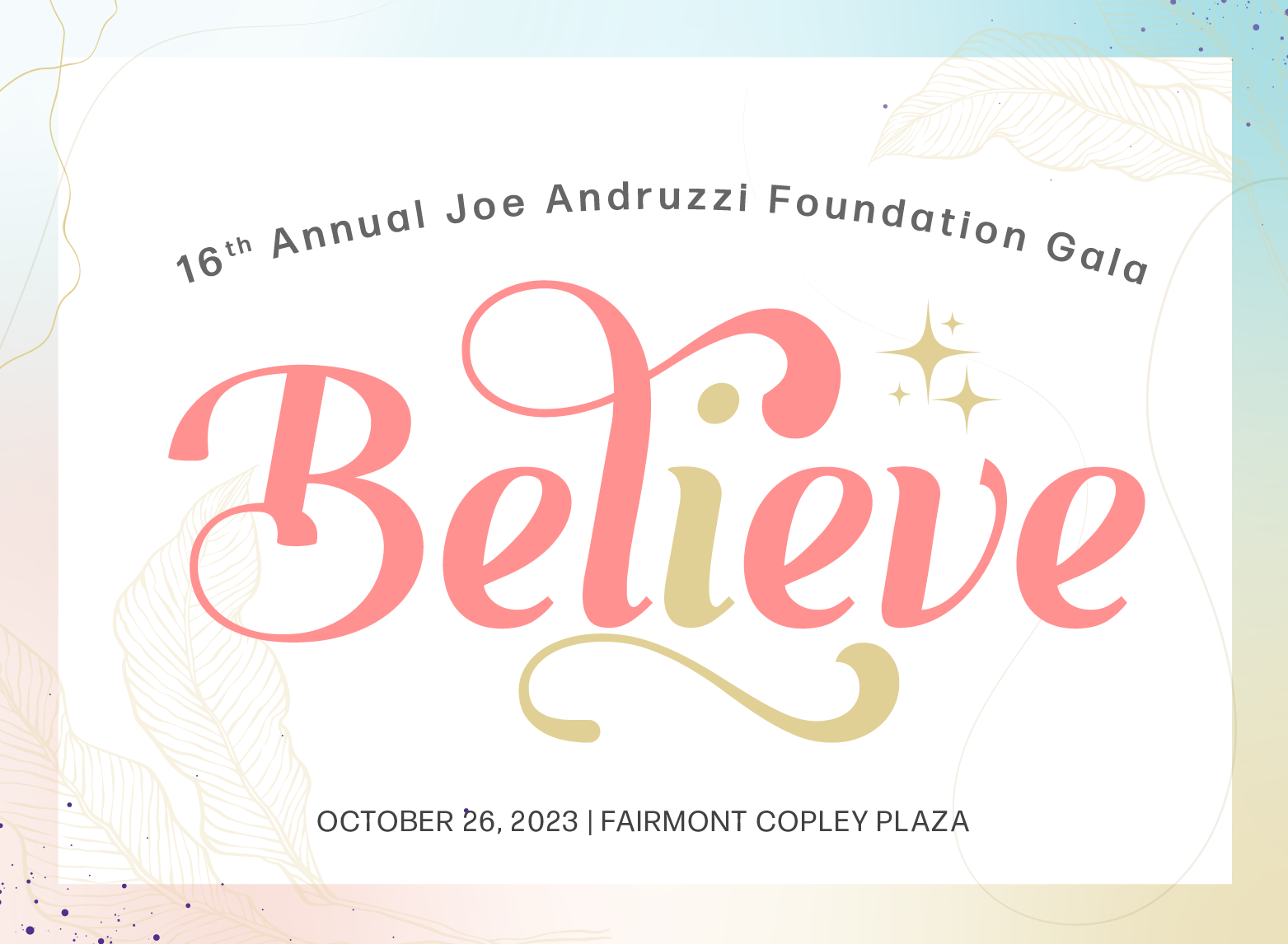 Gala Tickets on Sale Next Week!
JAF's 16th Annual Gala is coming to BOSTON, MA, as the event will be held on Thursday, October 26, 2023, at the Fairmont Copley Plaza.
Gala tickets will go on sale to the public on Thursday, September 7. If you would like to be added to JAF's pre-sale notification list, please contact Erica Mancini at erica@joeandruzzifoundation.org.
Sponsorship opportunities for this year's Gala are still available for you and your company to purchase! Click HERE to view our menu of sponsorships that offer incredible brand recognition within our community and estimated 450 in-person guests. For more information, contact Nicole Anderson at nicole@joeandruzzifoundation.org.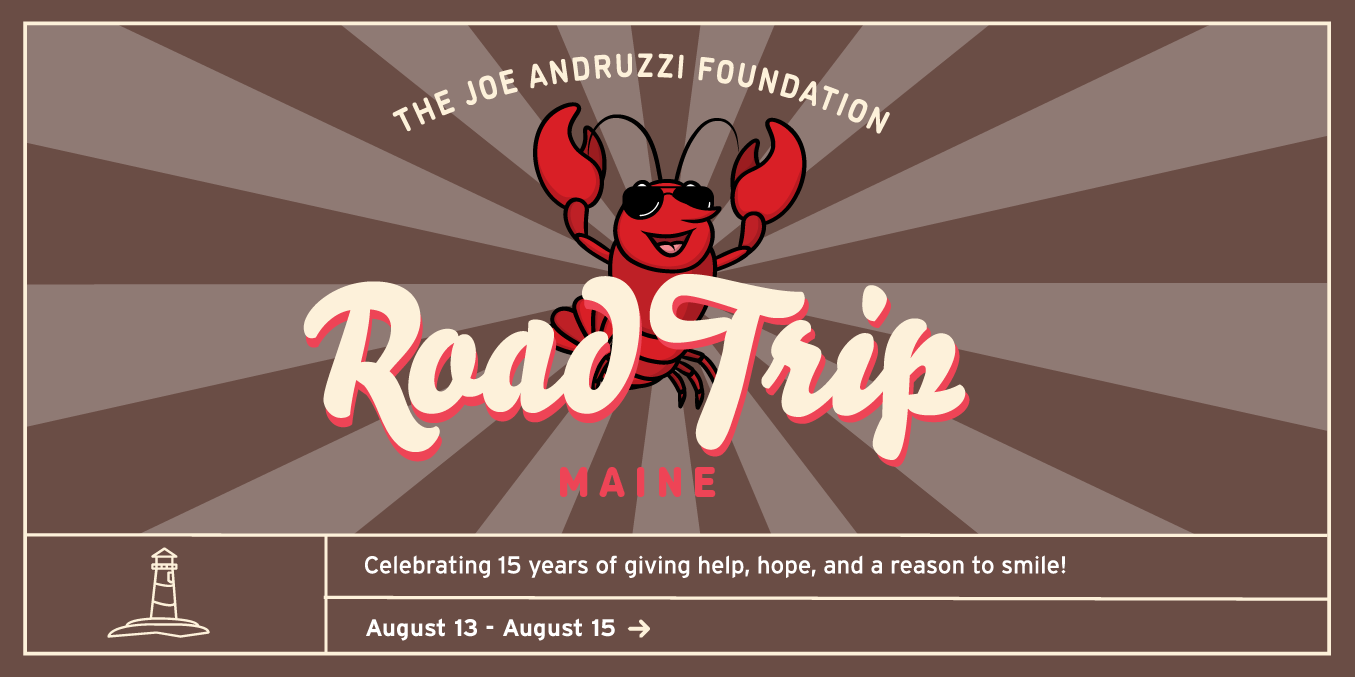 Memorable Maine Road Trip
JAF's 15th Anniversary Road Trip returned this month with a stop in Maine! Joe and the Foundation team traveled all across the Pine Tree State to see our healthcare friends, including those at New England Cancer Specialists, Central Maine Medical Center, and Northern Light Hospital.
A wonderful visit made even more impactful by the people and places that made us feel so welcome! Read the full recap below.
Next up: New Hampshire – September 13 to 15. More information coming soon!
To get involved with JAF for our last (but not least) trip to Connecticut in November, contact Brendan Beauregard at brendan@joeandruzzifoundation.org.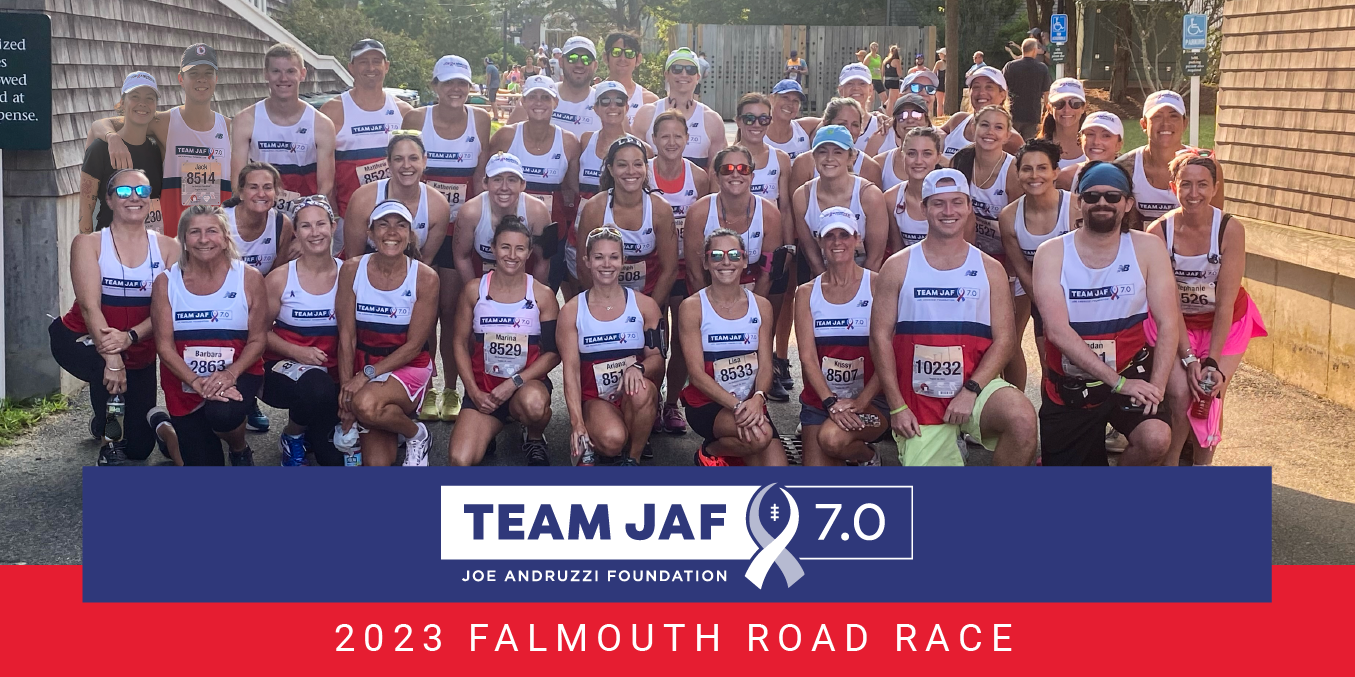 Team JAF Triumphs in Falmouth
Sunday, August 20, was a beautiful day for JAF to run the 2023 ASICS Falmouth Road Race! Team JAF boasted 51 incredible athletes who participated in the 51st edition of the seven-mile course, and the team raised more than $95,000 to support JAF's mission–surpassing the Foundation's $70,000 fundraising goal. Congratulations to all of our Falmouth runners!
Want to run for JAF? You still have a chance! The Foundation is looking for athletes to run in the Eversource Hartford Marathon and Half Marathon on Saturday, October 14. Click HERE to learn more or contact Erica Mancini at erica@joeandruzzifoundation.org.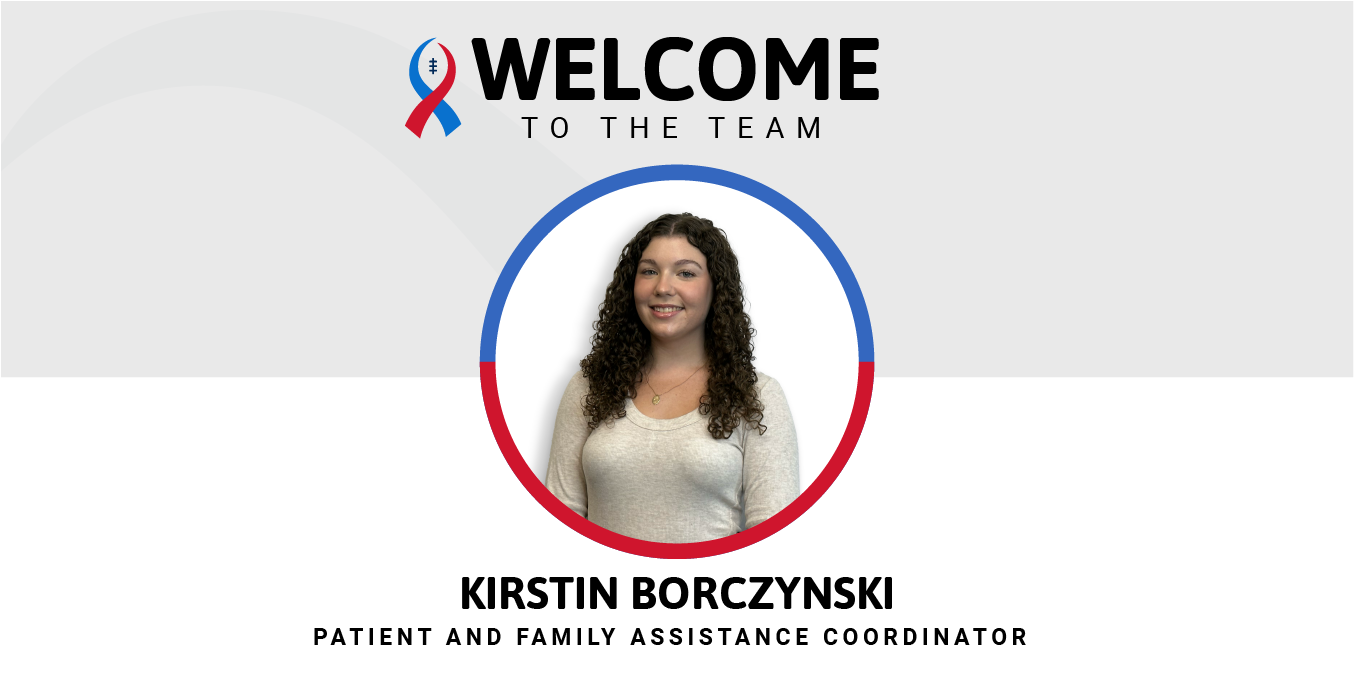 Welcome Kirstin!
JAF is so happy to announce our newest staff member, Kirstin Borczynski!
Kirstin joins our Programs team as JAF's Patient and Family Assistance Coordinator, supporting the Foundation's programs team and assisting with the patient grant application process.
Learn more about Kirstin HERE.