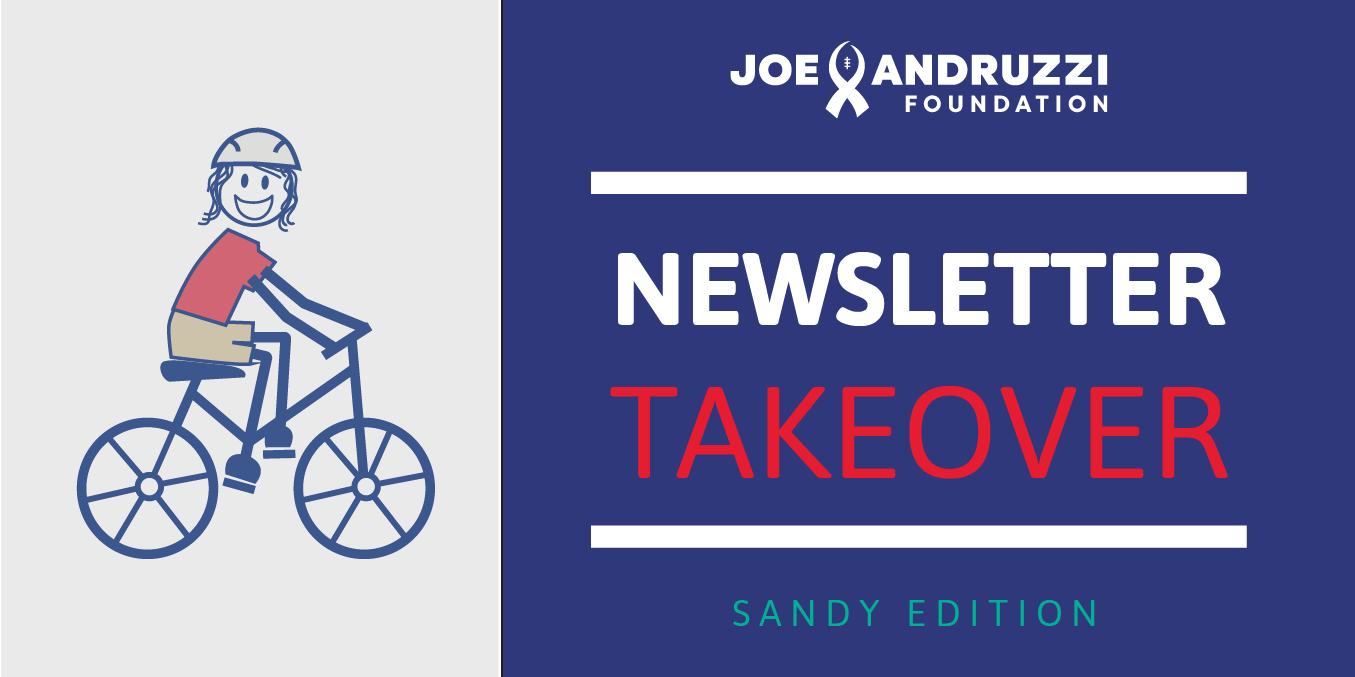 (Up)Beat (Up)Date
Welcome to my takeover of the Joe Andruzzi Foundation (JAF) newsletter! I call it the "Life is Good" edition. Every day I try and remember this slogan (not to mention it's my favorite brand of t-shirt) because we are all so fortunate to have this life we live, and not for one moment do I take it for granted.
I'm the old girl of the group—besides Jen and Joe, I am the longest-tenured employee (almost 11 years and counting!). I've met some fantastic folks over the years, making some great memories as a part of the JAF team. I met Jen and Joe on the soccer field first, then the Relay for Life track next, and finally, the workforce. Together we've worked on galas, marathons, road races, and (Up)Beat events.
I think the (Up)Beat events are my favorite – especially the Codzilla Thrill Ride in the summer, watching the patients and their families smile, giggle, and – for a few hours anyway – forget the diagnosis that has changed their life.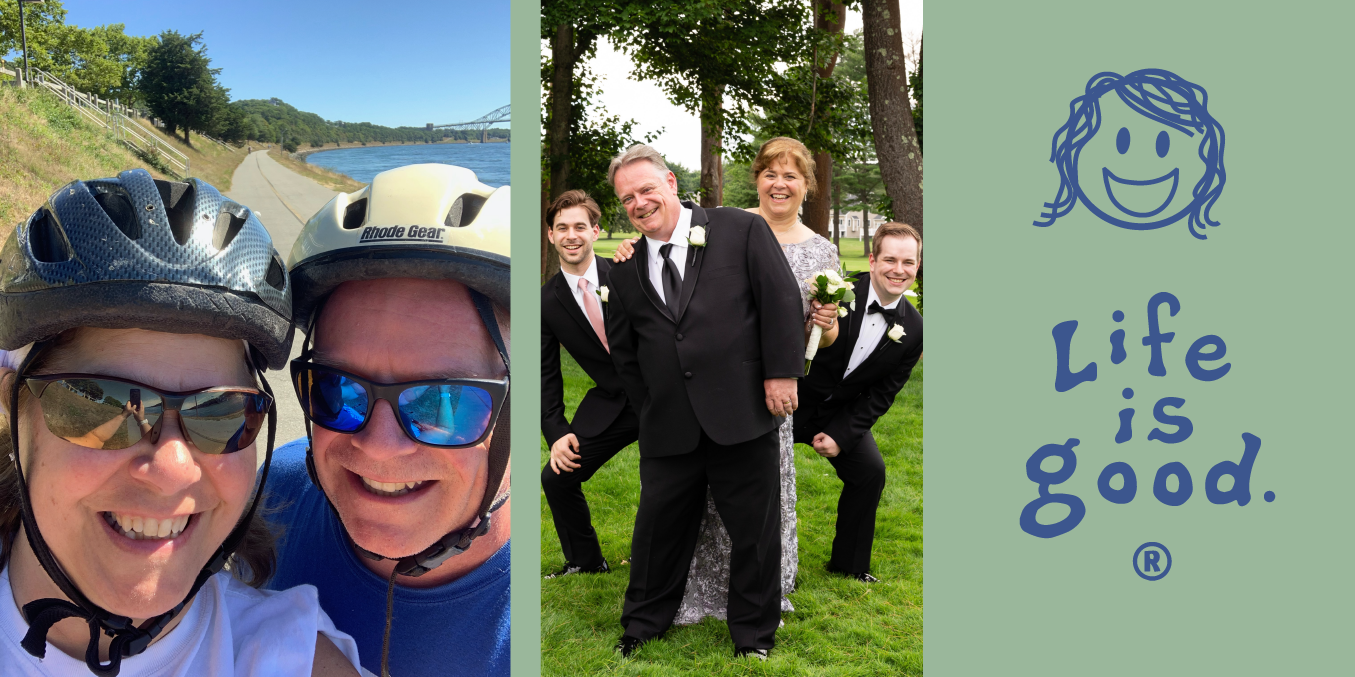 In my role at JAF, I have the distinction of being the 'money girl.' Donations come through the door, and I enter them into our database, report on them, and analyze why we are so fortunate to be the recipient of these gifts. If you are reading this, you likely have received a thank you from me at some point.
I also manage the Bridge Builder program – 79 incredible individuals and families strong who generously give a monthly gift. Thanks to them, JAF receives more than $3,600 in sustainable giving each month.
My favorite part of my job is hearing from the donors – your stories, your sentiments, your WHY – shared in your communications to the Foundation. I read and share each one with the team. It is my honor to be a part of JAF, and if what I do contributes to ensuring help for a cancer patient and their family, then I can lay my head down at night and know I've made a difference.
Our work, made possible by your gifts, allows others going through cancer to feel supported and may even have them saying to themselves, "Life is Good"!
Sandy Clinton
Development Operations Manager
P.S. I had the pleasure of being a part of the JAF crew (and the unofficial tour guide) who traveled to Vermont on our recent Road Trip. What an amazing visit! Plus, I had the opportunity to meet with one of my Bridge Builders – Stephanie Fraser! Read all about it in our recap below.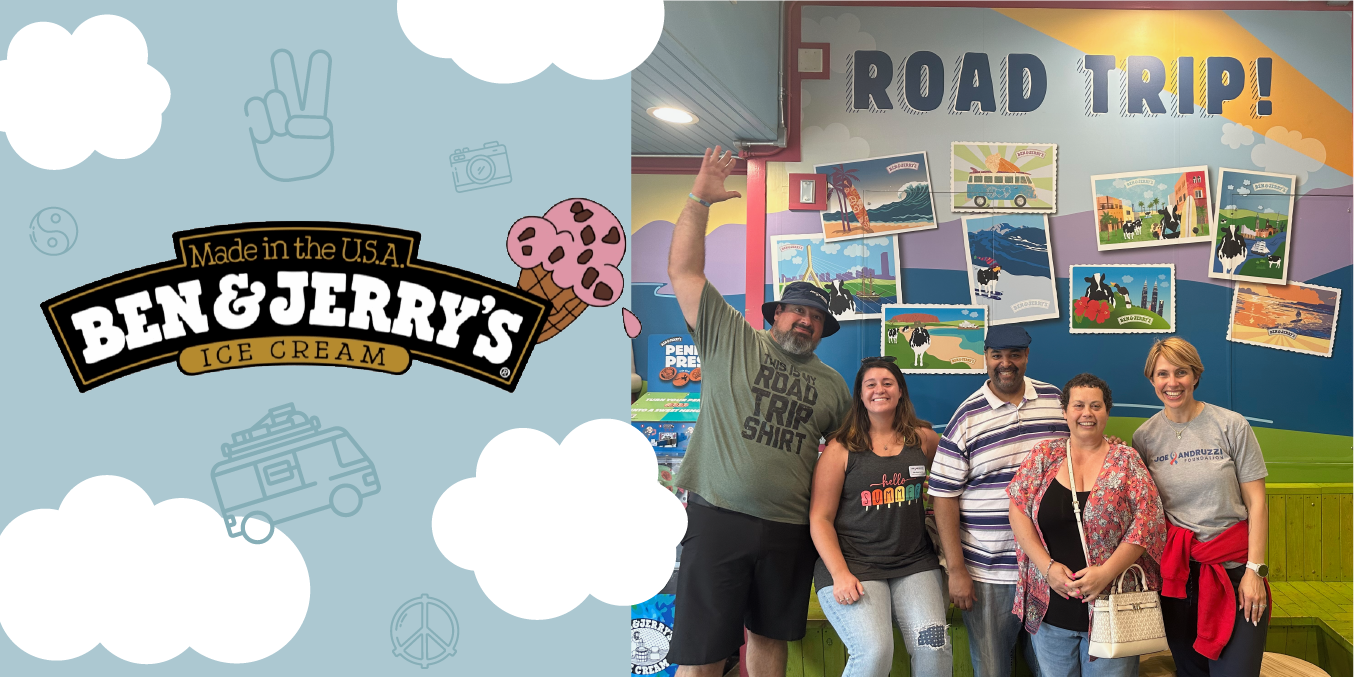 (Up)Beat: Getting the Scoop at Ben & Jerry's
I scream, you scream, we all scream for ice cream and the secret recipe! JAF kicked off its Vermont Road Trip with an (Up)Beat Event at Ben & Jerry's factory in Waterbury, VT, on Tuesday, June 20. JAF team members, patient recipients, and their family members participated in a factory tour where we saw firsthand how 250,000 pints of ice cream are made daily.
Despite our best efforts, we didn't get any secret recipes for their famous flavors. Still, the tour ended with a special tasting of their new ice cream, Butterscotch'd, a delicious mix of butterscotch swirls and fudge-covered pretzel pieces that can be found only in scoop stores. Just to be sure, Joe tried five samples before giving it five stars! Smiles all around on this afternoon set against the beautiful backdrop of Vermont mountain scenery.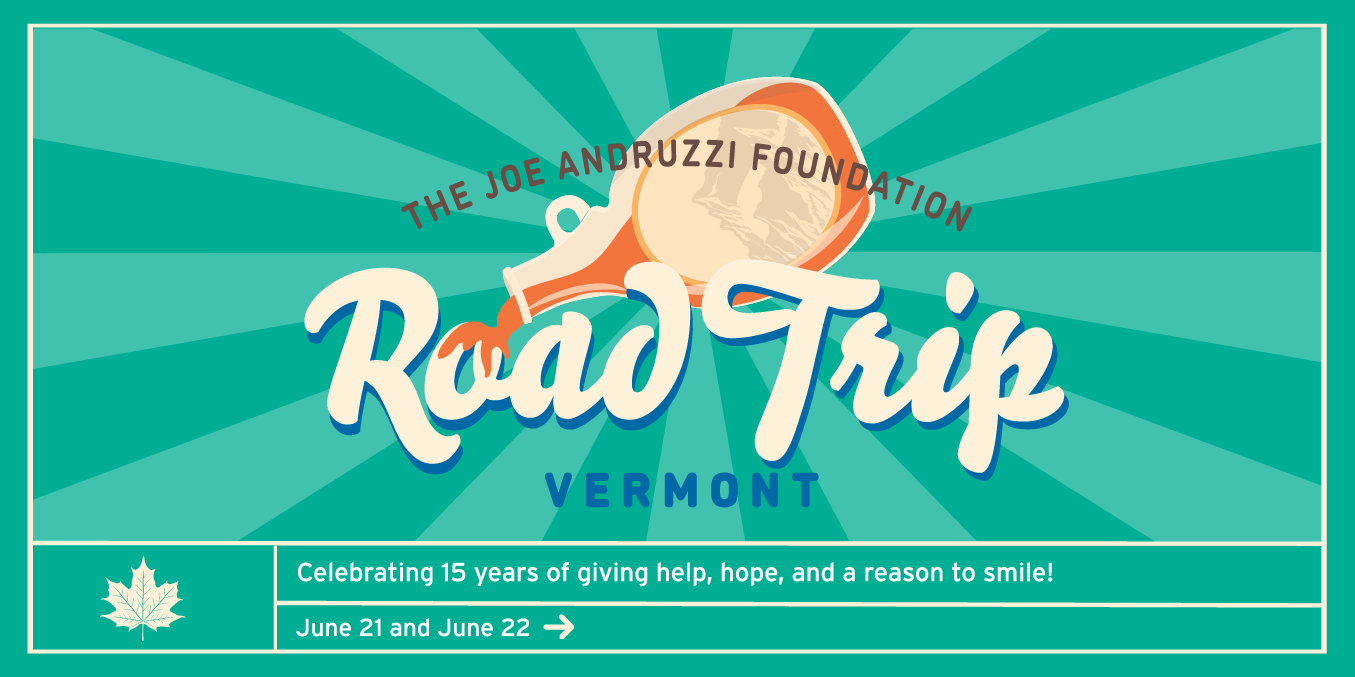 JAF Road Trip Brings Smiles to Vermont
JAF's 15th Anniversary Road Trip was back in full swing last week as the Foundation headed up north to Vermont!
Joe, Jen, and the team visited our friends at the University of Vermont Medical Center/Cancer Center in Burlington. Our Programs team met with UVM's patient navigators while Joe and Jen visited with patients.
The team also made a special surprise visit to Nora, a pediatric JAF patient grant recipient, and her beautiful family in Hancock, Vermont. For a full recap of JAF's time in Vermont, click the link below. Thank you to all our friends in the Green Mountain State for having us!
Want to get involved with JAF during its Road Trip? We are looking for official sponsors and event hosts in New Hampshire (September) and Connecticut (November). Contact Brendan Beauregard at brendan@joeandruzzifoundation.org.
Next up: Maine – August 13 to 17. More information coming soon!
JAF Golf Tournament Scores Big for Cancer Patients
Fore! On Monday, June 12, JAF held the 15th Annual Joe Andruzzi & Friends Golf Tournament presented by East Commerce Solutions at Black Rock Country Club in Hingham, MA.
It was yet another beautiful and record-breaking day on the course, and thanks to the generous contributions from our supporters, the event raised more than $392,000!
Of that amount, more than $51,000 will fund JAF's expansion of Extraordinary Needs assistance to include adult patient recipients. Extraordinary Needs supports New England cancer patients on case-by-case projects that present a barrier to treatment, such as fertility preservation and home modifications.
Thank you to everyone who supported this event. Whether you played, sponsored, bid, or bought a helicopter ball, you helped make a difference for cancer patients in your community!  Click below to enjoy a recap of the event.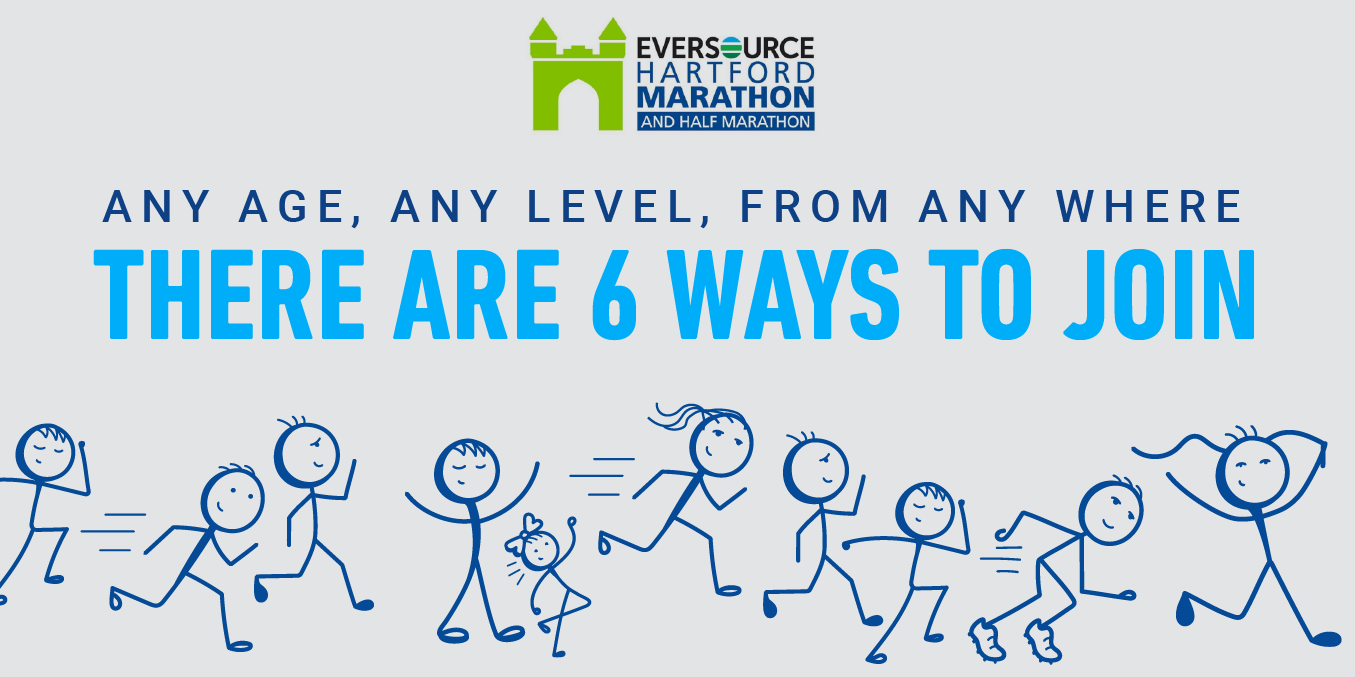 Attn: Hartford Area Supporters! NEW Opportunity to Support Team JAF
JAF is so excited to announce that we are going to Hartford, Connecticut, to participate in the 30th edition of the Eversource Hartford Marathon and Half Marathon on Saturday, October 14, 2023!
The event has something for the whole family as participants can run or walk the Charity 5K, volunteer with a group, get a team of two to five runners together for the Team 26.2 Relay, run the half marathon or full marathon, and let the kiddos join the action in the HMF FitKids races.
Team JAF is looking for athletes interested in participating and raising funds for the Foundation through one of the following ways:
Marathon (26.2)
Half marathon (13.1)
Team 26.2 relay; or
Charity 5K
We are also looking to recruit VOLUNTEERS for the event – individuals, friend groups, and work groups are welcome! There is something for everyone in Hartford!
For more information, contact Erica Mancini at erica@joeandruzzifoundation.org.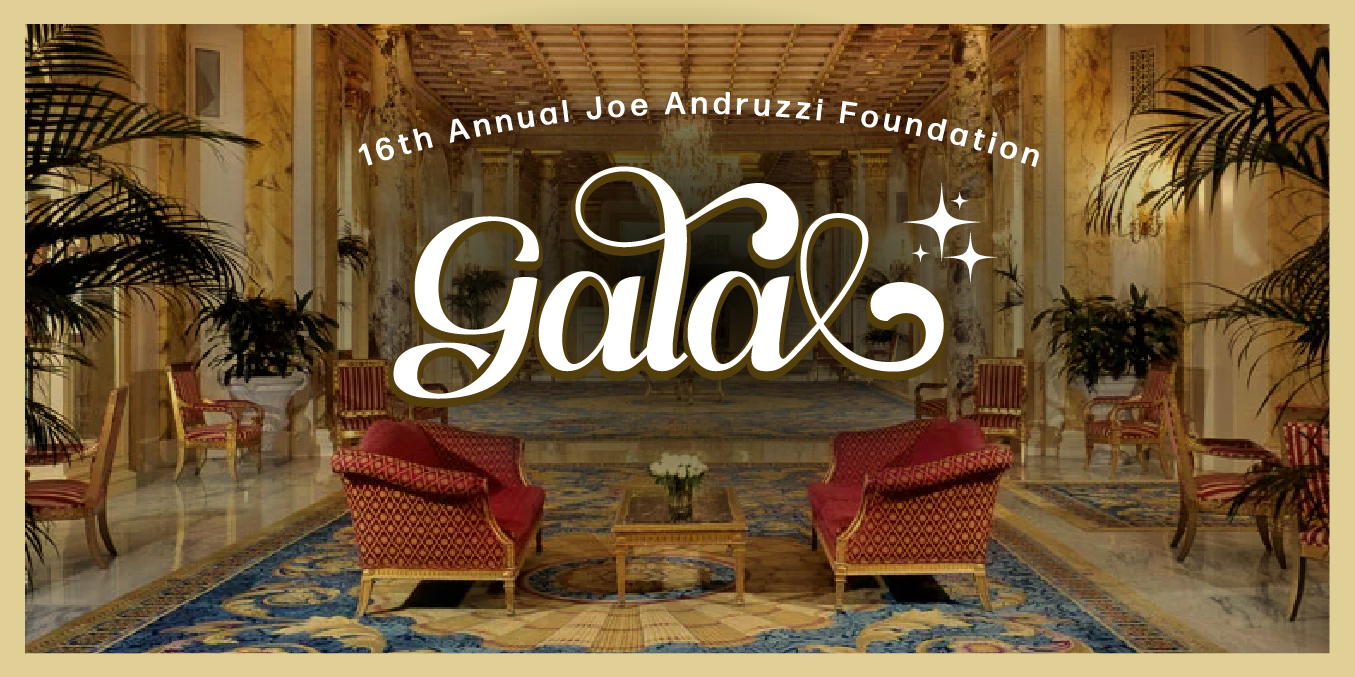 Gala Sponsorship Opportunities Now Available!
The Joe Andruzzi Foundation's 16th Annual Gala is set for BOSTON on Thursday, October 26, 2023, at the Fairmont Copley Plaza, 138 James Avenue, Boston, MA.
Planning for JAF's signature event is well underway, and it's going to be spectacular for our Boston debut! Tickets will go on sale later this summer. Until then, be sure to save the date!
Right now, the Foundation is booking event sponsors at all levels. If you or your company are interested in joining Joe and Jen in supporting New England cancer patients, please contact Nicole Anderson at nicole@joeandruzzifoundation.org. Seating at this extraordinary venue will be limited, but opportunities for sponsors to reach the tens of thousands of members of the JAF community are limitless.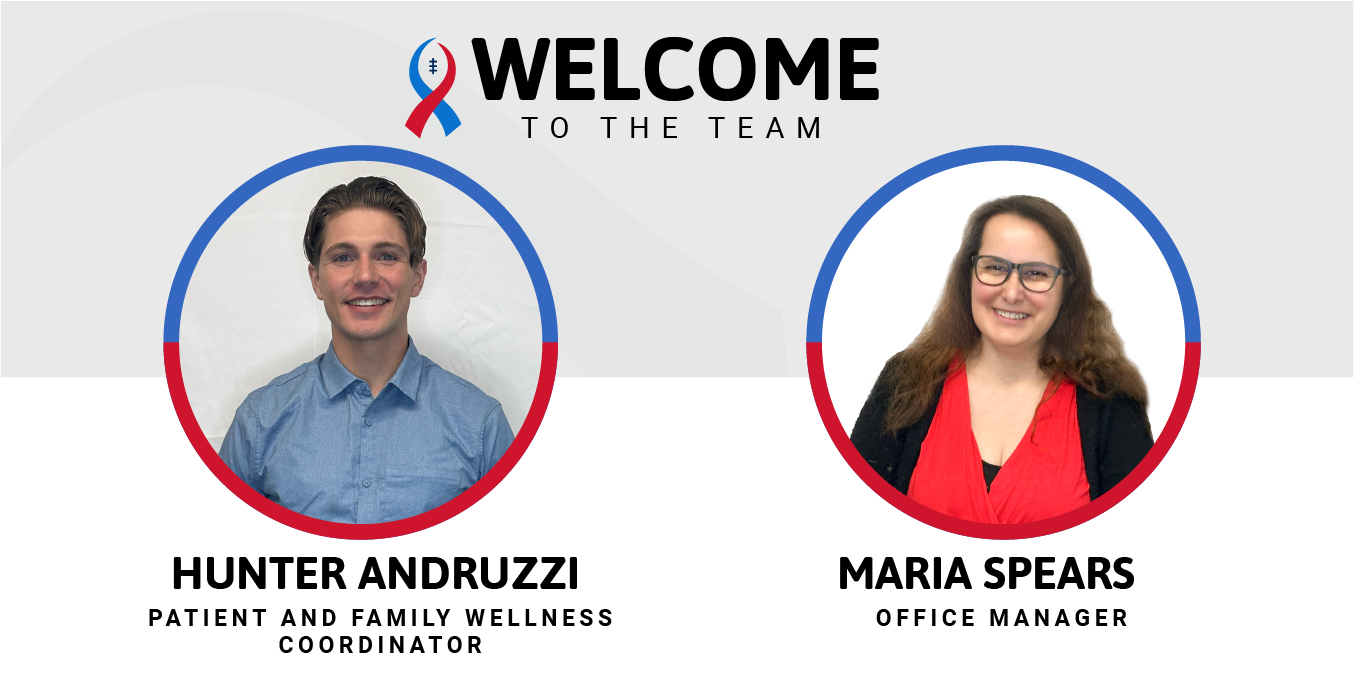 Welcome, Hunter and Maria!
JAF is thrilled to welcome aboard our two newest staff members, Hunter Andruzzi and Maria Spears!
No stranger to the JAF community, Hunter joins the Foundation as the Patient and Family Wellness Coordinator. As part of the Programs team, Hunter will conduct outreach to patients surrounding support services and help manage events.
Maria serves on the Operations team as the Office Manager. She assists with the day-to-day needs of JAF and oversees the administrative operations.
Learn more about our new hires Hunter and Maria!