The Joe Andruzzi Foundation (JAF) team traveled to Burlington, Vermont, the week of June 20 on the third stop of the six-state 15th Anniversary Road Trip. It was our furthest trip yet, and the Green Mountain State didn't disappoint with beautiful scenery and great communities filled with amazing people who gave JAF a warm welcome!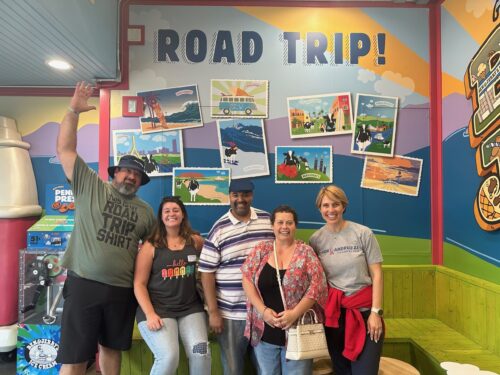 Starting on Tuesday at the world-renown Ben & Jerry's Ice Cream Factory in Waterbury, VT, JAF hosted two patient families for a private behind-the-scenes tour of how the ice cream is made, followed by a tasty ice cream social.
Wednesday was an inspiring morning with our friends at the University of Vermont Cancer Center (UVMCC) in Burlington. Joe and Jen Andruzzi visited the infusion center, meeting with cancer patients.
JAF Programs staff met with UVM social workers and hospital administrators regarding JAF's assistance and other programs available to patients. The entire team was so impressed with the team at UVM, their facilities, and their incredible commitment to the cancer patients they serve.
"Connecting with our health care partners in the oncology space to identify what cancer patients and families need and how JAF can offer meaningful support is at the cornerstone of all we do," Foundation CEO and President Jen Andruzzi said. "Our visit today is to share not only what resources JAF currently offers, but how we can work together to do more in the future."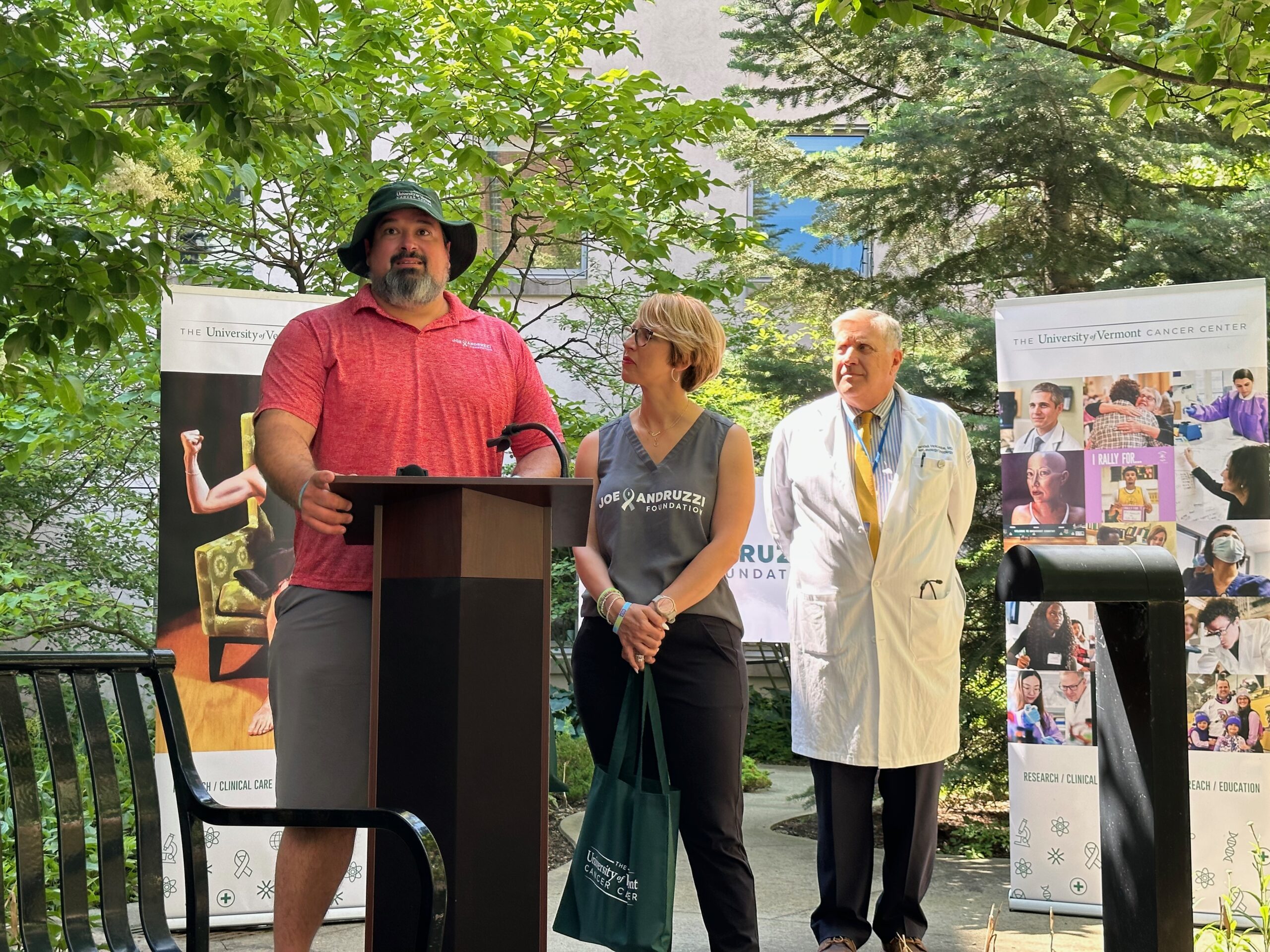 "The impact Joe and Jen continue to have on patients and families in Vermont is incredible," said Dr. Randall Holcombe of UVMCC. "The Foundation's support for cancer patients is truly unique and deeply thoughtful. It fills gaps for families where they need it – and that makes not just a financial impact, but emotional and mental impacts as well."
Later, the entire JAF crew took to the streets of Burlington – literally, at the Church Street Marketplace. JAF's awareness table allowed local residents to learn more about the Foundation. The team met lots of new people, sharing more about what JAF does.
Our last day embodied all that JAF's mission serves to achieve. The team traveled to the home of pediatric patient recipient Nora, age six. Nora's family received assistance from JAF's Extraordinary Needs Fund in 2020 to provide housing at Christopher's Haven in Boston while Nora (then five years old) received a bone marrow treatment from her brother, Waylan, then two years old.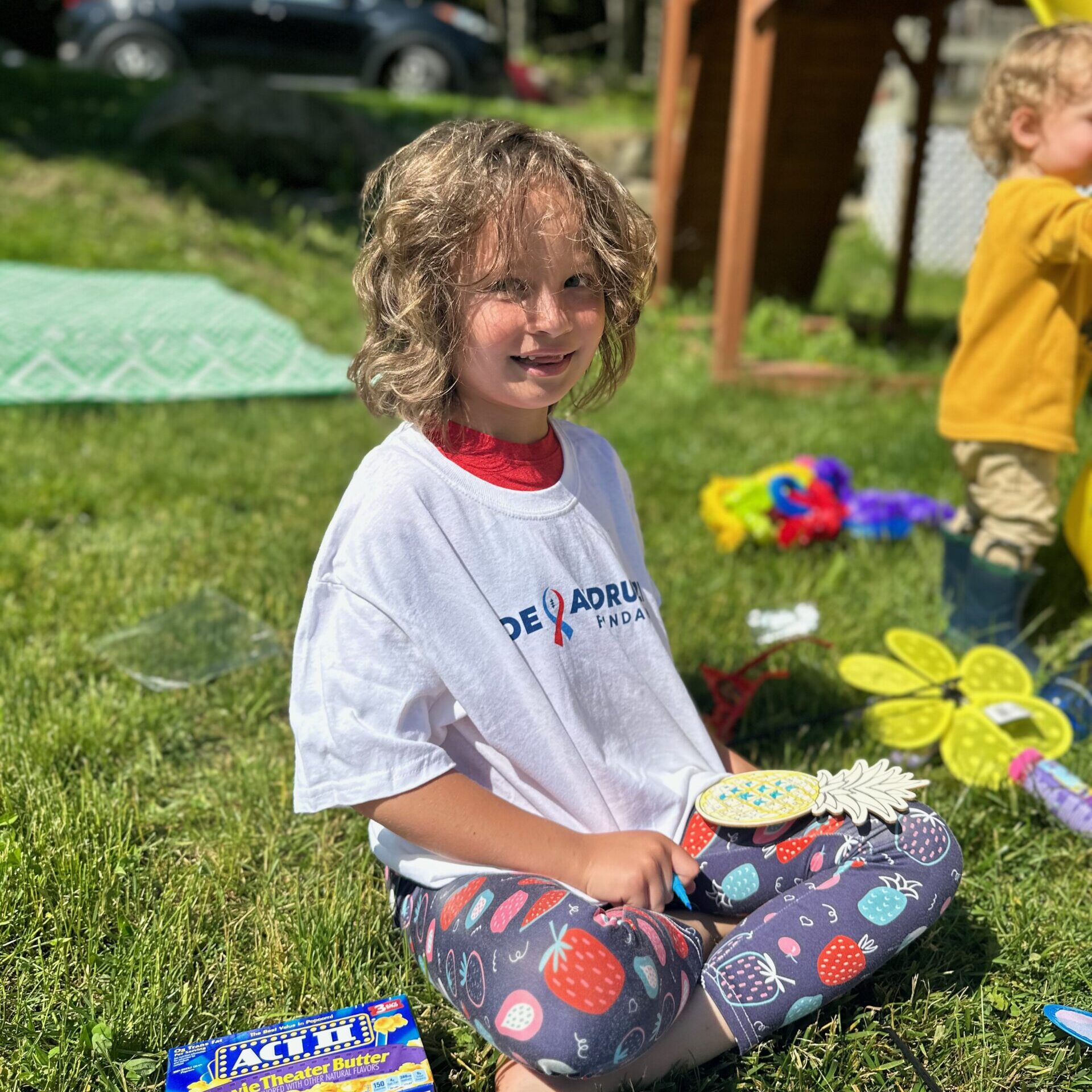 Despite navigating treatment at UVMCC and a bone marrow transplant in Boston during the pandemic, Nora's story is a happy one. Today, Nora is a vibrant, healthy, and caring little girl. Her parents remain vigilant surrounding their daughter's health and are grateful for the financial support they had from JAF.
Annie, Nora's mom, noted how JAF's grants allowed the family to not worry about the lodging and transportation costs to access the best care for Nora. Annie also added how even the nearest supermarket is 30 minutes from their home in rural Vermont. Nora was also considered immunocompromised during her treatment, so her diet was incredibly restricted, making the preparation of daily meals challenging and more costly.
Finally meeting Nora and the Johnson Family was a highlight for Joe and Jen, who brought a basket of summer fun activities for Nora and her two younger brothers. Together, JAF and the Johnsons spent the morning playing outdoors.
Witnessing this beautiful family laugh and play in the warm Vermont sunshine, far removed from hospitals and the weight of financial burdens, served as a refreshing reminder of the value and need for the assistance JAF provides to cancer patients and their families. We are so grateful for the conversations and connections made during this trip. We can't wait to return!
Sincere thanks to everyone at UVMCC – so many to list but shout outs to all the oncology nurses/staff, Matthew Mugford and the entire social worker team, Lori Ann, Kelly, Kate, Phil, Elliott, Dr. Holcomb, and President and CEO Dr. Leffler! Thanks to the fabulous crew at Ben & Jerry's for hosting JAF and patient recipients.