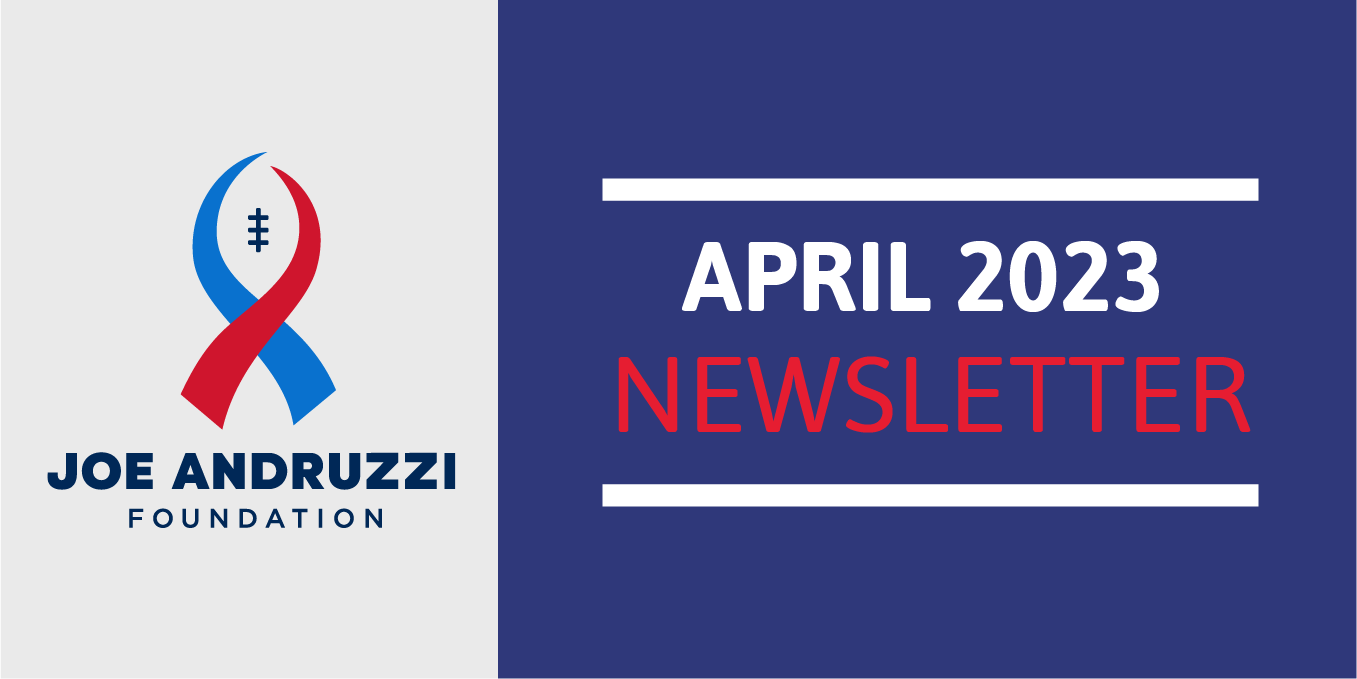 (Up)Beat (Up)Date
Spring has sprung (finally); with it, so many exciting activities are happening at the Joe Andruzzi Foundation! In the past few weeks, JAF has taken our mission of delivering help, hope, and a reason to smile, on the road and into the communities we serve.
HELP. Just last week, JAF traveled to Bristol, CT, to deliver a new washer and dryer to a very deserving patient recipient as part of the Foundation's Extraordinary Needs Fund.
HOPE. We wrapped a hugely successful Rhode Island Road Trip at the end of last month that included patient visits, (Up)Beat events, and meetings with healthcare partners on how JAF can continue to support New England cancer patients and their families.
A REASON TO SMILE. If you haven't heard, I'm taking to the links as part of Golf Fights Cancer's Golf Marathon on June 8 and 9 at Juniper Hill Golf Course in Northborough, MA. (Yes, you read that correctly. I'm golfing. AND 100 holes!) Don't worry. I've recruited some other good golfers to join me, but I need a few more! Consider joining our friends at GFC and me by registering HERE.
Please read on to see how our community is coming together and answering JAF's call to help remove financial barriers to cancer treatment.
Sincerely,
Jen Andruzzi
President and CEO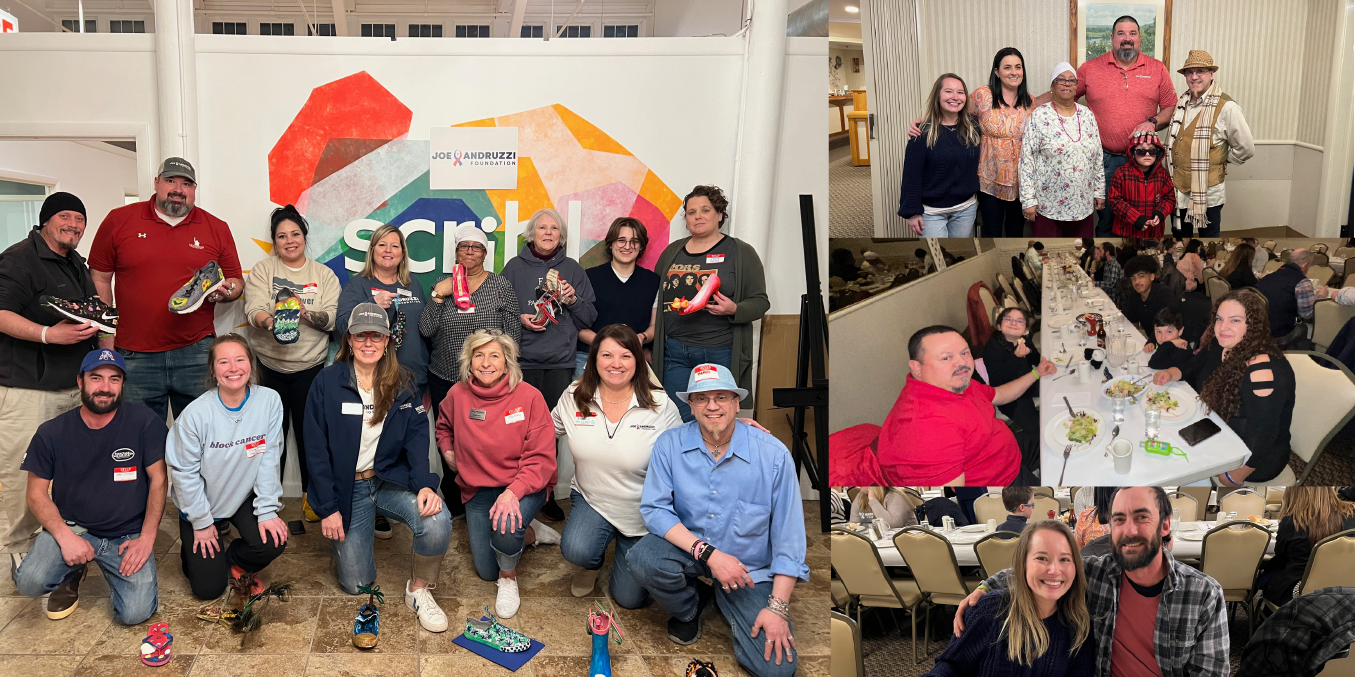 (Up)Beat Events: Twice the Fun For Patients On Rhode Island Road Trip
JAF's (Up)Beat Opportunities were in full swing for JAF's Rhode Island Road Trip in March. On March 27 at PeaceLove Studios in Pawtucket, RI, five patient recipients and their guests gathered with Joe and the JAF team for a Scribl Expressive Arts workshop called Story Shoes, led by JAF's Patient and Family Support Specialist, Katie Haidemenos. Each participant embellished a shoe to share their cancer journey story, displaying strength, struggle, and perseverance.
On Thursday, March 30, familiar faces joined JAF again to share their story, join in fellowship, and enjoy a yummy dinner at Wright's Farm Restaurant in Burrillville, RI, as guests of owner and generous supporter Frank Galleshaw.
If you are a patient recipient looking to participate in future JAF (Up)Beat events, contact Katie Haidemenos at katie@joeandruzzifoundation.org.
JAF Road Trip Off To Great Start In Rhode Island
It was a whirlwind week in the Ocean State filled with smiles, hope, and new connections that will help JAF continue supporting cancer patients and their families.
JAF's Programs Team met with partners at Rhode Island Hospital, Women & Infant's Hospital, and Landmark Medical Center to discuss working together to get patients the resources they need. Joe and Jen Andruzzi brought smiles by visiting patients on infusion floors and the JAF community showed up on a chilly evening to say 'good night' to Hasbro pediatric patients in a wonderful display of light and love.  JAF also had its own group of patient ambassadors, who joined us at nearly every event. Thank you Molly, Denise, Mario, and Kelly!
The week also included multiple community events and fundraisers. Thank you, Rhode Island for welcoming the Foundation!
Want to be involved or host JAF when we are in your area? Contact us! Email Brendan Beauregard at brendan@joeandruzzifoundation.org with ideas on how you and your organization can participate.
Next up:  Massachusetts – week of May 21! More information coming soon!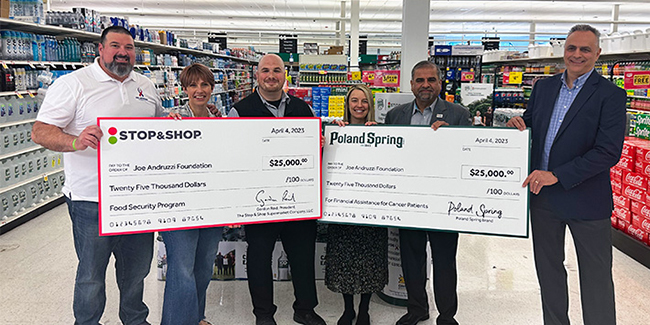 Filling Carts With Groceries And Hope
On Tuesday, April 4, the Joe Andruzzi Foundation joined our partners from Stop & Shop and Poland Spring for a morning filled with generosity and surprise.
Poland Spring presented Jen and Joe Andruzzi a check for $25,000, and Stop & Shop—a supporter of JAF's Food Security Assistance since its inception—generously matched Poland Spring's contribution for a grand total of $50,000 to support New England cancer patients and their families.
To make the day even brighter, both partners surprised JAF patient recipient Mark Pangman and his family with groceries and water for an entire year! We are honored to have these fantastic partners supporting our mission and the patients we assist. Check out our blog below to read about yet another memorable JAF mission moment.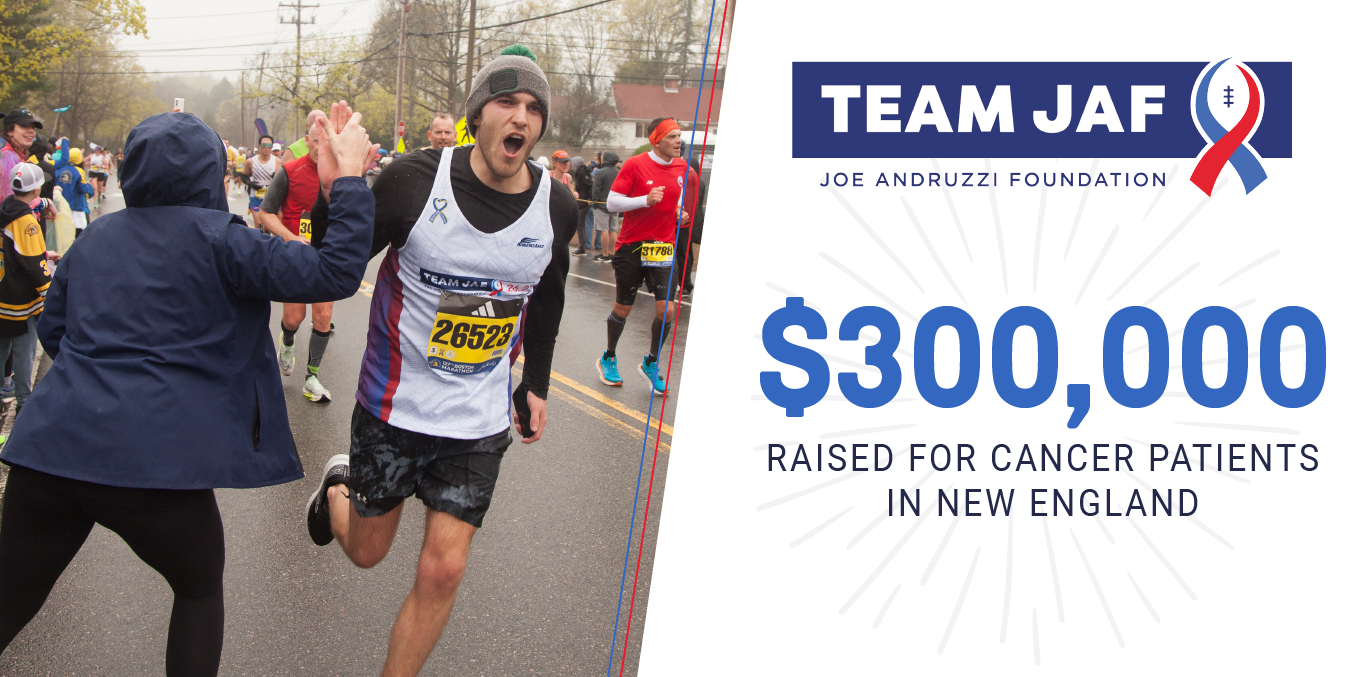 Boston Runners Finish Strong, Falmouth And Newport 10Miler Registration Open!
On Monday, April 17, JAF's team of 21 runners channeled their determination and spirit (braving some rain showers and chilly temps) to finish the 127th running of the Boston Marathon! We are so proud of each of them. Together, they helped to raise more than $300,000 with additional contributions on the way! For a full recap celebrating our runners and this year's activities, click HERE.
CALL FOR RUNNERS: Team JAF is now accepting applications for the following two road races:
10th Annual BankNewport 10 Miler, Sunday, June 4, 2023
Taking place in Newport, RI, the BankNewport 10 Miler highlights the best that Newport, the City by the Sea, has to offer. Water stops are located approximately every two miles, and the course has a total elevation gain of roughly 350 feet over rolling hills. Ten bibs are available.
51st AISCS Falmouth Road Race, Sunday, August 20, 2023
Open to elite and recreational runners alike, this race welcomes everyone to this seven-mile seaside course. Only a few spots remain; register today!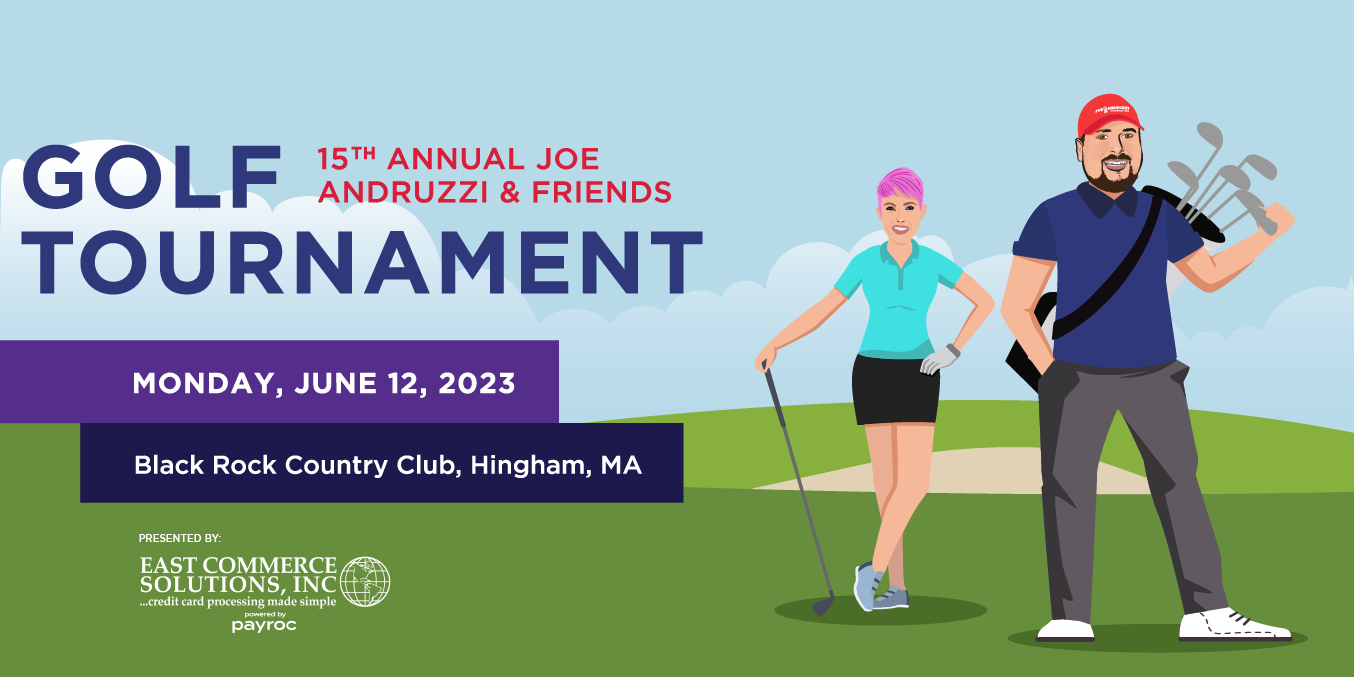 Back To Black Rock: Sponsorships, Tee Signs Available
The Joe Andruzzi and Friends Golf Tournament, sponsored by East Commerce Solutions, has welcomed back many sponsors to this year's event. Click the link below to see available sponosrships!
Consider purchasing a tee sign to support JAF! This event hosts 144 players and celebrities who will see your company name and logo. It is a great way to gain exposure and help New England cancer patients and their families at the same time. For more information, contact Erica Mancini at erica@joeandruzzifoundation.org.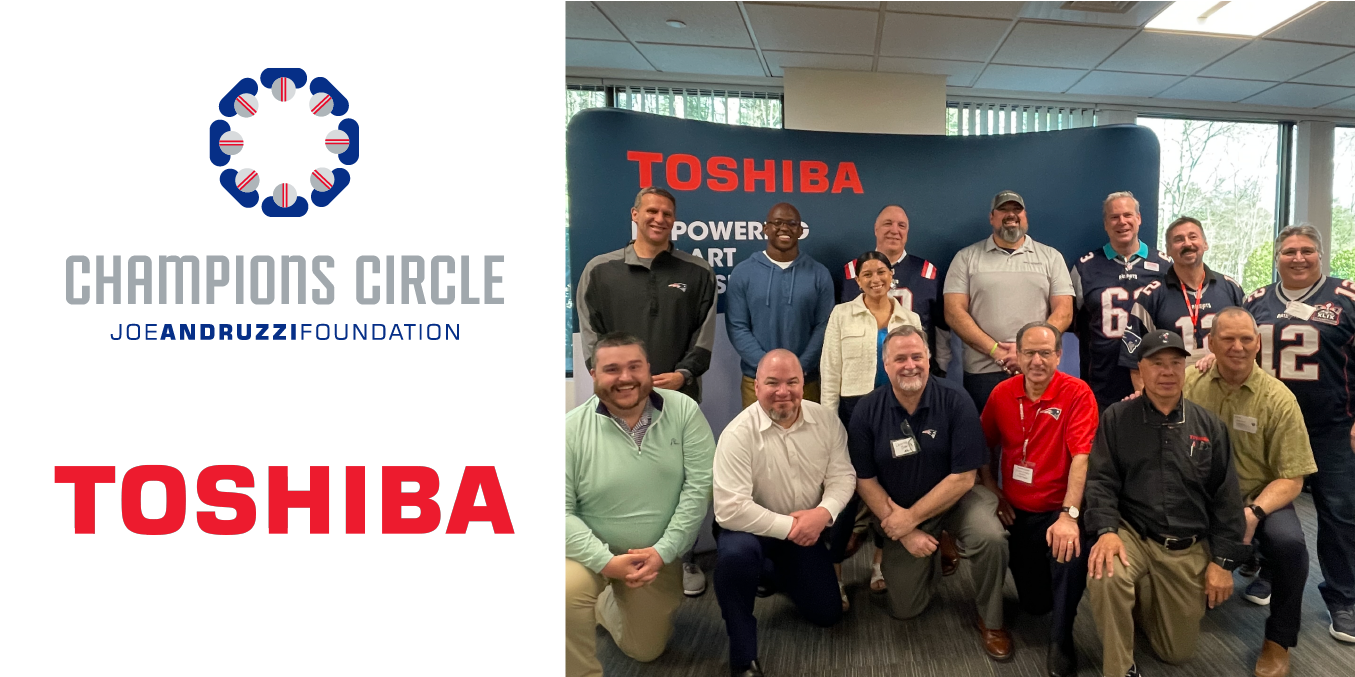 Toshiba's Successful Event Will Be Tough to 'Copy'
Champions Circle, JAF's business giving society, spotlights local business leaders and organizations who provide an annual gift to the Foundation. On April 20, JAF launched its new series of Champions Circle quarterly "Networking for a Cause" events. Hosted by Toshiba, guests made new connections, learned about Toshiba's technologies in printing (to save time and money,) and won some fantastic prizes.
Of course, no Champions Circle event would be complete without true champions. The event boasted three-time Super Bowl Champions Matt Slater and Joe Andruzzi! Thanks to longtime Champions Circle member and JAF supporter Tom Perry and Toshiba for helping create this fantastic event!
WELCOME: Deborah Abbot, a new Champions Circle member, who joined after learning about JAF's impact on local families while attending the event at Toshiba.
WELCOME BACK: ACS Services, Inc., a loyal Champions Circle member since 2018.
Want to be a Champion? Champions Circle members are vital to JAF's mission of serving cancer patients across New England. Email Barbara Foley at barbara@joeandruzzifoundation.org to learn how your company can become involved with JAF.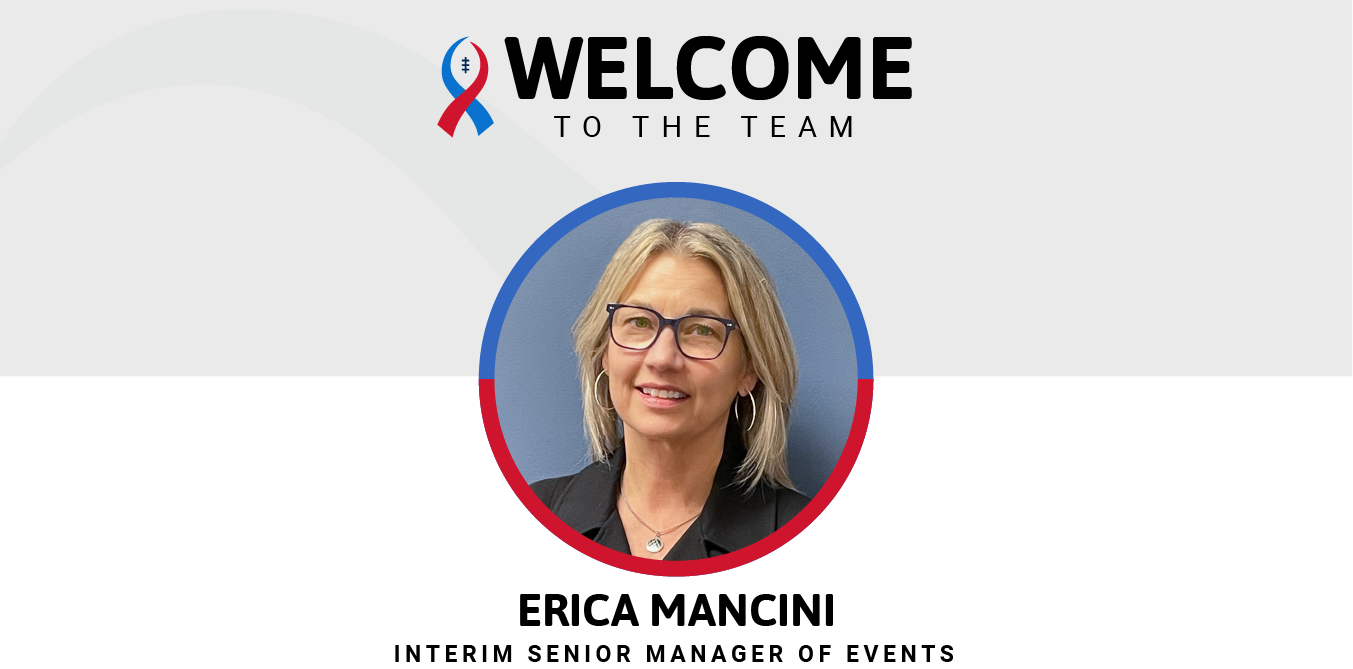 Welcome Erica!
JAF is excited to welcome Erica Mancini aboard as our Interim Senior Manager of Events!
Erica should be a familiar face to the JAF community. She's a member of the JAF's Development Committee and has served as a volunteer leader for many of our golf and gala auctions. As part of the Foundation's Development team, Erica will lead our fundraising events while JAF's Senior Manager of Events, Gillian O'Brien, is on maternity leave with the newest member of her family.
We are so glad to have Erica join the team! Learn more about Erica HERE.