If you thought rain showers and chilly weather would stop the Joe Andruzzi Foundation's (JAF) 2023 Team JAF Boston Marathon® team, think again. This determined group of 21 athletes not only finished the 127th running of the legendary race but exceeded their fundraising efforts—surpassing $300,000 on an original $250,000 goal to support JAF's mission. GlideFast Consulting was Team JAF's official sponsor this year.
The Foundation extends profound thanks and hearty congratulations to all of our Team JAF athletes – Hunter Boyce, Rebecca Cloutier, Jordan Coffman, Megan Evangelista, Greg Farrington, Alex Guarnotta, Meg Hagen, Amanda Harrison, Andrea Lee, Nicole Lew, Emalee Mahoney, Nicole McAllister, Andrew McGill, Jennifer Pease, John Ponte, Michael Prew, Ashley Reinhart, David Santoro, Carson Wallace, John Wenzel, and Kristen Wingate – for all of those days and hours running, training, fundraising and committing to bringing help, hope, and a reason to smile, to cancer patients all over New England.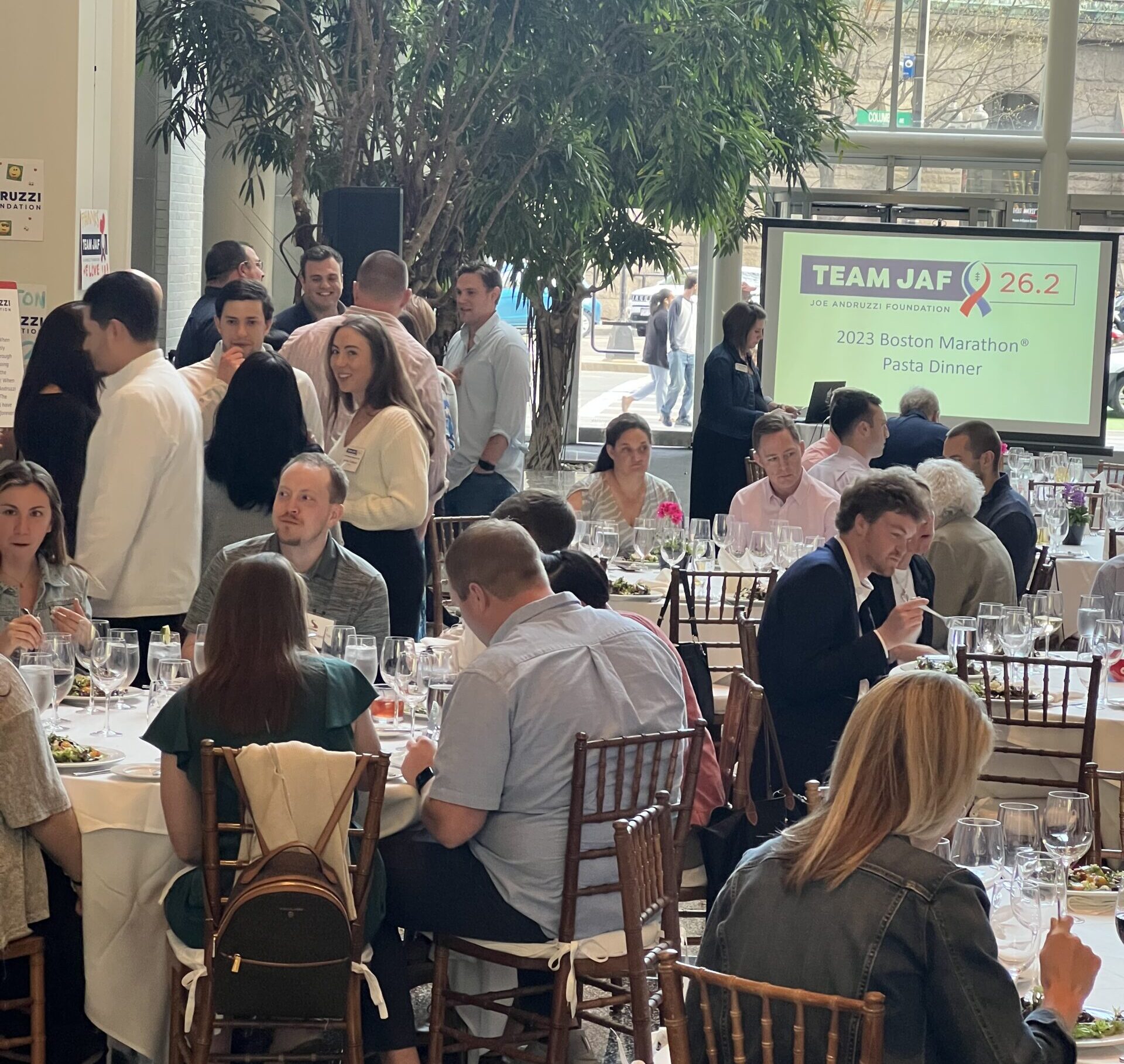 On the Saturday evening before the marathon, Team JAF assembled at Davio's Northern Italian Steakhouse in Boston's Back Bay for the traditional pre-race pasta dinner. The athletes enjoyed a delicious meal together as Joe and Jen Andruzzi shared their gratitude for everything the runners accomplished. The occasion also featured four runners receiving special Team JAF awards:
Greg Farrington for the Highest Fundraiser award
Amanda Harrison for the Team Spirit Award
Nicole Lew for the JAF Ambassador Award
Emalee Mahoney for the Unsung Heroine Award
JAF staff set up a cheer station on race day at Mile 17 on Commonwealth Ave in Newton. Spectators met runners with shouts of encouragement, handmade signs, and cowbells as they dashed by. They were treated to JAF's Chief Engagement Officer Joe Andruzzi announcing their name on the loudspeaker. With the help of our partners at CharityTeams, water, bananas, pretzels, and all sorts of aid were available to athletes before taking on the infamous Heartbreak Hill. A contingent of GlideFast employees, led by CEO Mike Lombardo, jumped in to hand out water and food while cheering on the runners.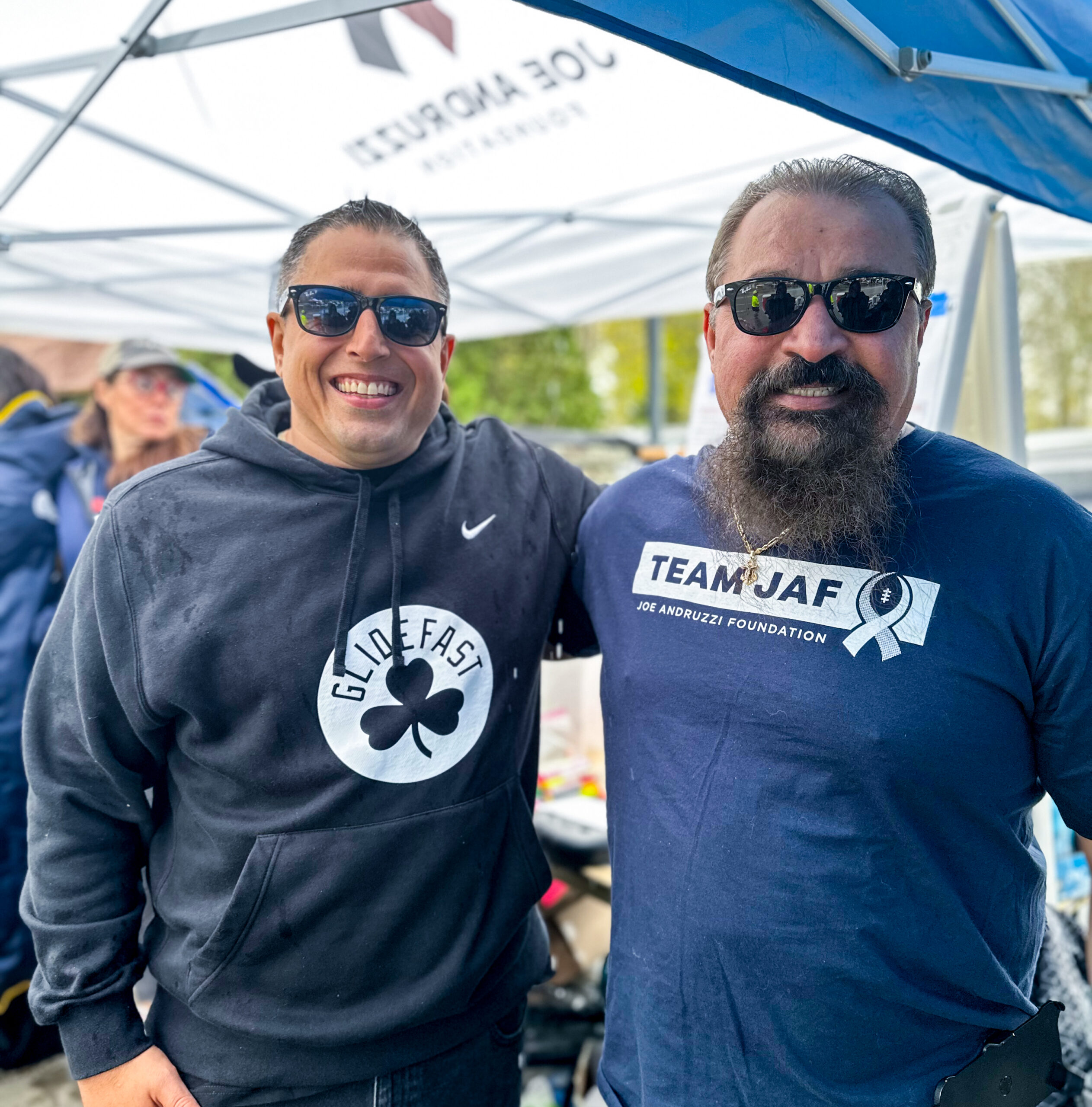 There's no better motivator than seeing loved ones along the race route, and Team JAF had a huge cheering section of proud family members and friends who came out. Homemade signs, bells, hugs, and quick selfies were the order of the day. Some runner singlets had names written on them, honoring or remembering someone special. Team JAF runner Greg Farrington had a list of people pinned to his back. Greg's wife, Gail, said that even that morning, people sent him names of cancer survivors or loved ones lost. Greg jotted those names down and put them in his pocket as he ran the course.
Despite the challenging weather conditions, Team JAF showed up in every way. They brought grit and grace to this year's marathon. Once again, a huge shout out to our first-ever Boston Marathon Sponsor, GlideFast. Thank you again to all our runners, supporters, donors, and all those who contributed to yet another successful Boston Marathon for JAF.
Additionally, JAF would like to thank the following incredible organizations and people who supported Team JAF this year. They are:
The John Hancock Non-Profit Program, which provided Team JAF bibs for our athletes
The Boston Athletic Association and its outstanding team of volunteers, who made race day such a fun experience for all runners
New Balance, for outfitting our team
Susan Hurley and CharityTeams, for supporting our runners and mission
Davio's Northern Italian Steakhouse, for hosting our pre-marathon pasta dinner
Brae Burn Country Club, for providing a 'home' Team JAF cheer station on Mile 17 so family, friends, supporters, and Team JAF alums could watch their favorite runners
Stacey Howard Photography, for snapping those memorable photographs of the athletes on the course
617 Weddings, for keeping us moving all day and pumping up our waters
Honey Dew, Marathon Sports, Shaw's, Star Market, UCan, and Zen WTR, for supplying food and hydration for our runners
Cheer station volunteers, for giving their time and energy to supporting runners!
Want to donate to Team JAF? You still have time! Click HERE.