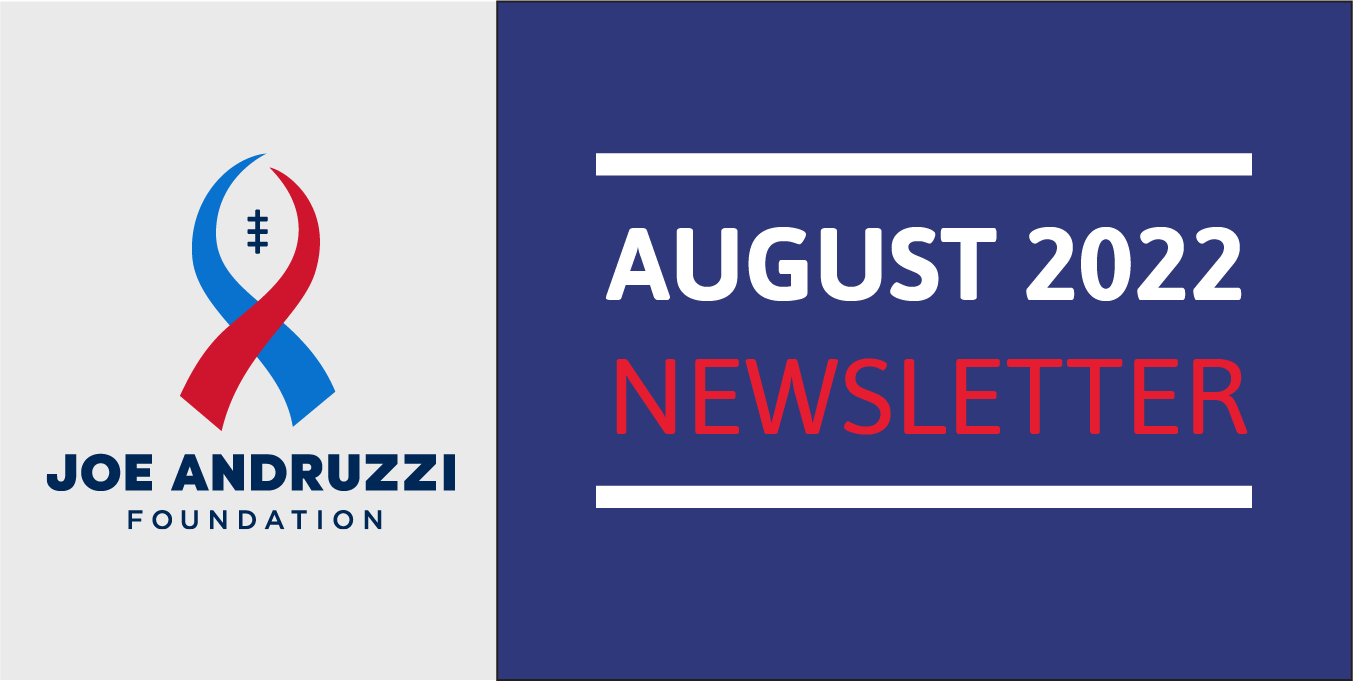 (Up)Beat (Up)Date
The sun is setting much earlier, signaling fall is on its way. (*sigh*)
For now, let's stay present in the remaining days of summer as JAF reflects on our gratitude for another season full of fabulous events (including supporter-hosted ones) that raised critical funds for cancer patients and families throughout New England. Big shout out to our friends at Foster Country Club, For Kids' Sake Foundation, and Bog Iron Brewing, who helped us shine the light on the cost of cancer in August!
Fabulously hot! This month, the 50th running of the ASICS Falmouth Road Race took place. At mile 6 on the course, Joe and I joined JAF staff, volunteers, and runners' supporters to cheer on Team JAF. Thank you to these fabulous athletes who participated in Falmouth and at-home!  Read more below.
And, of course, nobody was more delighted than Joe and me to see a robust return of in-person (Up)Beat Opportunities beginning with Codzilla. Seeing our patients and their families smile drives us every day.
Switching over to fall planning—get ready! JAF is preparing for its annual signature event to be hybrid: in-person and virtual! On November 3, JAF will host its 15th Annual Gala at Gillette Stadium in Foxborough for the final time at this location.  Supporters who cannot join us in-person will be able to stream the program from the comfort of their homes. If you or your company would like to be among our premier circle of sponsors who want to ensure cancer patients don't have to decide between food on the table or life-saving treatments, please reach out to Nicole Anderson, JAF VP of Development. There are many ways to participate. Joe and I would be honored to have you as a partner for this very special evening.
However, before we break out the sweaters and gear up for the 2022 Gala, let's take a look at the month that was.
Sincerely,
Jen Andruzzi
President and CEO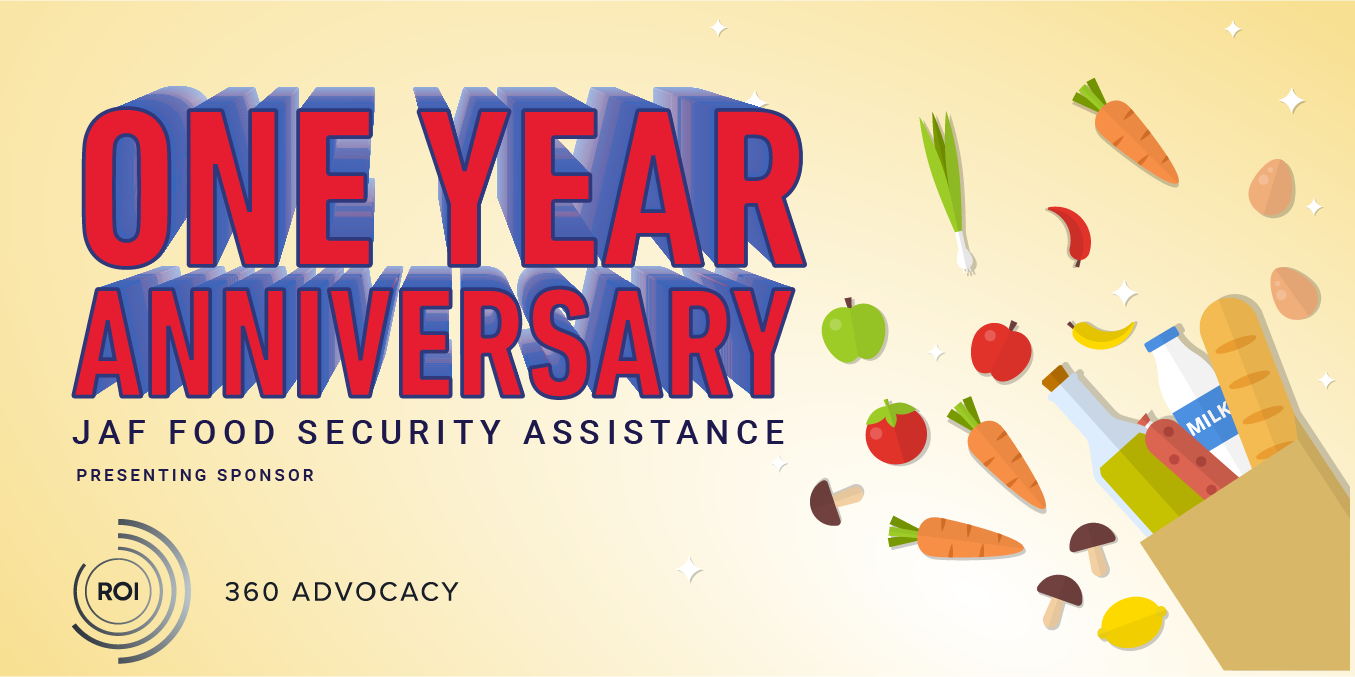 JAF Keeping Food on the Table for Cancer Patients 
This month, JAF celebrates the one-year anniversary of our Food Security Assistance presented by ROI Communications! JAF supports patients and their families by providing gift cards to several regional grocery stores, giving them access to quality nutrition while undergoing treatment.
Through a pilot program with our partners at Stop & Shop in late 2020, JAF confirmed the overwhelming need for food support within the cancer community. Soon after, in August 2021, JAF formally launched the program.  Since inception, JAF has distributed more than $400,000 across New England and helped nearly 2,000 patients and their families. Food Security Assistance is often granted in addition to JAF's financial assistance with household expenses.
The resources that JAF's Food Security Assistance provides could not come at a better time as Americans are seeing food prices soar to the highest they've been in 20 years according to a March article from NPR. Additionally, a July article from the Associated Press describes the overwhelming demand at food banks across the country. For cancer patients, the economic impact is compounded with the challenges of being able to safely access necessary nutritional foods.
The Foundation is incredibly proud of the impact its Food Security Assistance has had in just one year. To read more about Food Security's one-year anniversary, click the red button below.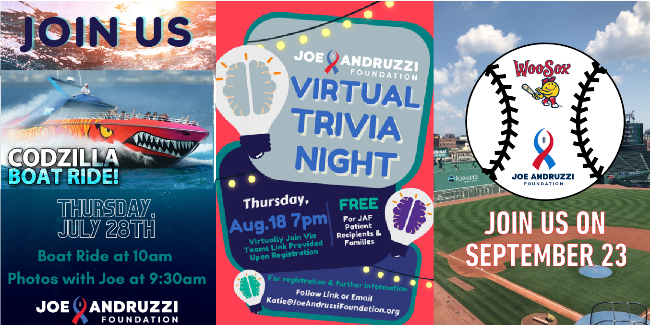 (Up)Beat Events Delighting Patients and Families
JAF will be returning to Gillette Stadium's Putnam Club Thursday, November 3 to celebrate our 15th Annual Joe Andruzzi Foundation Gala!
The night will be filled with fun and inspiration including patient stories, entertainment, awards, an online auction, a red-carpet experience with celebrity guests and so much more!
We look forward to welcoming close to 400 guests this year to Gillette! For those who feel more comfortable viewing from home, we will again offer a virtual component. Tickets for the event will go on sale in early September. SAVE THE DATE and get ready for an evening to remember!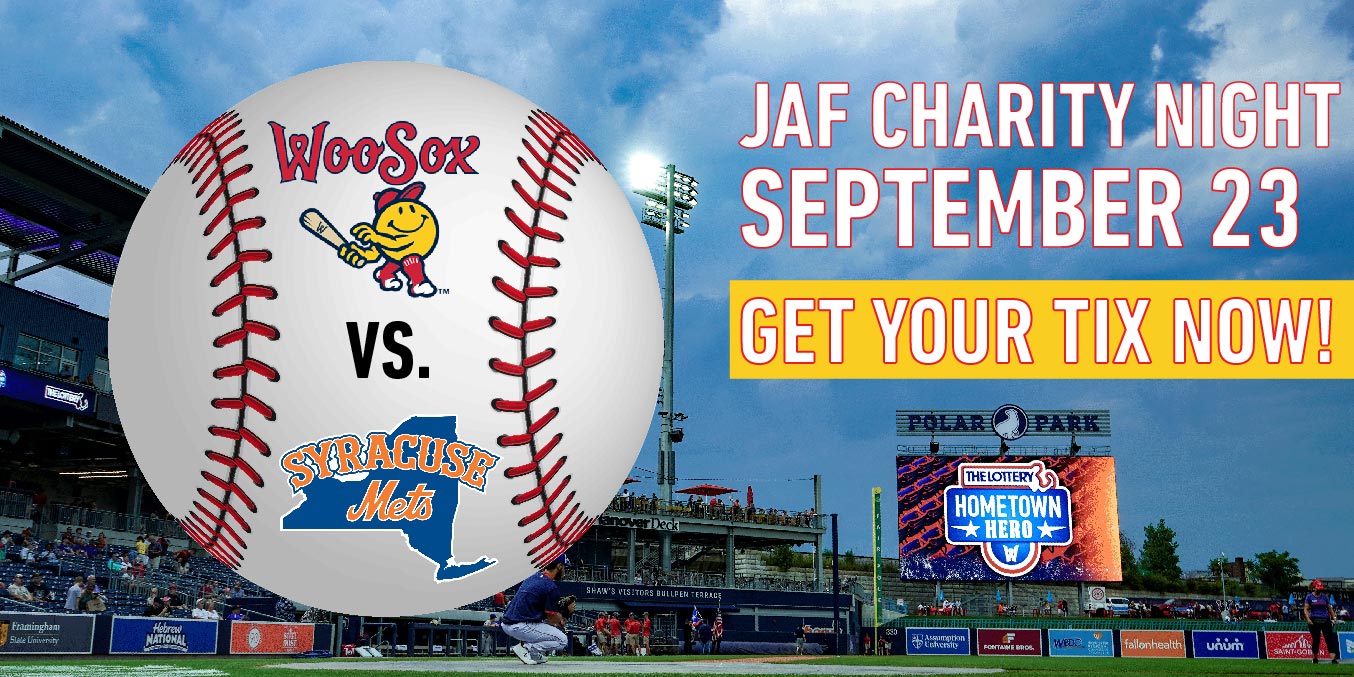 Watch the Woo Sox with JAF at Polar Park
The Joe Andruzzi Foundation is partnering with the Worcester Red Sox (Woo Sox) for a charity night event on Friday, September 23, 2022! Join Joe and the JAF crew for a fun night watching the Worcester Red Sox take on the Syracuse Mets!
The Foundation will receive $5 of every ticket purchased. For more information or to purchase your tickets, click the red button below!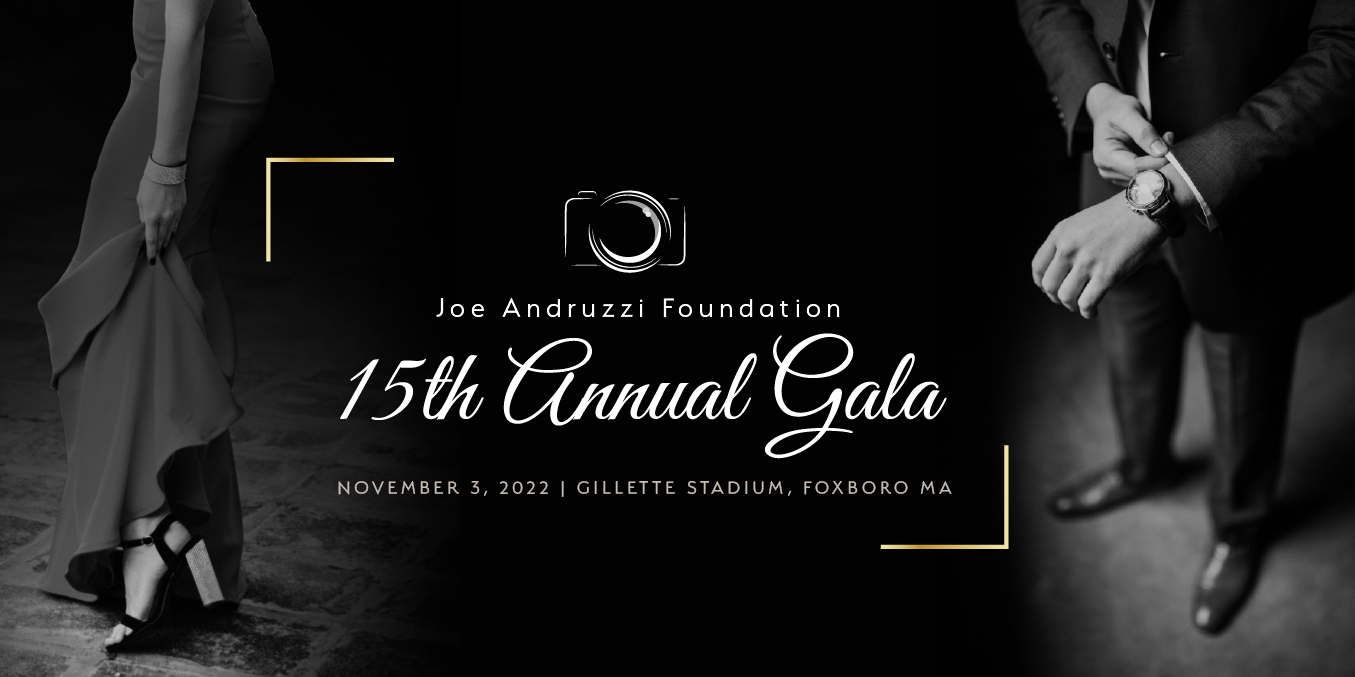 Celebrating 15 Years Focusing on Cancer Patients
JAF is so excited to share that this year's Annual Gala theme is FOCUS – recognizing the Foundation's incredible commitment to cancer patients and their needs when facing a cancer diagnosis and the challenges of financial toxicity.
It is this focus that has allowed the Foundation to reach this anniversary milestone, continue to help patients through a global pandemic, and develop new resources that are impactful.
As we celebrate 15 years of success, innovation, and growth, we hope you'll be with us November 3 at Gillette Stadium! To become a sponsor, contact Nicole Anderson at Nicole@joeandruzzifoundation.org. Tickets for either in-person or virtual attendance go on sale September 15.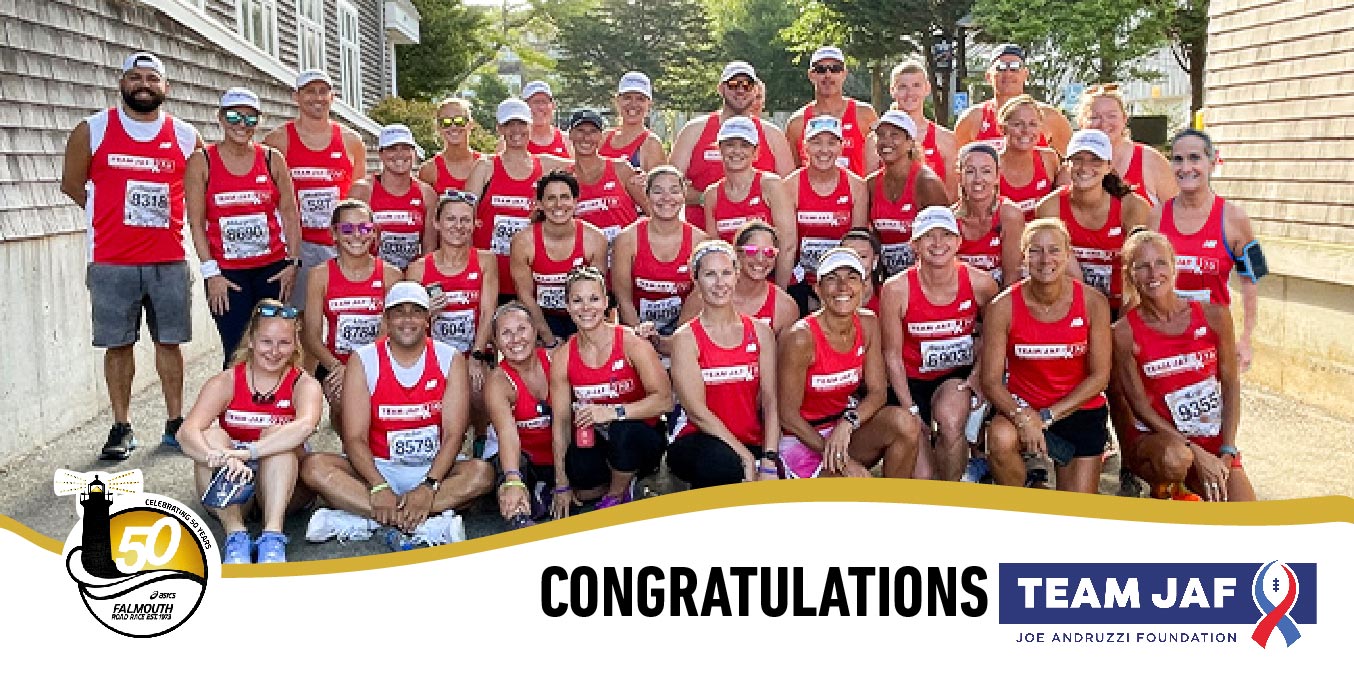 2022 FALMOUTH RUNNERS FINISH STRONG
After beating the heat and tackling a seven-mile course, ALL 42 members of the 2022 Joe Andruzzi Foundation Falmouth Road Race Team crossed the finish line in the 50th ASICS Falmouth Road Race! This year's team included 41 athletes who participated in the in-person race in Falmouth, MA on Sunday, August 21 and one runner who participated in the At-Home Virtual Edition at his home on August 8.
Together, these dedicated and determined athletes raised more than $87,000, surpassing anticipated fundraising goals set by JAF. Click the red button below to read JAF's recap of the road race. Congratulations to all our Falmouth Team JAF runners!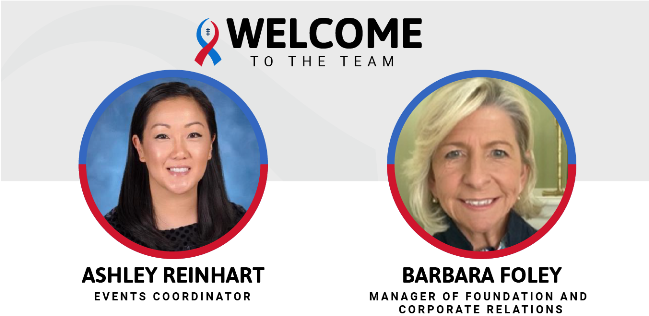 Welcome Ashley and Barbara to JAF!
JAF is so excited to welcome the two newest additions to the Foundation staff: Barbara Foley and Ashley Reinhart!
Barbara joins JAF as the Manager of Foundation and Corporate Relations as part of the Development team. She works with JAF's corporate partners and charitable foundations, securing funding and writing grants to support the Foundation's goals.
Ashley serves on the Development team as the Event Coordinator. She assists in the implementation of all JAF fundraising events, including our popular golf tournament and signature gala.
Learn more about our new hires Barbara and Ashley!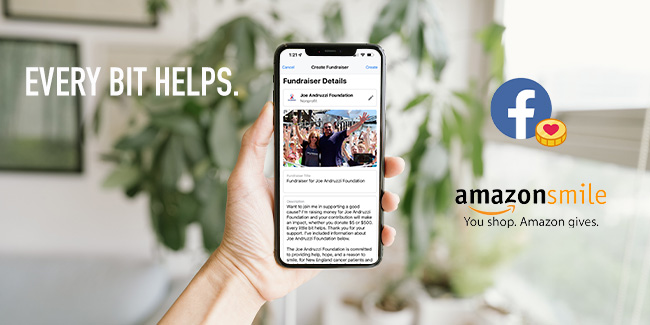 Supporting JAF is Just a Few Clicks Away
Supporting JAF can be fun, easy, and done right on your laptop or smart device! Learn how you can be a Foundation fundraiser through Facebook and Amazon below!
Facebook Fundraisers:
According to Facebook, its mission is "designing their fundraising products is to inspire people to give. Whether it's through Birthday Fundraisers, Personal Fundraisers, Stories, GivingTuesday, they make it easy to host a fundraiser and help others." Facebook covers all the payment processing fees for donations made to nonprofits.
How to Set Up Your FB Fundraiser:
Once logged into Facebook, find the Joe Andruzzi Foundation Facebook page; click on the "More" drop down menu and find the box that says "Create a Fundraiser" and the "Raise Money" button. Fill in the details on the left-hand side: goal, duration of fundraiser, title, why you have chosen to raise money for JAF and add a picture. Click "Create" and you're off and running raising money for JAF. Be sure to interact with your donors as they donate to let them know you appreciate their support!
AmazonSmile:
AmazonSmile is a simple way for you to support your favorite charitable organization every time you shop, at no cost to you. Go to smile.amazon.com on your web browser and, in the top left corner on the tool bar, select JAF as your charity of choice.
According to AmazonSmile, "[it] can also be activated in the Amazon Shopping app for iOS and Android phones. When you shop with AmazonSmile, you'll find the exact same low prices, vast selection and convenient shopping experience as Amazon.com, with the added benefit that AmazonSmile will donate 0.5% of your eligible purchases to the charitable organization of your choice."
If each person reading this newsletter made the switch to AmazonSmile, we can raise thousands of dollars for cancer patients and their families!