On Sunday, August 21, the 50th running of the ASICS Falmouth Road Race had 41 runners from Team JAF who took to the streets on behalf of the Joe Andruzzi Foundation filled in honor and memory of loved ones who have faced a cancer diagnosis. 
The seven-mile course in Falmouth, MA came alive through roaring cheers and vibrant signs (and even a bullhorn!) from spectators and other charity teams alike. People began setting their chairs and applying sunscreen along the race route hours before the first groups were set to start. Once the race began,  it was non-stop soundwave of cowbells from JAF's cheer station at mile six staffed by over 20 JAF staff, runner families and friends.   
Each Team JAF runner who  passed by received applause, ovations, and a high-five from JAF's Chief Engagement Officer Joe Andruzzi who was front and center with his whistle.  
Thanks to the dedication of those who ran for the Foundation as well their networks of supporters, Team JAF raised more than $89,000 and still counting!  
Not all of our runners were in Falmouth.  TeamJAF alum and long-time supporter Jon Mousette of Mansfield, MA completed the at-home edition of the road race earlier in the month. Way to go, Jon! 
Team JAF members like Kristen Tuleja, Kristen running in honor of her mother, who faced ovarian cancer, saw her family cheer her on at the JAF cheer station. For the Tuleja family, it was a wonderful sight seeing Kristen take on the road race and getting to a "great pace" in her running according to her father, Steve. 
"We're so proud of her," Steve Tuleja said. 
At the finish line, runners were greeted with congratulatory hugs and smiles (and much-needed hydration and food!). The hot sun was no match for these road warriors who let their personal inspirations carry their spirits and their fundraising to new heights for this year's race.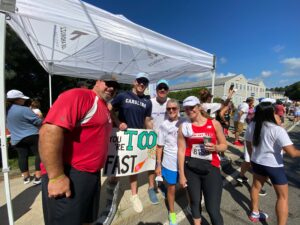 JAF would like to extend a thank you to the following organizations and people for this awesome day: the Falmouth Road Race Numbers for Non-Profit who accepted JAF into their program for the 11th year. New Balance who graciously donated the Team JAF singlets to the Foundation. The incredible ASICS Falmouth Road Race staff, board members, and volunteers. Team JAF patient inspirations Carrie Ann and Kim who brought invaluable inspiration to the team through our runners training and fundraising efforts. Our amazing JAF cheer station volunteers at miles five and six. 
A heartfelt thank you to our Team JAF runners and supporters who with their dedication, effort, time, and donations, brought even more help, hope, and a reason to smile for those greatly in need.   
If you are still interested in contributing to Team JAF or an individual athlete, all fundraising pages will be accepting donations through September 30 on Race Roster here!