Kristen Tuleja is no stranger to the Joe Andruzzi Foundation. Having grown up in Mansfield, MA, she's observed the Foundation's impact from multiple perspectives.   
Tuleja volunteered to help with JAF's annual gala back in 2013 with her mom, Donna, who has also crossed paths with JAF before.  
"My mom is an oncology social worker at [Brigham and Women's Hospital]. She's worked very closely with the Foundation in the past in helping her patients," Tuleja said of the connection. "It's a Foundation my family has always supported."  
 For Tuleja, she has always been in awe of her mother and the impact she's had on her.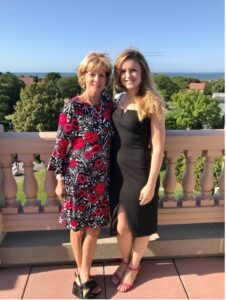 "She's such a bright light," Tuleja said. "She's the kindest person I know, the strongest person I know. She is always willing to help people."  
In the fall of 2021, Kristen's mom was diagnosed with ovarian cancer. Tuleja happened to be attending an engagement party for one of her best friends. It wasn't until after the party that Kristen's parents decided to tell her and her siblings. 
"She called me and then both of my brothers and just told us the news," Tuleja said. "It was a lot for [my parents] to carry without telling anybody."  
If there's one thing Tuleja took away from her phone call with her mom and the days after, however, it was how upbeat and positive her mom was and how she was looking forward to getting her treatment plan in motion.  
"She was just very calm and confident she'd be fine," Tuleja said. "After she found out, she met with the surgeon and medical oncologist, and they had everything lined up quickly for her which was really great. We were definitely lucky in that sense."  
Her mother's treatment consisted of four rounds of chemotherapy at the start, followed by a hysterectomy, and two more rounds of chemo post-surgery. If Tuleja's mom hadn't spoken up for herself to get scans done, her cancer path could've gone in a completely other direction.  
"She just knew something was off," Tuleja said. "If she hadn't advocated for herself, then we would've been in a completely different situation."  
When it came time for the 50th annual Falmouth Road Race, Tuleja chose to run for JAF in honor of her mom's cancer battle.  
"Just knowing all the work [JAF] does for patients going through cancer treatment, it's so important," Tuleja said when asked about running for the Foundation. "It's definitely a place I'm proud to run for."  
While having been a collegiate athlete and running Falmouth some years before, Tuleja is not a regular long distance runner.  
"I mean I run when I have to," Tuleja said with a laugh. "Running isn't something new to me, but training to run seven miles is something I've had to work harder at."  
At the time of her decision to take part in the race, Tuleja didn't know what to expect from a fundraising point of view. Tuleja, however, witnessed her passing her original fundraising goal in a day. Along with her family seeing support from unexpected places.  
"My mom shared my fundraising page on her Facebook [page] and people she went to high school with, people she hadn't seen in years, were all donating," Tuleja said. "It was just really nice to see."  
Although surpassing her fundraising goal and taking part in the Falmouth Road Race is great, what's most important for Tuleja is letting her mom know how much she means to her.  
When asked what she'll say to her mom after crossing the finish line, Tuleja mentioned her utmost admiration of her mother.  
"That I'm proud of her and that she's so strong," Tuleja said. "I am who I am because of her."  
To learn more about Kristen and Team JAF's 2022 Falmouth runners, click here!