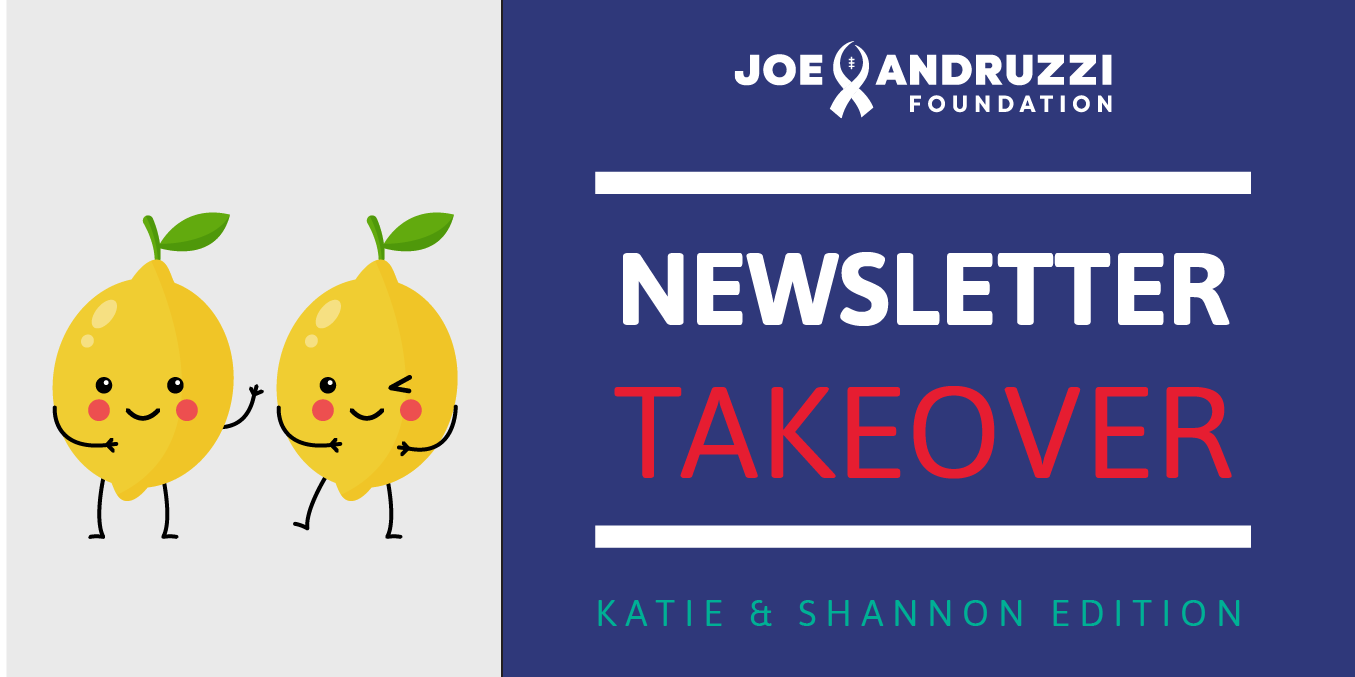 (Up)Beat (Up)Date
For this Joe Andruzzi Foundation (JAF) Newsletter, we have TWO of our Programs Team members who believe JAF's mission offers 'lemonade' when it feels like life is handing you lemons – Shannon Gallanty, Assistant Director of Patient and Family Assistance, and Katie Haidemenos, Assistant Director of Patient and Family Wellness. Together, they oversee the execution and development of JAF's assistance and patient support services.

Shannon
In my role, I focus on the financial assistance grant process and the expansion of JAF support programming. I work with more than 100 healthcare partners to best serve cancer patients throughout New England. In my eight years at JAF, I have witnessed the growth and impact of the Foundation.
Even after 15 years, JAF is still developing new ways to support cancer patients, and we will unveil some new resources very soon. Outside the office, you can find me reading to meet my yearly Goodreads goal or consuming anything pop culture-related (podcasts and Bravo specifically). Spending time with family and friends, especially my daughter, makes me happiest. My favorite lemon item is lemon cake!
Snapshot: JAF Grants Awarded and Events Held Through June 2023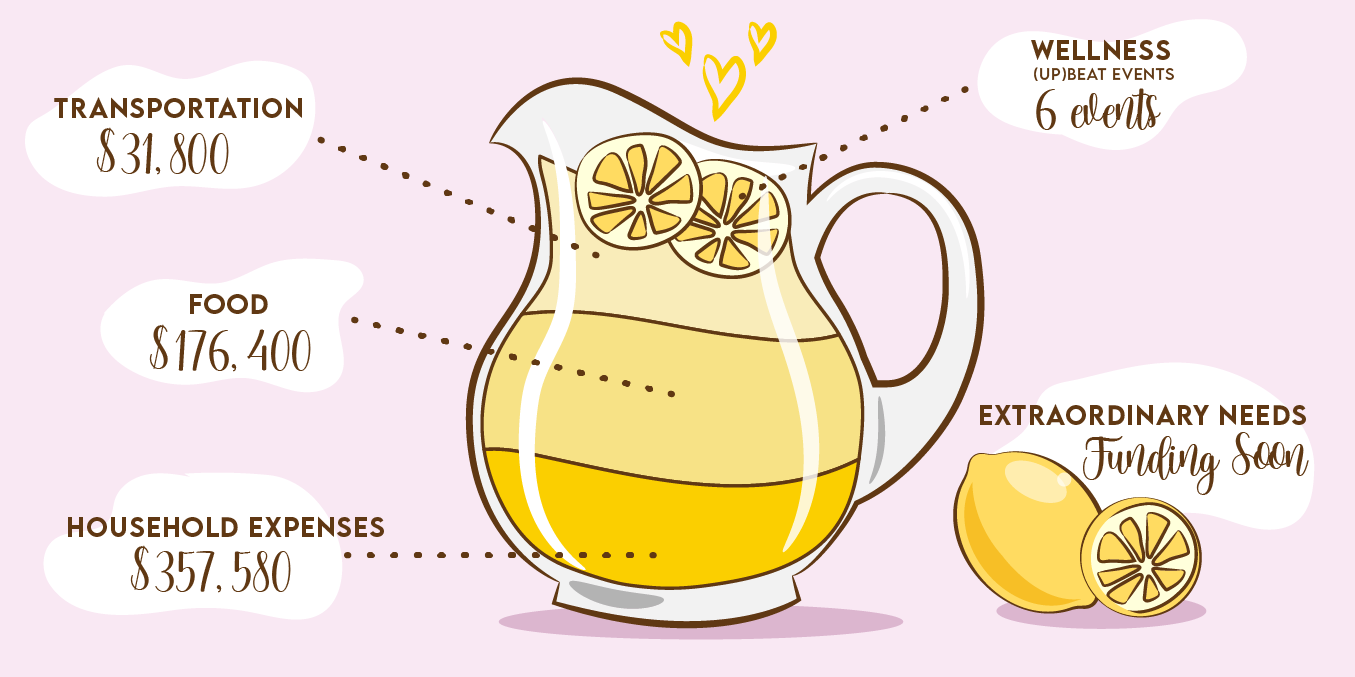 Katie
My responsibilities are all things relating to patient support. Whether it is developing and hosting (Up)Beat Opportunities, or managing the Treatment Transportation and Mission Ambassadors programs, I have spent the last 15 months connecting directly with patients and their loved ones undergoing a cancer journey.
Very often, calls for support start with me, and by providing a listening ear and navigation towards resources, I have been able to help so many cancer patients or their family members who are looking for guidance during a very difficult time. It is gratifying and fulfilling work. Outside the office, you can find me traveling and viewing the world through my camera lens. I love the summer sun, and as a native Rhode Islander, I must have Del's lemonade in hand to keep me cool!
How JAF Helps New England Cancer Patients
Household Expenses  – Grants (up to $800) for monthly living expenses such as rent/mortgage, car payments and insurance, and utilities.
Food  – Grocery gift cards ($150-300) to alleviate food insecurity.
Transportation  – Free Lyft rides for patients to get to and from medical treatment appointments (Massachusetts only).
Extraordinary Needs  – Grants (up to $4000) with project-based needs that present a barrier to treatment (i.e., fertility preservation, dental work, required home improvement projects, etc.).
Wellness  – Includes no-cost (Up)Beat Events for patients and their families to take their minds off cancer while creating positive and meaningful memories. JAF now offers additional resources such as access to meditation and Yoga apps.
While these programs offer immediate financial and emotional relief, they also help patients adhere to their treatment protocols, which can contribute to improving long-term health outcomes.
To apply for financial support from JAF, cancer patients or their family members must work with their social worker or patient navigator to submit an application.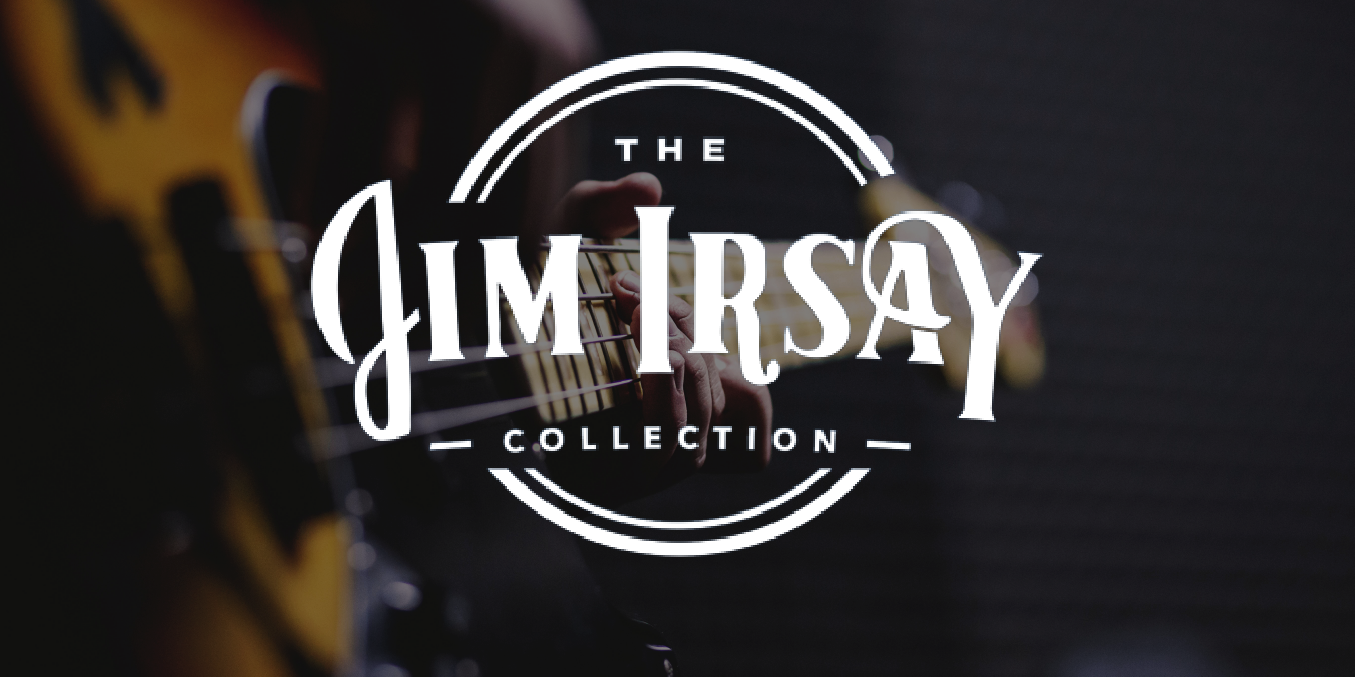 Join Us at the Jim Irsay Exhibit this Weekend!
Looking for a fun night out? Come join JAF at the Jim Irsay Collection Tour being held at the TD Garden in Boston, MA this Saturday, July 15, from 6 p.m. to 11 p.m.
Check out the Indianapolis Colts owner's famous collection of rock music memorabilia, American history, and more while getting the chance to meet retired NFL stars like Joe Andruzzi, Reggie Wayne, Adam Vinatieri, and Edgerrin James. Guests will enjoy a performance by The Jim Irsay Band, which includes legendary performers including Vince Gill, Mike Mills, and Kevin Cronin.
This event is free to the public, but tickets are required. To register for a ticket or for more information, click the red button below. We can't wait to see you there!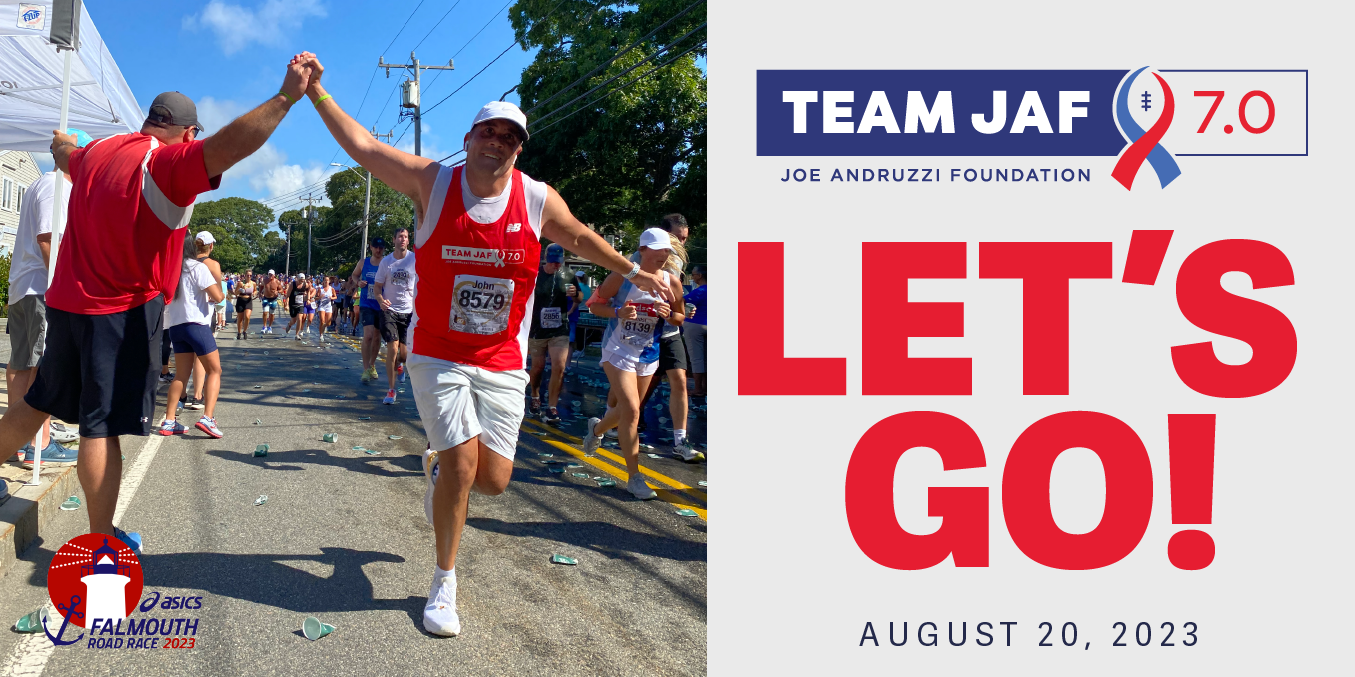 Meet Team JAF's Falmouth Runners!
JAF is proud to announce our team of 44 dedicated athletes who will participate in the 51st running of the ASICS Falmouth Road Race through Falmouth, MA, on Sunday, August 20, 2023!
Funds raised by our runners will support the Foundation's mission of providing help, hope, and a reason to smile, for New England cancer patients and their families. To date, the team has raised more than $35,000—more than halfway to the goal of $70,000! Click HERE to make a general donation to the team. To learn more about each team member or donate to a specific runner, click the red button below.