We are deeply grateful for donations made to the Joe Andruzzi Foundation of any amount, as each contribution helps us get one step closer to fulfilling our mission. The funds we raise directly allows us to reach an increasing number of New England cancer patients and their families during what can be the most difficult and stressful time of their lives. Select an option below to learn more about the ways you can support the Joe Andruzzi Foundation.
Make Your Year-End Tax-Efficient Gift To JAF Today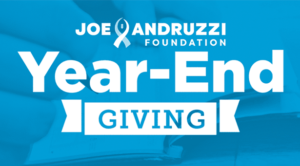 Can you believe there is less than a month remaining in 2018? Good news! There are still a few days left to make a donation to JAF before the tax year comes to a close – but time is running out!
It's easy! Either browse the various ways you can support JAF below, or you can keep it simple and visit our donation page (here).
There are also some other easy tax-efficient ways you can make a year-end gift to JAF, like…
Individual Retirement Account (IRA): Are you 70.5 or older with an IRA? You can transfer a donation directly to JAF without incurring taxes.
Donor Advised Funds: Give through your donor advised fund to maximize your impact to JAF patients and their families in need of financial assistance. Your fund sponsor handles all record-keeping, disbursements, and tax receipts.
Stock or Securities: Did you know you can also make a gift of stock or securities to support JAF without any capital gains tax?
Questions about any of the ways you can make a year-end tax-efficient gift to JAF? Contact Erin Chatham at Erin@joeandruzzifoundation.org.
WAYS TO GIVE