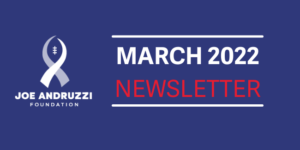 The (Up)Beat (Up)Date
Awareness months are important to recognize as it is a way to shine the light on a particular issue. At JAF, we cannot spotlight all cancer types during their awareness month; however, the ones affecting our communities the most need special attention.
March is Colorectal Cancer Awareness Month, and, on this very last day, JAF makes a call to our community to get screened and know the symptoms. Sadly, colorectal cancers are the second leading cause of death in the United States, with 2022 predicted to see more than 150,000 new cases. Last year alone, JAF supported 121 colorectal patients throughout New England with financial assistance and food security assistance totaling more than $100,000. And as the world slowly emerges from the pandemic and individuals return to annual medical appointments, JAF prepares for that need to grow.
Helping us reach the patients we just mentioned, and all others in need are the dedicated social workers who we also celebrate this month! These outstanding individuals help JAF identify patients and families experiencing the cost of cancer, as they have been on the frontlines throughout the pandemic, serving as a lifeline to so many. Please help us applaud their long hours, listening ears, and warm hearts. JAF is so grateful for these professionals, and we are honored to partner with them every day. THANK YOU!
Sincerely,
Jen and Joe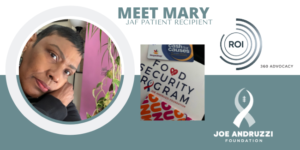 SPEAKING OUT ABOUT COLON CANCER
Mary, from Roslindale, MA, was diagnosed with stage 4 colon cancer two years ago. Her team at Tufts Medical Center, including her social worker, have provided outstanding care and support.  At 63, she is grateful for each day and is using her voice in her community to promote cancer awareness, colonoscopies, and openly talking about this particular type of cancer. A widowed mother of three children and grandmother to six beloved grandchildren, Mary calls upon us during Colorectal Cancer Awareness Month "not to forget about those who have colon cancer specifically – we are here, too. Cancer is a terrible disease. We're all in this together. Colon cancer isn't always comfortable to talk about, but we need to."
Mary shared  that JAF's Food Security Program presented by ROI Communications was a lifeline and lifted her spirits during treatment, "Food security is so important when you are diagnosed with cancer. Your taste buds change, you need quality and healthy food. The food security program helped me get those things. JAF also helped with my bills. I need transportation to get to doctor appointments and the Foundation helped to pay some car payments so I could get to chemo or to the grocery store. Thank you, thank you, thank you, Joe Andruzzi Foundation!"
Look for more on Mary's personal journey and moving story in an upcoming patient profile.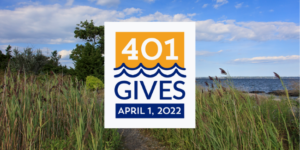 JAF Teams up with 401Gives
Did you know that in 2021 alone, JAF supported 516 Rhode Island patients and their family members, providing more than $100,000 in assistance through our Food Security & Financial Assistance Programs?
Our commitment to Ocean State residents is strong and that is why tomorrow, April 1, JAF is proud participate in 401Gives.org – Rhode Island's largest day of giving! We are calling on supporters throughout Rhode Island to donate to JAF through 401Gives and help us reach our goal of $10,000!  Share with your friends and family members about the important work we do to support Rhode Island families navigating a cancer diagnosis and ask them to join us in helping to make a difference.
Want to get a jumpstart on giving? Our page is live right now. Let's hear from you, Rhode Island! Please contact Sandy@joeandruzzifoundation.org with any questions.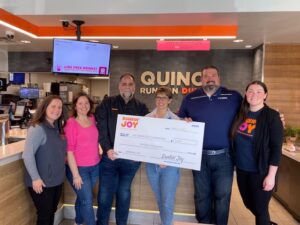 Pictured left to right: April McGonnigal and Melisa Papagni of Dunkin' Joy in Childhood Foundation,  Quincy store owner Victor Carvalho, Jen and Joe Andruzzi, and Erin Pochay also of Dunkin' Joy.
Dunkin' Joy is Making a Difference
In 2021, JAF was thrilled to be a grant recipient of the Dunkin' Joy in Childhood Foundation (Dunkin' Joy) whose mission is to provide the simple joys of childhood to kids battling hunger or illness. This Dunkin' Joy grant will provide support to pediatric patients through JAF's Food Security Program and its (Up)Beat Opportunities, a program that allow patients and their family members to attend special events and activities to laugh, smile and create happy memories together. Jen and Joe recently joined the Dunkin' Joy team at a Dunkin' in Quincy, MA.
"Caring for the community is at the heart of Dunkin' and we are proud to support JAF and the kids and families they bring hope and assistance to," said Victor Carvalho, Dunkin' franchisee and Co-Chair of the Dunkin' Joy in Childhood Foundation Board of Directors, "Days like this are my favorite days to be a local franchisee."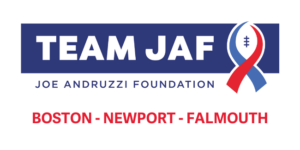 Team JAF Athletes Running Full Speed!
Boston Marathon – April 18 – As we enter the homestretch towards the 2022 Boston Marathon, the team is still ramping up their fundraising and beginning to taper their miles (after just completing Charity Teams Hop 21 – their longest training run at 21.8 miles!). The team has raised more than $200,000 and still climbing! Follow JAF on our social channels, to learn more about these 21 amazing athletes and what has motivated them to run this year.  MEET THE TEAM.
Newport 10 Miler – June 5 – JAF is excited to announce that for the first time we will have seven athletes participating in the ninth annual BankNewport 10 Miler in Newport, R.I.  You can "Meet the Team" on our website next month!
Falmouth Road Race – August 21 – Spots are still available to join JAF's 2022 ASICS Falmouth Road Race Team.  Athletes can participate in either the At-Home Edition (virtual, runners or walkers, between August 7 -14) or In-person race in Falmouth, MA (runners only, Sunday, August 21).  APPLY HERE.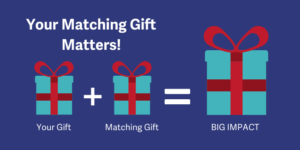 Double Your Impact
In 2021, JAF received nearly $25,000 in matching gifts. This allowed 36 additional cancer patients and their families to receive help meeting everyday expenses.
Because supporters took the time to pursue a matching gift through their employers, JAF had the additional resources it needed to provide more hope and help to those facing a cancer diagnosis.
Now, JAF has made it even easier to see if your company offers matching gifts to charities that matter to their employees. Check our website for more information on corporate gift matching and use our search tool to see if you can participate.