Annual Impact Report – 2021
A MESSAGE FROM OUR PRESIDENT AND CEO
Dear Friends,
The past year was a remarkable journey for the Joe Andruzzi Foundation (JAF). As
an organization, we were eager to turn the page on the pandemic but it had other plans, and its impact lingered, influencing our operations once again. (see "The New Norm") Each dollar raised was thoughtfully stewarded and promptly went to supporting our mission to remove financial barriers that prevent cancer patients from accessing critical care and treatment.
In the cancer space, the remnants of the pandemic have been almost as severe as the pandemic itself. JAF has previously shared that there are 1.9 million cancer diagnoses anticipated in 2022, a result of delayed routine appointments related to COVID-19. Still, no matter the large numbers, JAF remained focused on the individual patients and families who struggle daily right here in New England, trying to find a way to access treatment.
JAF is poised to bring more help, hope, and reasons to smile into 2022.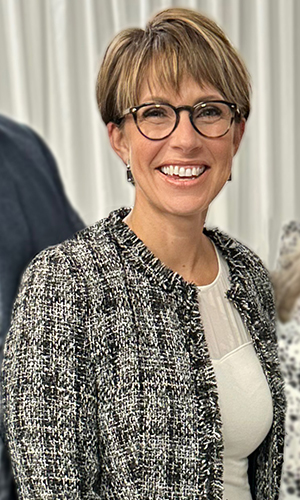 The experiences and lessons from 2021 have inspired our work in 2022. For starters, our Programs team worked closely with the JAF Healthcare Council to identify critical areas of support needed and then focused our efforts there. Next, we innovated. In January 2022, JAF was so fortunate to have the opportunity to acquire Boston Cancer Support and make our goal of transportation assistance a reality, adding funding for rides to treatment and removing another barrier to care. JAF's Food Security Program, formally launched in 2021 with the help of presenting
sponsor ROI Communications, proved to be a robust and added layer of support to our grant recipients. We are thrilled to announce that our Food Security Pilot Program Sponsor, Stop & Shop, committed to continue its sponsorship in 2022. JAF also received its first $1 million commitment in December 2021. We feel the momentum is strong for JAF to continue to be the 'go-to' resource our healthcare partners need (and want) us to be. With the ongoing support of these and other collaborators, JAF continues to be a leader in addressing financial toxicity. The creativity and talents of our staff are always humbling—their collective dedication and passion for helping others are remarkable. At every turn, our Board, Committees, and volunteers delivered incredible amounts of talent, time, and treasure for the Foundation. JAF is grateful for these individuals who advance its mission.
It was another year of incredible gratitude, as the Foundation's work would not be possible without the generosity of our partners and donors. We acknowledge they could support they could support so many others, yet they choose JAF for their giving. Thank you for believing in our mission and standing alongside us. Because of you, cancer patients and families are not alone and feel a sense of hope in humanity.
Sincerely,
Jen Andruzzi
President and CEO
Joe Andruzzi Foundation