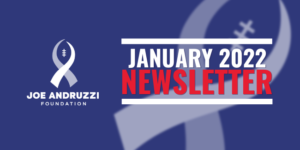 The (Up)Beat (Up)Date
Happy New Year! We can't think of a better way to start 2022 than announcing that the Joe Andruzzi Foundation (JAF) has expanded its resources to help more cancer patients and their families! Earlier this month, JAF acquired Boston Cancer Support (BCS), which provided transportation to patients for six years, ensuring they could get to medical and support services across the state of Massachusetts and access to yoga, Pilates, and more through their Randi Friedman Wellness initiatives.
JAF has added the Treatment Transportation Program (TTP) to its core programming. While the TTP will be available only in Massachusetts in 2022, we plan to bring the program to the other states we serve in the coming years. The Randi Friedman Wellness initiatives will join our (Up)Beat Opportunities, so stay tuned.
We are grateful to BCS founder Susan Chaityn Lebovits and their Board leadership for entrusting JAF to continue the amazing work they started and expand its reach under the JAF umbrella. We warmly welcome Susan and her colleague Stephanie Trowbridge as they now join the JAF team.
By officially adding TTP to our support offerings, JAF realizes another longtime goal. In combination with the launch of our new Food Security Program, presented by ROI Communications, this past fall, we continue to further establish JAF as an impactful and robust central source of support for patients. Our great thanks to our Board, who supported this acquisition in so many ways to make it a reality.
These are exciting times at JAF! Read on to learn more about another new partner we're thrilled to welcome to the Foundation!
Joe and Jen Andruzzi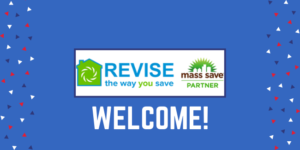 Welcome New Partner – Revise, Inc.!
The Joe Andruzzi Foundation is proud to announce its newest partner for 2022, Revise, Inc.
Revise is a Home Performance Contractor in the Mass Save Program. Founded in 2016 by Joe DiPietro, Revise is headquartered in Haverhill, Massachusetts with offices in Bedford, Raynham, and Northampton, Mass. Revise performs home energy assessments and insulation services. They also install high efficiency heating & cooling systems – always focusing on reducing the consumption of energy.
Revise is helping to raise money for JAF and patients with cancer across New England by rolling out three special pink trucks with the JAF logo on it with 2% of the revenue generated from each truck donated to JAF.
"Revise is committed to helping families facing a cancer diagnosis," said Owner Joe DiPietro.  "After meeting with Joe Andruzzi and his wife Jen, we knew JAF's mission to help patients with everyday expenses was exactly what we wanted to support.  We want to be part of providing help and hope."
So, look for a special JAF-branded Revise truck in your neighborhood soon! You may already be familiar with Revise through their commercials featuring Olympic medalist Nancy Kerrigan. Better still, if you receive a home energy assessment and receive insulation services from Revise, don't forget to request "the pink truck!"
To learn more about Revise, visit their website.

Building Financial Bridges to Patients and Families
Beginning in 2019, the Joe Andruzzi Foundation's Bridge Builder monthly giving program, with support from Empower Retirement, has provided a steady stream of income for patients living with cancer and their families throughout New England. Since inception, the program has grown to 62 Bridge Builders who provide monthly donations of various amounts to the Foundation.
Bridge Builders contribute nearly $38,000 yearly to support JAF programs, which, in turn, provide financial assistance to patients and families through paying for household bills, putting food on their table through the Food Security Program, and more. In 2021, the Bridge Builder program helped JAF impact more than 175 patients, caregivers, and family members, bringing the total of patients impacted to more than 300 since the beginning of 2020.
Did you know that there is no minimum monthly donation to become a Bridge Builder? Once you sign up, you can choose your amount and change it at your convenience. The average monthly donation is $48, and if you sign up and pledge a monthly amount of at least $15, you'll receive a gift from JAF!
Learn more about becoming a Bridge Builder at our website.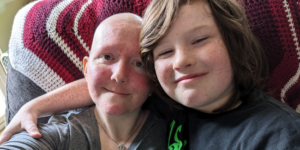 Patient Profile: Always Helping, Even in Difficult Times
Even after Patricia suffered two difficult personal tragedies in 2020 – a miscarriage followed by a cancer diagnosis – she still lent a helping hand to those in need. Her nephew fell on hard times during the initial remote learning period after the onset of the COVID-19 pandemic and Patricia took him in and allowed him to continue his schooling alongside her son, Brennan. When Patricia needed help with her household expenses during her cancer battle, the Joe Andruzzi Foundation stepped in to assist her.
Click below to read Patricia's story.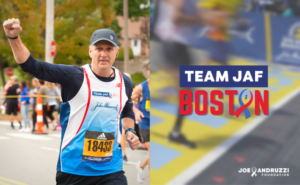 Introducing JAF's 2022 Boston Marathon® Team!
We're proud to announce the Joe Andruzzi Foundation's 2022 Boston Marathon® team! This group of 18 dedicated, determined, and passionate Team JAF athletes from six different states will take to the starting line for the 126th edition of the storied race on Monday, April 18, to raise money for patients living with cancer throughout New England and to bring awareness to the Foundation's mission.
We're so proud of these runners, who have already raised more than $65,000! To make a general donation to the team, click here. To learn more about each runner or to support their fundraising efforts, click on their name below. Also, be on the lookout for more Team JAF photos, videos, and stories highlighting our team leading up to Marathon Monday on social media (use the hashtag #TeamJAF).
Jen Andruzzi
Lauren Arbeiter
Casey Bradley
James Cole
Erin Columbare
Diana Garvin
Erin Gettys
Nolan Greene
Julie Moore
John Ponte
Michael Prew
Muzaffar Qazilbash
Nick Rispoli
David Santoro
Laura Schulz
Jordan Smith
Bart Stires
Todd Texeira
"Two Small Flags, One Big Gesture"
Local and well-renowned artist (and friend to Joe and Jen) Jeff Sparr created a one-of-a-kind piece, "Two Small Flags, One Big Gesture."  This original design commemorates the historic game that all New Englanders will never forget, the Jets-Patriots game on September 23, 2001.
Thanks to Jeff's incredible talent and generosity, JAF is selling 63 one-of-a-kind limited edition prints with all proceeds going to JAF. You can purchase a print here.
LoveAmerica Brands 
LoveAmerica Brands started when a 13-year-old girl named Ava said to her mother, "I want to do something to help others." Out of school because of the pandemic, Ava wanted to use her free time to start a business and help those in need. Ava has created a NEW bracelet design for JAF!
The new bracelets are created with polished 8mm round natural white jade gemstone beads, glass seed beads and an acrylic cube heart bead. Bracelets are $20 (shipping included), with $10 of every bracelet benefiting the Joe Andruzzi Foundation!
To order, please visit www.loveamericabrands.com.
Cookiecasions"Cookies make everything better!" is Rachel Medeiros's motto and now she's turning her delicious treats into a way to help patients living with cancer. Cookiecasions, located in Mansfield, Massachusetts, bakes and ships DIY Cookie Kits featuring homemade cookies, frosting, and sprinkles.
For every purchase of her holiday (this month's theme is Valentine's Day) cookie boxes (noted on the order form), 20% will be donated back to the Joe Andruzzi Foundation. Check out their Facebook page for more information, or find their order form here.
Click here for more information on these and other fundraisers benefiting JAF.