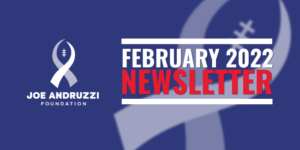 The (Up)Beat (Up)Date
February is the month of love. 
Food is love. Launched in August 2021, JAF's Food Security Program Presented by ROI Communications has exceeded everyone's expectations. As of today, we've given more than 1,000 grocer gift card grants totaling $260,400, and the applications keep coming. Success is bittersweet when you're speaking about a support program. We are honored to provide help; however, the volume reveals a painful, unmet gap. Without the generosity of those willing to help JAF meet needs through treasure, it would not be possible for JAF to provide access to nutritional food to New England oncology patients.
Time is love. Stepping forward to give time while a staff member was out on maternity leave was volunteer Erin DeStefano, whose husband is Joe DeStefano, CEO of ROI Communications. Erin's help was a gift and genuine expression of the DeStefano family's commitment to the Food Security Program, ensuring not only funds are available but the resources to get the help into the patients' hands and food onto their tables.
Kindness is love. Bob's Discount Furniture, Presenting Sponsor of JAF's Healthcare Council, recently heard a veteran patient recipient was living alone in an empty apartment and graciously stepped forward to deliver a bed, loveseat, and lamp.
The good we are doing together through corporate partnerships is real and meaningful. We continue to welcome new and returning loyal supporters to the JAF family. And want to thank you all in advance for more LOVING mission moments like these.
Sincerely,
Jen and Joe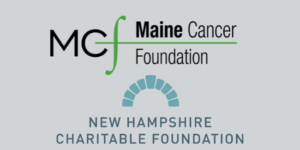 Two New Partners, Twice the Impact!
At the end of 2021, JAF was granted foundational funding from two new partners: Maine Cancer Foundation and New Hampshire Charitable Foundation!
Maine Cancer Foundation's (MCF) grant is offered as part of their ongoing efforts to reduce cancer incidence and mortality in Maine, which includes improving patient outcomes. In Maine, patients who may need to travel long distances for care are vulnerable to transportation barriers. With MCF's two-year funding support, JAF will provide direct financial assistance grants to Maine-based patients to cover transportation-related expenses. This support will help remove debilitating financial barriers and provide patients, their caregivers, and family members access to dependable transportation to receive the care and achieve positive health outcomes.
The New Hampshire Charitable Foundation's Community Crisis Action Fund has granted JAF with two-year funding to support the JAF Food Security Program for patients living in the Granite State. Recognizing food insecurity continues be a threat to in-treatment patients facing economic hardships due to their diagnosis, New Hampshire Charitable Foundation offers this targeted support so that JAF can reach even more New Hampshire families so they do not need to decide between continuing treatment or buying household groceries.
JAF is honored to receive support from these organizations to help families in Maine and New Hampshire.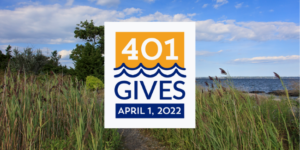 JAF Teams up with 401Gives
We're excited to announce that JAF is joining the 401Gives movement! 401Gives, powered by United Way of Rhode Island, offers everyone a safe and familiar virtual fundraising experience while supporting nonprofits that deliver vital services throughout Rhode Island. JAF has supported Rhode Island cancer patients and their families for more than a decade, helping them with everyday expenses while they focus on treatment. We are proud to participate in this special day of fundraising and show the philanthropic strength in Rhode Island.
On Friday April 1, we aim to raise $10,000! For more information about 401Gives and how you can help us reach our goal, please check out our fundraising link.
Patient Profile: This Gamer Battles a Tough Opponent
Kota Doolan is a typical 8-year-old who's full of energy, loves playing video games, and enjoys soccer. But Kota suddenly lost that energy in July 2021 when he was diagnosed with Philadelphia Chromosome Positive Acute Lymphoblastic Leukemia. His diagnosis changed everything for their family. Kota's mother, Kelly, became his full-time caregiver and his father reduced his work hours to provide some relief to Kelly in her new role.
Thanks to GlideFast Consulting, the Exclusive Sponsor of JAF's Pediatric Financial Assistance Program, the Doolans could pay for transportation-related expenses to continue to safely get Kota to treatment. Click below to read more of Kota's story.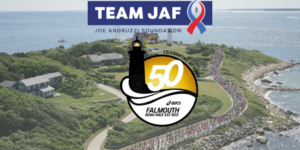 Run the 50th ASICS Falmouth Road Race with Team JAF!
We are honored to announce that we have once again been accepted to the Numbers for Nonprofits Program for the 50th running of the ASICS Falmouth Road Race. Athletes will have two options as to how they can participate:
At-Home Edition virtual component (runners or walkers) – August 7 – 14, 2022
In-person race through scenic Falmouth, MA (runners only) – Sunday, August 21, 2022
For more information on the application process, fundraising minimums, and the benefits of being a member of Team JAF, click the button below.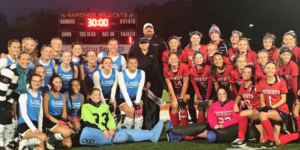 Bring Your Community Together with a JAF Fundraiser!
Community fundraisers are a big part of the Foundation and its growth. These initiatives not only raise money to help support cancer patients and their families throughout New England, but they also help raise awareness of the JAF mission beyond JAF's current supporters.
Organize a lemonade stand, a penny drive, athletic event or challenge, yard sale, host a themed cocktail party at your home or plan a golf tournament. No matter how small or big your fundraiser is, the impact you will have on cancer patients and their families is immeasurable!
To learn more or to get started visit our website by clicking here.
Examples of current fundraisers benefiting JAF can be found here.