(Up)Beat (Up)Date
Being a dreamer is a gift! You imagine things in ways others do not. You test the odds, and you are untiring to work as hard as it takes to reach your dream.
In the fall of 2007, my dream was to begin a foundation that supported cancer patients and families with financial assistance. This dream followed sitting with Joe in Brigham and Women's Hospital from June through August that year, not understanding how so many others would do what we were doing—receiving the best medical care and financially keeping our household running.
I was (and still am) determined to change the odds for cancer patients' households who do not have the means we did while Joe was battling cancer. No one, absolutely no one, should have to choose what household expenses not to pay so they or their loved one could pay for the week's oncology appointments co-pays along with the new prescriptions not covered by insurance.
Best birthday present ever? The IRS 501c3 determination of status letter telling me they approved my application for JAF to become a nonprofit. (Yes, the letter was dated May 22, 2008.) Now each and every year, the unintentional birthday gift I received 14 years ago is celebrated with each and every one of you. My once dream of providing financial assistance to patients and families has been a reality for 5,110 days and counting – providing a lifeline to over 36,500 patients and their family members.
THANK YOU for believing in and supporting the incredible work of JAF. TOGETHER, we are impacting households across New England!
Jen and Joe Andruzzi
P.S. I cannot wait until you see the dreams I have been building for years become a reality over the next 365 days!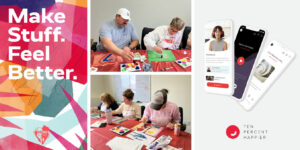 Mental Health Awareness Month
This month, the Joe Andruzzi Foundation embraced Mental Health Awareness Month as a team, for our patients, and within our community. It was important to all of us to speak openly about self-care and remove stigma about seeking help. Here, President and CEO, Jen Andruzzi, shares her message and experience:
15 years ago…
Joe and I recall all the scary firsts that came in May of 2007, first scan, first phone call, first oncology appointment. Fast-forward to the end of summer, where Joe experienced a deep depression when his treatment wrapped up and post scans began. The NFL season kicked off without him for the first time in ten years. As the days and months went by, Joe started healing after asking for help and having the privilege of accessing a psychologist within the Dana-Farber Cancer Institute.
Personally, I cannot forget to continue self-care as Joe's caregiver because the pain I experienced in 2007 was extraordinary. I was not the stage IV cancer patient we came close to losing at times during long summer days in the hospital, but I was the one sitting next to the patient and advocating for him all the days/hours he did not wake. My self-care in 2007 looked very different than it does today—my toolbox continues to grow with new methods and techniques. Today, I have a therapist who I see frequently, keep personal development at the top of my daily/weekly goals, give myself permission to say no, and am willing to accept the things I cannot change.
The biggest takeaway we want you to have is not to be ashamed of struggle and needing to take care of yourself. Our mental health needs to be first for us to be our best for those we love and support, personally and professionally.
Today, the Foundation commits to helping the cancer patients in this area through our (Up)Beat Opportunities. In addition to famous JAF's Codzilla boat rides in Boston and Patriots Dream Camp experience, JAF has created patient resources for self-care through activities and apps.  I encourage you to read more on the emphasis and support around this topic in this blog written by JAF's Patient & Family Support Specialist Katie Haidemenos!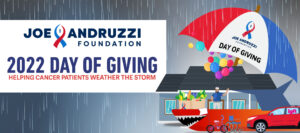 JAF's 2022 Day of Giving was a great success, raising more than $40,000 for cancer patients and their families – and donations are still coming in! The Foundation is incredibly grateful for our match donors Tom and Cathy Lawson of Barrington, Rhode Island.  Because of their generosity, supporters were able to double their donation, extending the help JAF can provide.  Thank you to everyone who participated!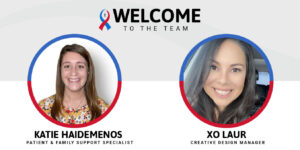 We are so excited to welcome two new talented additions to the Joe Andruzzi Foundation Team: Xo Laur and Katie Haidemenos!
Xo has joined JAF as Creative Design Manager as part of the Marketing and Communications team, serving as graphic designer and social media creator.
Katie joins JAF as Patient & Family Support Specialist as part of the Programs Department, supporting Transportation Assistance and (Up)Beat Opportunities.
Learn more about our new hires Xo and Katie!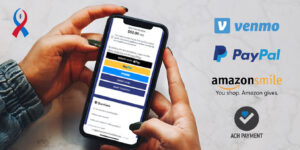 Giving to JAF Just Got Easier!
At the Joe Andruzzi Foundation (JAF), we are dedicated to those who support our mission and the cancer patients we help. We also want to make it as easy as possible for supporters to join us in our mission.  So, we've made exciting additions and changes to our giving platform:
Venmo, PayPal, and ACH  – JAF has the ability to accept Venmo, Paypal, or even make an ACH transfer from a bank account.
Match Donations – Please consider checking to see if your company will match it. CLICK HERE for more information on corporate gift matching and use our search tool to see if your employer participates.
AmazonSmile – AmazonSmile is a simple way for you to support your favorite charitable organization every time you shop, at no cost to you. Go to smile.amazon.com on your web browser and, in the top left corner on the tool bar, select JAF as your charity of choice.  AmazonSmile can also be activated in the Amazon Shopping app for iOS and Android phones. When you shop with AmazonSmile, you'll find the exact same low prices, vast selection and convenient shopping experience as Amazon.com, with the added benefit that AmazonSmile will donate 0.5% of your eligible purchases to the charitable organization of your choice.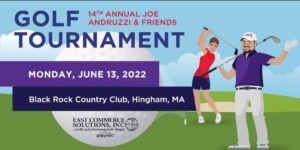 14th Annual JAF Golf Tournament
In just about two weeks (June 13), JAF will be returning to Black Rock Country Club in Hingham, MA, to host our 14thAnnual Joe Andruzzi and Friends Golf Tournament presented by East Commerce Solutions! Although the event is sold out, there are many ways to still get involved! Click the learn more button below to read more details on purchasing a tee sign (or a tee sign with a dinner ticket!). More information about purchasing Helicopter Ball Drop and Chance Tickets, as well as registering to participate in our online auction, is coming soon!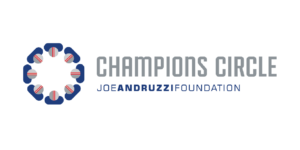 Welcome New Champions Circle Member:
Bay Coast Bank! 
Proudly serving the people of Massachusetts and Rhode Island, BayCoast Bank is dedicated to making a positive impact on its local community. As a Champions Circle Teammate Sponsor, BayCoast Bank plays a key role in lessening the financial and emotional burden associated with a cancer diagnosis. Thanks to everyone at BayCoast for your support and welcome to the JAF Family!
The Joe Andruzzi Foundation's (JAF) giving society, Champions Circle, recognizes exceptional businesses who want to play a key role in financially supporting New England cancer patients and their families. Champions Circle is focused on highlighting businesses and business leaders who commit to making an impact locally with their annual gift to JAF.  Members enjoy the benefits of networking, special events (we are planning now for a fall/winter event!), features in this newsletter, and, of course, helping patients and families local to your business.
If you'd like to learn more on how your business can become a Champions Circle member CLICK HERE or contact Nicole@joeandruzzifoundation.org.