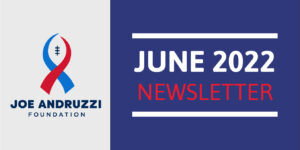 (Up)Beat (Up)Date
Summer has arrived, bringing many things—beach days, boat rides, family vacations, outdoor concerts, and much more. I am thrilled to share that JAF's in-person (Up)Beat Opportunities are returning in July with Boston Harbor City Cruise's Codzilla Thrill Ride (my favorite!), allowing us to help more than 90 patients and guests cool off and leave cancer at the shore for an hour.
Flip flops and sunglasses are what the JAF senior leadership will wear while deep in focus following a Bridgespan Leadership Program secured by Anne Murphy, VP of Finance and Operations. Bridgespan focuses the team on strategy and getting critical resource decisions right—allocating time, talent, and dollars to the activities with the greatest potential impact. With this preliminary work complete, the senior leadership team and I will now turn our attention to eight organization imperatives, each of which will help to anchor our future strategy and clearly define our path forward.
The work mentioned alone will not solve the financial hardship problem JAF currently faces due to the overwhelming need of patients. It will, however, help Foundation leaders to focus on how we can impact a patient in more ways and deliver those services efficiently and effectively.
Right now, JAF cannot keep up with the demand for financial grants. Previously, I shared that the application volume has escalated and hasn't stopped. As a result, we had to make a heartbreaking, yet necessary decision. JAF has temporarily closed the Financial Assistance Application portal from June 23 through July 25 to keep our doors open for patients and families this year and in the years to come. The closure is taking place even after the Board's Finance Committee approved a 13% increase to the Financial Assistance and Food Security respective budgets from January through mid-July.
Given today's economic and health disparities, the oncology space needs a leader working towards collaborative efforts across all sectors, anticipating needs and advancing offerings. JAF will serve as that leader. We are optimistic each of you will join us by making gifts to support our advancements and using your voice to bring awareness to the cost of cancer. In this way, we will give hope to cancer patients and families.
Jen Andruzzi
President and CEO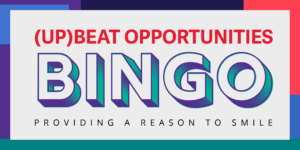 (Up)Beat BINGO: Everyone is a Winner 
(Up)Beat Opportunities have officially kicked off as a monthly event for patients and their families! Patient recipients gathered virtually to play BINGO with Katie Haidemenos, JAF's Patient and Family Support Specialist, on Friday, June 24. Participants had lots of fun winning great prizes, including a JAF swag bag with a gift card! What started out as fun and games transformed into a magical evening of camaraderie and support. The positive energy at this online event was contagious and left the group wanting to meet again soon. Please read below to hear from a patient participant.
We are excited to announce that July will see the return of a favorite (Up)Beat event: Boston Harbor City Cruises' Codzilla Thrill Ride taking place July 28.
If you are a patient recipient who is looking to participate in the Codzilla ride or future events, contact katie@joeandruzzifoundation.org.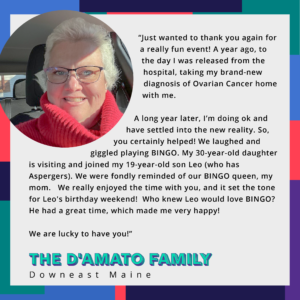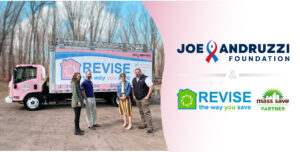 Revise Delivers Savings and Support
Earlier this year, JAF welcomed Revise as a new corporate partner. Since then, pink trucks have been rolling out across New England performing home energy assessment and insulation services. At the same time, they are raising money for cancer patients and families.  Each request for a pink truck returns 2% of revenue back to JAF.  Click on the button below to read more about this partnership and why the Foundation's mission hits close to home for owner Joe DiPietro and his wife, Anna.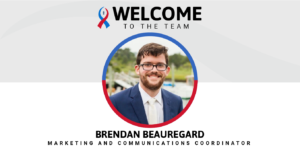 Welcome, Brendan! 
We are thrilled to welcome Brendan Beauregard to the Joe Andruzzi Foundation!
Brendan joins JAF's Marketing and Communications team, serving the role of Marketing and Communications Coordinator.  He'll be assisting with all of the Foundation's communications with supporters. Learn more about Brendan and his position here!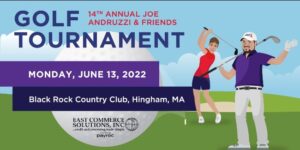 14th Annual JAF Golf Tournament Hits All-Time High
On Monday, June 13, JAF held the 14th Annual Joe Andruzzi & Friends Golf Tournament (presented by East Commerce Solutions Inc, and our friends at Apotho Therapeutics) at the beautiful Black Rock Country Club in Hingham, MA. We are thrilled to share that it was a record-breaking year! Thanks to the generous response from our donors, this event raised more than $374,000. Of those funds, $62,000 was raised specifically for JAF's newly expanded Transportation Assistance. This support covers car payments, car insurance, repairs, and now includes actual transportation to treatment with rides through our partnerships with Lyft and GoGoGrandparent. You can watch the full video about the impact our Transportation Assistance has for patients below.
For those who did not have a chance to participate in our event, auction or tournament games, you can still donate by clicking the link below.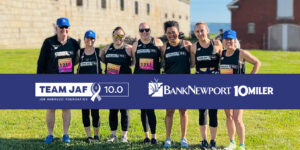 BankNewport 10 Miler
Seven Team JAF athletes took to the streets in Newport, Rhode Island on Sunday, June 5, and participated in the BankNewport 10 Miler! The 10 Miler marked the first time JAF ran a road race in the Ocean State. Of the combined effort of our athletes, donors, and supporters, we are overjoyed to announce Team JAF raised nearly $11,000! Check out the full recap on the 10 Miler below!