(Up)Beat (Up)Date
"April showers bring May flowers." At the Joe Andruzzi Foundation (JAF), our showers have been more like a tsunami. Last year, JAF forecasted a surge of Financial Assistance Program applications to hit at the end of 2021 due to the pandemic and deferred medical appointments, resulting in more cancer diagnoses. That day is here. Financial Assistance Program pending applications are up 68% from last year to date. Due to last year's fundraising success, we were able to increase the program's budget, but not by the 30% necessary to meet the need. Sadly, the surge has now arrived at a rate we could never have anticipated—April showers.
Offering hope and inspiration at exactly the right time were JAF's 21 amazing Team JAF 2022 Boston Marathon charity runners who successfully exceeded their initial goal by more than $100,000—fundraising total to date: $291,000. These athletes and their supporters have made it possible for the Financial Assistance Program to continue approving applications and funding at the increased rate through Q2—May flowers.
While the Programs team hopes the influx of applications will slow down, they are aware they will most likely not, forcing Foundation leadership to make the difficult decision to close the healthcare partners' application portal for a period of time. Until then, our team perseveres, planning to fund as many patients as possible for as long as we can.
To do that, we hope you'll participate on May 24 for our Day of Giving, a campaign that will serve to replenish our funds to stand by our patients. Very often we hear, "JAF is our 'go to' support for patients. You help so many patients – any age, any type of cancer." We are proud to be a leading and reliable resource for so many.
Sincerely,
Jen and Joe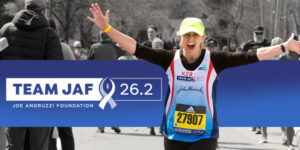 126th Boston Marathon Recap
On April 18, 2021, Team JAF athletes completed the 126th Boston Marathon and we couldn't be prouder!
Thanks to the hard work, dedication, and generosity of our athletes, donors, and supporters, Team JAF raised more than $291,000 (and counting!) in support of the JAF mission.
For a full recap on our 2022 Boston Marathon including photos from race day, we encourage you to click the link below.
---

Mark your calendars!
Next month, the Joe Andruzzi Foundation will host its annual May Day of Giving! Among all our events and opportunities to give, this special day celebrates JAF's anniversary, having been officially founded on May 22, 2008 by Joe and Jen. This year, our Day of Giving will mean even more as for the first time since our inception, we are seeing unprecedented increases in need. Due to the postponement of preventive care appointments during the pandemic and later stage diagnosis, coupled with the exponential increase in cost of living, the demand on the support JAF provides is at an all-time high. To keep up with the 68% increase in grant applications, we are setting our goal for our Day of Giving to $50,000!
Join us on May 24 and help lessen the financial burden of New England cancer patients, making their day a little brighter.
---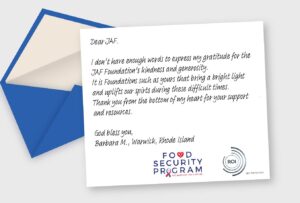 Mission Moment: Hearing From Those We Help
Last month, JAF received the following note from a patient recipient of the Food Security Program presented by ROI Communications. Included with her grant was a surprise gift card to PetSmart (donated by a supporter) as JAF learned through Barbara's social worker she had two supportive pups at home.
---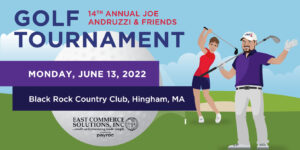 14th Annual JAF Golf Tournament
The Joe Andruzzi Foundation is excited to share that we will return to Black Rock Country Club in Hingham, MA, on Monday, June 13, for our 14th Annual Joe Andruzzi & Friends Golf Tournament presented by East Commerce Solutions!
With the help of so many generous supporters, last year's tournament raised more than $350,000 and we have no doubt that with the help of our community and our golf committee we are sure to surpass our goals again! We are excited to welcome back so many returning players and sponsors again this year.  Our annual tournament games such as the Helicopter Ball Drop and Chance Tickets will be available for purchase soon so everyone can get in on the fun!
Please click the LEARN MORE for more details on sponsorships and tee signs.
---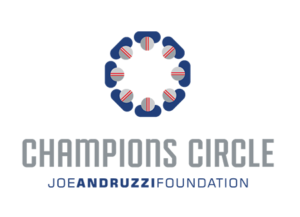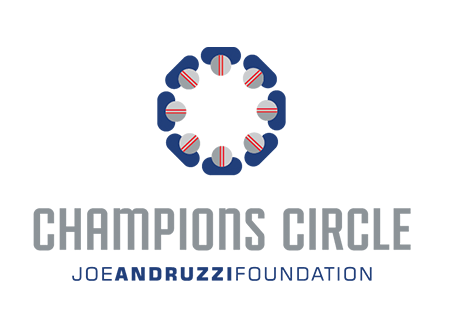 Join the Huddle: Become a Champion for Cancer Patients!
The Joe Andruzzi Foundation's (JAF) giving society, Champions Circle, recognizes exceptional businesses who want to play a key role in financially supporting New England cancer patients and their families. Champions Circle is focused on highlighting businesses and business leaders who commit to making an impact locally with their annual gift to JAF.  Members enjoy the benefits of networking, special events (we are planning now for a fall/winter event!), features in this newsletter, and, of course, helping patients and families local to your business.
Welcome to our newest Champions Circle member –  Tele-Networks!   Tele-Networks is located in Rhode Island and has been a leader in telecommunications construction for 25 years.
If you'd like to learn more on how your business can become a Champions Circle member, contact Nicole@joeandruzzifoundation.org.
---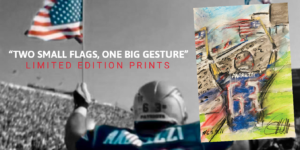 Moms, Dads, & Grads: Give the Gift of Art
Local and well-renowned artist (and friend to Joe and Jen) Jeff Sparr created a one-of-a-kind piece, "Two Small Flags, One Big Gesture." This original design commemorates the historic game that all New Englanders will never forget, the Jets-Patriots game on September 23, 2001.
Thanks to Jeff's incredible talent and generosity, JAF is selling 63 one-of-a-kind limited edition prints with all proceeds going to JAF. Each piece is embellished and signed by 3x Super Bowl Champion Joe Andruzzi. You can purchase a print here. Perfect for home or office.  Get yours while they last!
---