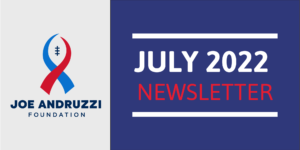 (Up)Beat (Up)Date
Summer is in full swing here at the Joe Andruzzi Foundation. While a time for vacations and travel, our team is connecting with partners and ambassadors, sharing that the application portal closure (also noted in the June e-newsletter) did not allow us to 'catch a breath' as hoped. Three days leading to the shutdown, we hit record-high application numbers, 128 applications in three days. (An average week is 40 applications).
The hard reality at JAF is that we are finding ourselves needing new paths, processes, and funding sources to help each patient household facing the cost of cancer-financial toxicity. The original 'tsunami' we spoke about has proven to be a formidable and longer-lasting storm. We are considering every option and looking for new ways to make every dollar go further. Our commitment and vision to supporting cancer patients with everyday expenses have never been more focused.
As the Foundation reflects, we ask that you join us by following our summer social media campaign. Read our posts about everyday expenses, reminding everyone how fortunate many of us are to fill our gas tanks for vacation without worry. A number of JAF patient recipients cannot afford to pay for a tank of gas simply to get to and from treatment. So, if there has ever been a moment to join our annual giving society Bridge Builders, now is the time. (Learn more below.)
Please know how incredibly grateful we are for your loyal support and stewardship – alert: you may be personally thanked by Joe on one of his many 'road trips' to meet with supporters and partners. Soon he'll be thanking golfers at the Golf Fights Cancer Golf Marathon at Juniper Hills Golf Course in Northborough, MA, Landmark Medical Center's Annual Golf Tournament at Kirkbrae Country Club in Lincoln, RI, and a few more in August.
Sincerely,
Jen Andruzzi
President and CEO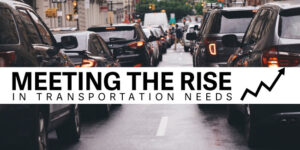 Transportation Costs Driving Up Patient Needs 
JAF knows that sometimes the challenge of cancer treatment is just getting there. At the start of 2022, the Joe Andruzzi Foundation (JAF) announced that Transportation Assistance would expand to include rides to appointments through a new partnership with Lyft (Massachusetts residents only at this time). This support would be in addition to the existing financial assistance JAF already provided for car and insurance payments as well as auto repair costs. The timing couldn't have been more critical for cancer patients and their families.
For the first time in history, the average American car payment is well over $700 monthly. NPR recently reported on this HERE. Now, with this increase, a JAF grant most likely only covers one car payment when, historically, a grant could typically cover two months worth of car payments. As the cost of gas and payments go upwards nationwide, so does the risk of patients cancelling treatment appointments or follow-ups. And there doesn't seem to be an end in sight. In June, JAF saw an 80% increase in requests for transportation support from the previous month.
So far this year, JAF's Transportation Assistance has helped patients and their families pay for over $87,000 in car payments, insurances, and repairs. The Foundation will attempt to keep pace with the needs of our community, identifying new funding to ensure patients can access life-saving treatment.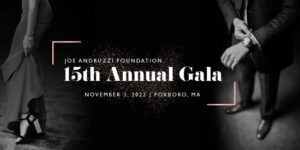 Save the Date:  JAF's 15th Anniversary Gala! 
JAF will be returning to Gillette Stadium's Putnam Club Thursday, November 3 to celebrate our 15th Annual Joe Andruzzi Foundation Gala!
The night will be filled with fun and inspiration including patient stories, entertainment, awards, an online auction, a red-carpet experience with celebrity guests and so much more!
We look forward to welcoming close to 400 guests this year to Gillette! For those who feel more comfortable viewing from home, we will again offer a virtual component. Tickets for the event will go on sale in early September. SAVE THE DATE and get ready for an evening to remember!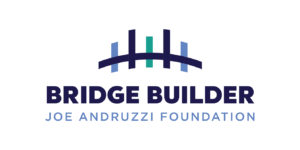 Building Financial Bridges to Patients and Families
Starting in 2019, the Joe Andruzzi Foundation's Bridge Builder monthly giving program, with support from Empower, has provided a stable source of income for patients living with cancer and their families throughout New England. Since its inception, the program has grown to 64 Bridge Builders, who provide monthly donations of various amounts to JAF.
Bridge Builders' contributions of nearly $38,000 provide financial assistance to patients and families for such items as household expenses, putting food on their table, and more. During 2021, Bridge Builders helped more than 175 patients, caregivers, and family members—bringing the total of patients impacted to more than 300 since the beginning of 2020.
Did you know that there is no minimum monthly donation to become a Bridge Builder? Once you sign up, you can choose your amount and change it at your convenience. The average monthly donation is $48, and if you join and pledge a monthly amount of at least $15, you'll receive a gift from JAF!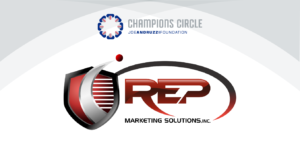 Champions Circle Adds New Membership Opportunities, Welcomes REP Marketing Solutions Inc.
The Joe Andruzzi Foundation's business giving society, Champions Circle, recognizes exceptional organizations who want to play a key role in financially supporting New England cancer patients and their families. Champions Circle is focused on highlighting businesses and business leaders who commit to making an impact locally with their annual gift to JAF. Members enjoy the benefits of networking, special events (coming up in September!), features in this newsletter, and, of course, helping patients and families local to your business.
We are excited to announce our two new membership opportunities, the All-Star and the Super Bowl levels. Please click here to learn more about our Champion Circle membership levels and benefits.
Welcome to our newest Hall of Fame level member, REP Marketing Solutions, Inc ! Located in Dracut, MA, REP works with some of the Best-In-Class technologies for professional, integrated solutions. REP Marketing Solutions, Inc. is a group of technically proficient professionals from all segments of the security industry – distribution, corporate end-user IT help desk, project management, systems integrators, and product design – who are committed to providing customers with superior service while supporting and advancing their integration partners into effective and usable solutions that can evolve.
To become a Champions Circle member today, contact Nicole@joeandruzzifoundation.org.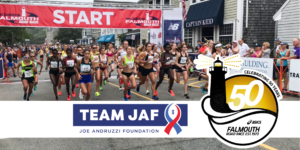 And The #TeamJAF Falmouth Runners Are…
We are thrilled to announce the Joe Andruzzi Foundation's 2022 ASICS Falmouth Road Race Team! Forty-two dedicated runners will participate in the 50th running of this famous race, putting their minds and bodies to the test. The funds they raise will support the Foundation's mission of providing help, hope, and a reason to smile, for New England cancer patients and their families.
Similar to the last few years, JAF will have athletes participating At-Home (virtual component) on August 7 – 14, 2022, and the traditional in-person race through scenic Falmouth, MA on Sunday, August 21, 2022.
Everyone at JAF is incredibly proud of these runners who have already raised more than $50,000!  To make a general donation to the team click here. To learn more about each runner or to support their fundraising efforts, click the red button below. Also, be on the lookout for more Team JAF photos, videos, and stories highlighting our team leading up to race week on social media (use the hashtag #TeamJAF).