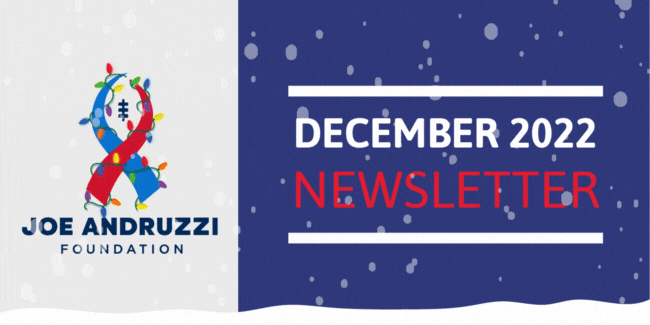 A Visit from Saint Nick (Stevens, that is…)
(with apologies to Clement C. Moore)
'Twas just days before Christmas, when all through the office
Things were still bustling as JAF kept to its promise;
To help cancer patients with funds, food, and care
In the hope that financial burdens will soon become rare;
The staff was all sporting their holiday threads,
While visions of helping cancer patients danced in their heads;
With Jen at her desk (and Joe waking from his nap),
The team sat down for a quick '22 recap,
This year JAF was blessed with help on all things that mattered
Events and campaigns had goals that were shattered;
Well Told, Castle, and 5Tool gave our gala some flash,
Patients had help thanks to ROI, Bob's, Dunkin Joy, and GlideFast!
There are so many partners JAF is glad to know!
The Lawsons, the Hubers, and Stop & Shop, Ho-Ho-Ho!
And then, what to their wondering eyes did appear,
Three Hop Overs who raised $23,000, simply by pouring some beer!
Golf and gala had a host so lively and quick,
They knew in a moment it must be Saint Nick (Stevens).
Thanks to him, more rapid than eagles, the donations they came,
But the team shouted, "Hey, there are so many others to thank by name!":
"Thanks, Landmark! Thanks, Foster! and Little Rhody too!
Golf Fights Cancer, ConfiKids, and Empower; we are grateful for you!
Metal Dynamics shopping and Jeff Spar art for the wall!
And Team JAF runners – thank you to ALL!"
While the fundraising, gala, and events are all fun,
Jen reminded the team, "There's more to be done!";
So, adding more programs, now there are FIVE
Expanding (Up)Beat and adding TTP so to treatment patients can arrive!
It's important to keep cancer families under one roof,
And tools at their fingertips…then, POOF!
Jen drew in her head and began calling around,
Her idea needed a partner, and in Zudy, she found!
Her idea would be different from things in the past,
It will bring patients together with resources fast;
Jen said, "We're just getting started; we hope to launch soon!"
Our elves are still working, so be sure to stay tuned!"
Joe's eyes—how they twinkled! His dimples, how merry!
Praised the (Up)Beat events because cancer is so very scary.
JAF brought smiles and cheer to patients away and at home,
Codzilla, gingerbread building, and bingo, so they know they're not alone.
As the staff continued its list of those who'd been nice,
Mere words just didn't seem to suffice,
There are our friends at Regan who help tell our stories,
The Healthcare Council who shares patients' worries;
Those fantastic volunteers who year-round are so awesome,
Who make our guests and supporters feel so welcome.
We can't forget our Champions Circle and Bridge Builder elves
Businesses and individuals giving so much of themselves;
With a generous endowment arriving in the Hale Family sled,
Joe and Jen then knew they had nothing to dread;
They spoke not a word but did their last bit of work,
Helping patients access care was the ultimate perk,
The entire team hopes that everyone knows,
Just how far your time, talent, and treasure goes.
Joe sprang to his hybrid sleigh, to his team gave a whistle,
And away they all drove, closing the office for 2022; it was official.
But I heard Joe exclaim, ere he drove out of sight—
"Happy Holidays to all, and to all a good night!"
Happy Holidays and Wishing Peace in the New Year!
From All of us at the Joe Andruzzi Foundation
Joe, Jen, Nicole, Danielle, Gillian, Shannon, Sandy, Denise, Barbara, Xo, Katie, Laura, Ashley, and Brendan
---
Thank You From a Patient
JAF often receives notes and calls of gratitude for the assistance they receive. All of us at the Foundation thought that the one below from a breast cancer patient was especially heartwarming to share at this time of year.
"I would like to thank the Foundation for taking so much stress off me at this time in my life. I would also like to thank all the people who have the heart to think about what cancer patients and families are going through. Thank You again for the amazing grants that are given to all the people in need."

-Mary D., JAF Patient Recipient from Vermont
---
Last Chance to Make Your 2022 Gift
Did you still want to make a donation to the Joe Andruzzi Foundation and help New England cancer patients? Good news! There's still time.  Be sure to make your gift online (or postmark by mail) by December 31, 2022.    Thank you!