This August marks an important milestone for the Joe Andruzzi Foundation's Food Security Assistance presented by ROI Communications!   
In December of 2020, JAF conducted a pilot Food Security Program with the support of a $50,000 grant from Stop & Shop Supermarkets. The pilot funded 199 households and supported 478 patients from December 2020 through March 2021. Nearly half of the grants awarded helped families who reported annual household income losses between 50% to 100% because of a cancer diagnosis.   
With the pilot demonstrating an overwhelming need in the cancer community, the Foundation officially launched our Food Security Assistance on August 11, 2021, for patients and their families. The official program was presented by longtime supporters at ROI Communications along with additional sponsors at Oncopeptides, Bearingstar Insurance, and the Dunkin Joy Foundation.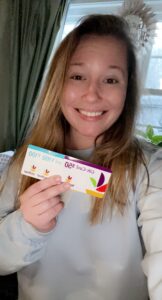 Food Security Assistance provides grocery store gift cards directly to patients. Participating stores are Stop & Shop Supermarkets, Shaw's, Big Y, Hannaford, and Market Basket. A household of one person receives $150.00, a household of two to four receives $250.00, and a household of five or more receives $300.00. Recipients of Food Security Assistance are eligible to reapply 12 months after their last grant if they still meet JAF eligibility requirements—along with being able to apply to other JAF assistance initiatives.  
"JAF had long observed cancer patients reporting food insecurity as their greatest need, but between the fallout from the pandemic, supply chain issues, and rising costs, we've seen that need really skyrocket in the last year," said Foundation President and CEO Jen Andruzzi. "Cancer patients are incredibly vulnerable by the very nature of their disease, but this vulnerability is compounded by economic and pandemic conditions. With the help of our sponsors and donors, we're proud to offer assistance that's tailored for the patient's experience and journey, offering discretion and dignity every step of the way."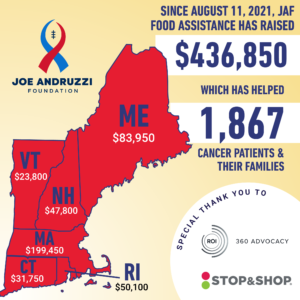 In 2021 alone, JAF's Food Security Assistance has distributed $436,850, with 46% going to Massachusetts patients, 19% to Maine patients, 11% to both New Hampshire and Rhode Island patients, 7% to Connecticut patients, and 5% to Vermont patients. Going into its second year, the Foundation's Food Security Assistance is backed by the renewed $50,000 commitment from Stop & Shop Supermarkets.  
"Over the last few years, JAF heard from our patient population about the strain food [expenses put] on a household budget," said JAF Senior Program Manager Shannon Gallanty. "Providing gift cards to local grocery stores allows patients to purchase healthy options for themselves while undergoing treatment and gives them the opportunity to provide food for their family members as well."  
Entering its second year, JAF remains as committed as ever to ensuring that New England cancer patients never have to choose between putting food on their table or paying for critical treatment or prescriptions.   
To read more about JAF's Food Security Assistance, click here!