Rhode Island did not disappoint as our first stop on JAF's Road Trip! Every member of the JAF team traveled to meet with healthcare partners, corporate sponsors, supporters, and patients throughout the Ocean State! We received a warm welcome everywhere we went – from coffee houses to the famous Olneyville restaurant to world-class hospitals, meeting new friends eager to join our mission. One thing is for sure, Rhode Island is filled with kind and generous people and businesses looking to help cancer patients.  
Monday: Walking in a Patient's Shoes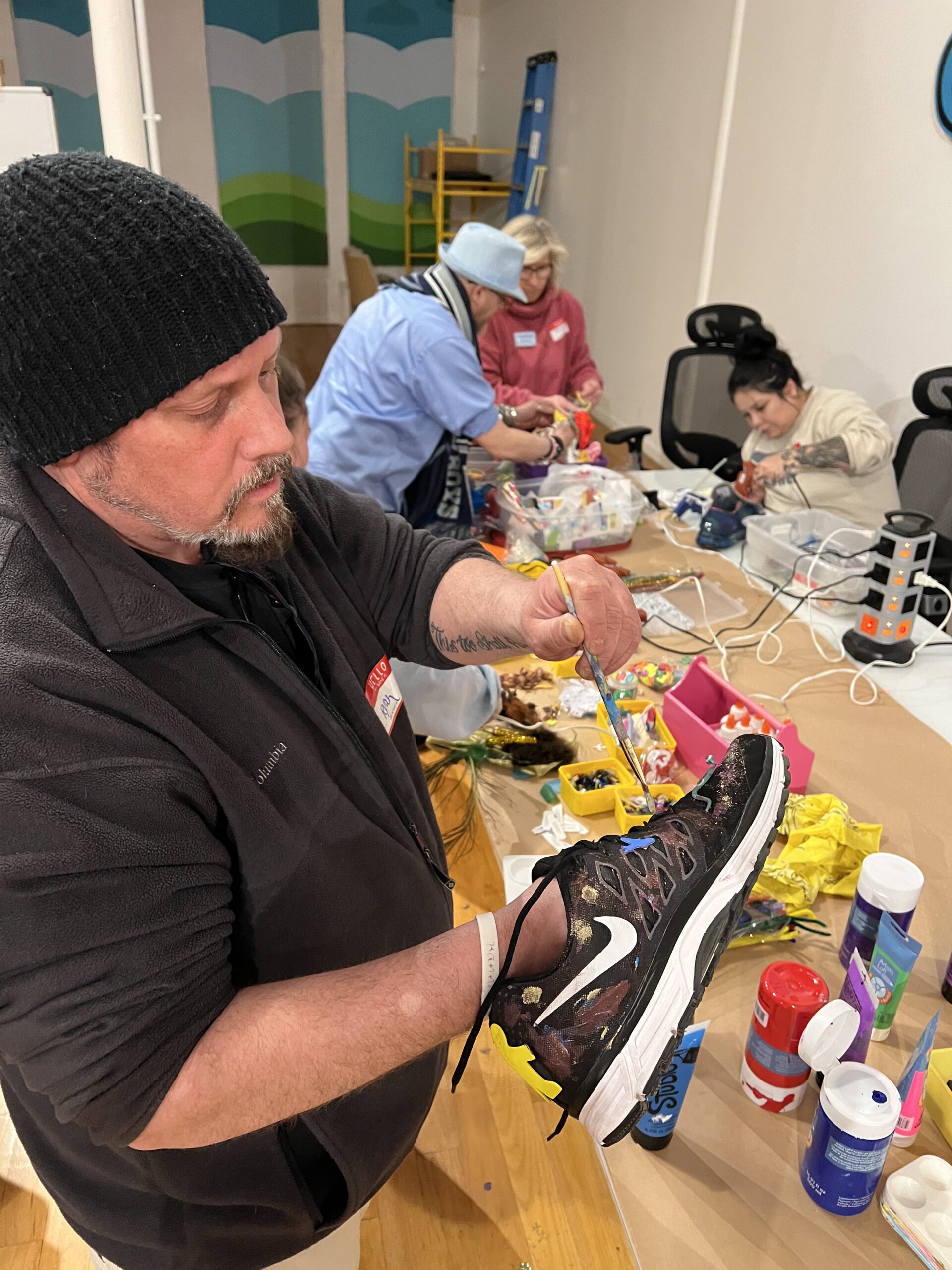 The Foundation began the week surrounded by those we serve. Gathering at PeaceLove Studios in Pawtucket, JAF hosted the Scribl Workshop, "Story Shoes," for Rhode Island patient recipients. Led by PeaceLove Creator (and JAF's own!) Katie Haidemenos, guests (and staff) shared what it is like to 'walk in their shoes' by decorating, yes, a shoe! It was a beautiful evening of conversations and shared cancer journeys. This event set the tone for the week and built a fantastic community of patient connections. Shout-out to our beautiful and amazing patient guests – Molly, Denise, Mario, and Kelly.
Tuesday: Bright Lights, Little Faces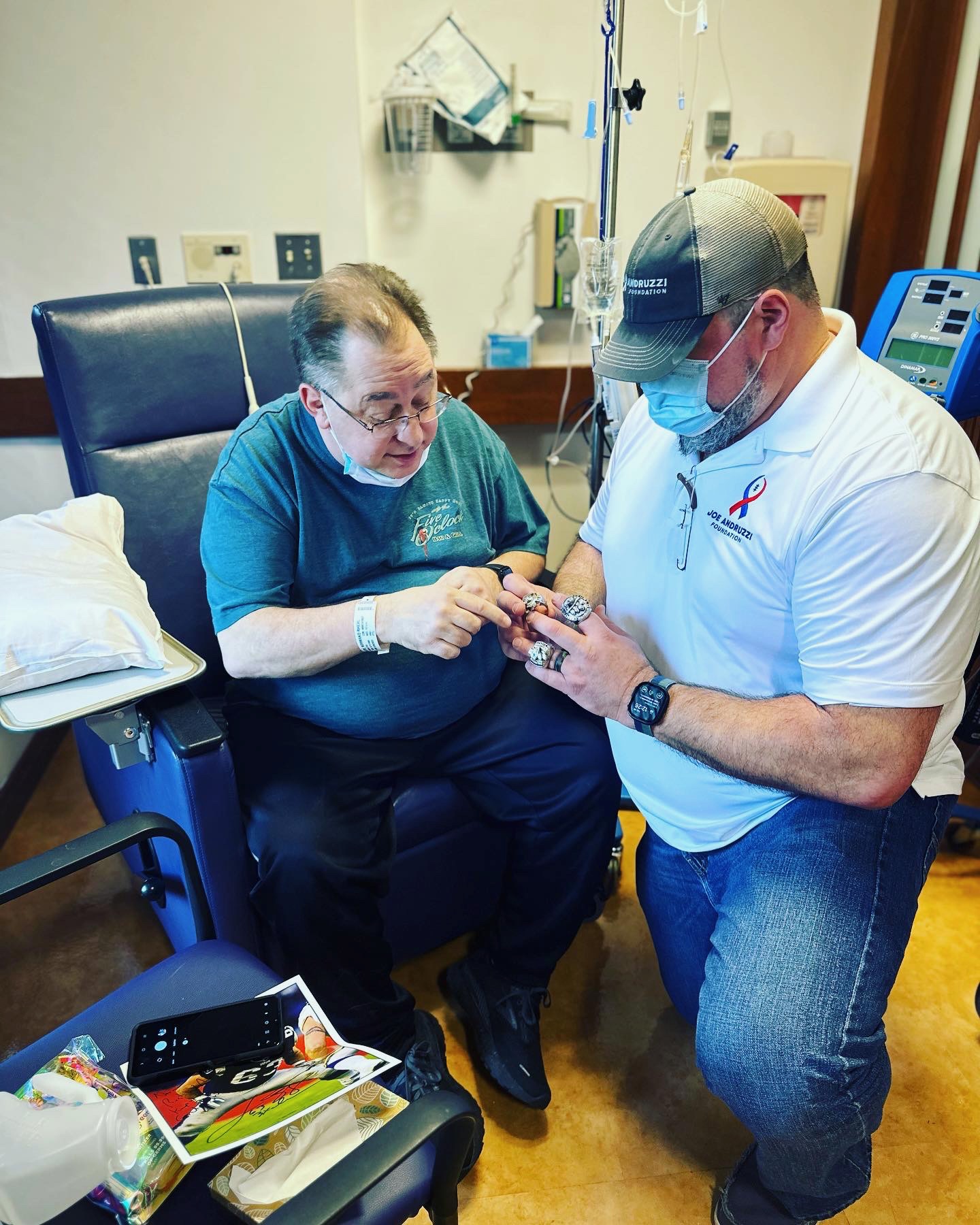 First stop – Rhode Island Hospital in Providence! JAF's Programs Team met with social workers Melissa, Laura, Mercedes, Anthony, and Courtney, followed by patient visits on the oncology infusion floor. Joe sat and chatted with more than a dozen patients and their family members, sharing treatment stories and taking photos with a few Super Bowl rings while leaving behind a care package for each patient.
The chilliest of evenings ended up being the most heartwarming. More than 30 people of all ages gathered in the Women & Infants Hospital's parking lot directly across from Hasbro Children's Hospital to participate in their nightly bedtime ritual – Good Night Lights –  for pediatric patients. At exactly 8:30 p.m., JAF staff and families, board members, supporters, and friends at The Izzy Foundation flashed dozens of lights to the young patients in their rooms. These beams of light signaled hope, encouragement, and love. JAF's group sent good night wishes for one full minute and even walked further down the street to reach more patients around the building. JAF sends profound gratitude to Steve Brosnahan, Hasbro's resident cartoonist and originator of Good Night Lights. Steve helped the Foundation coordinate this event and showed us a unique 'illuminating' display at Hasbro. Before we left, one of JAF's youngest supporters stepped forward to share a simple drawing – a heart – asking Steve to give to a patient inside the hospital. He did just that and shared the next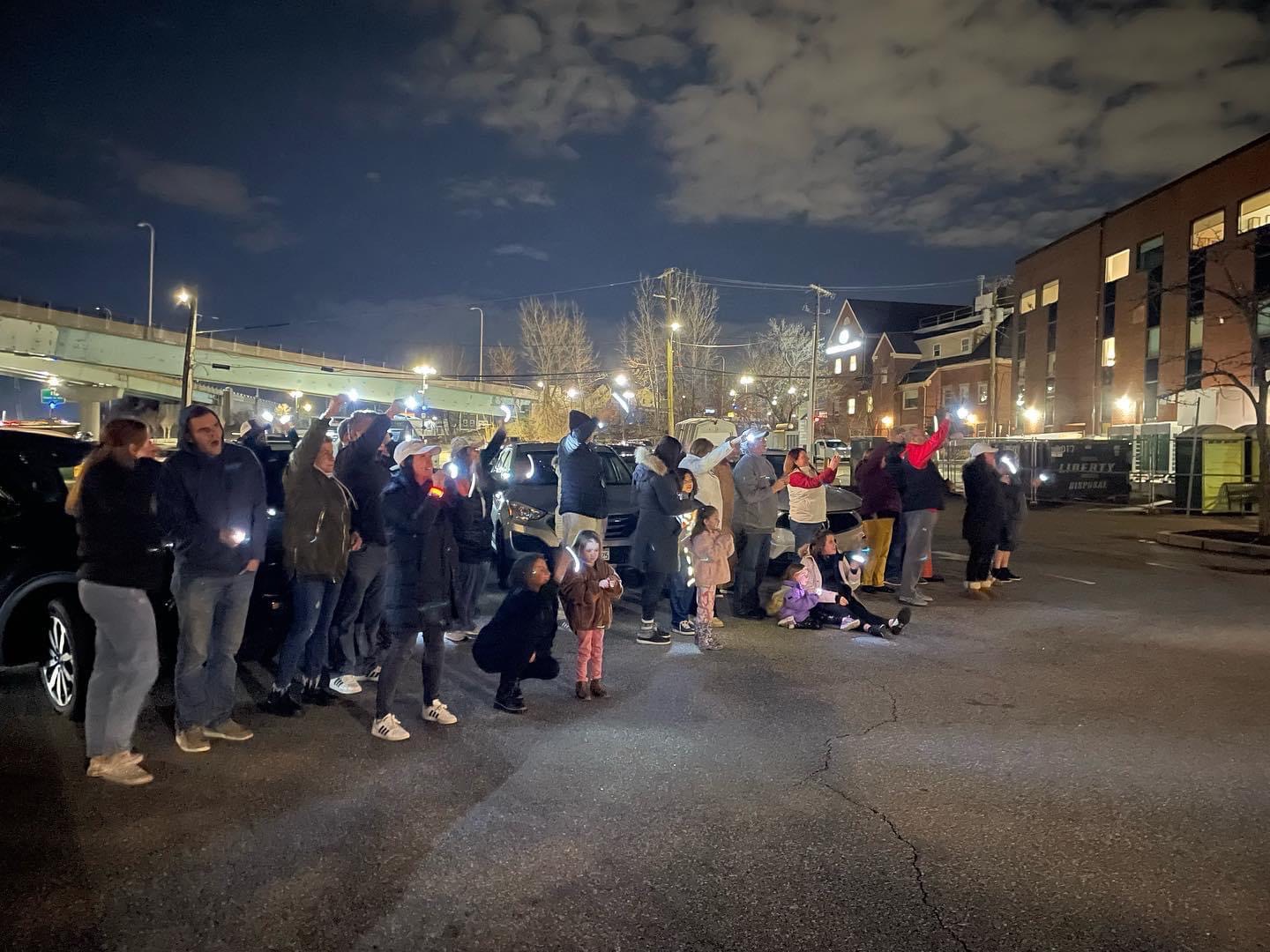 day:
"One tremendous fringe benefit of GNL for me has been the chance to meet so many wonderful, huge-hearted people. Everyone I met last night from your group fits that category, including little McKenzie. Please let her know that I brought her artwork to a teen girl who was having a very dark night. Seeing the drawing put a smile on her face and inspired her to turn the lights on in her room for a visit with me. I described the artist and her intentions, and it worked magic when it came to raising this patient's spirit. This is a true story."
Wednesday: Things Were Hopping at Ravenous Brewing Company
JAF made some new friends at Ravenous Brewing Company, who hosted a Hop Over with the help of a fabulous host committee to benefit the Foundation. Thanks to owners Patrick Reilly and Dorian Rave and their team for their hospitality, the host committee for organizing, and our partners at Well Told for their signature customized pint glasses for attendees! On this night, spirits were high—with the event raising more than $4,300 towards JAF's mission. Cheers to that!
Thursday: An Unforgettable Moment and Some Chicken, of Course
JAF Healthcare Council member and Women & Infants' social worker Dana D'Alessandro invited Jen and members of the Development and Programs Teams to visit the oncology center at the hospital to hear first-hand the current challenges cancer patients face. Listening to our healthcare partners has always been an integral part of the Foundation's operations, helping to ensure JAF's programming is impactful and meaningful. From there, Jen (joined by Joe) visited the cancer infusion unit.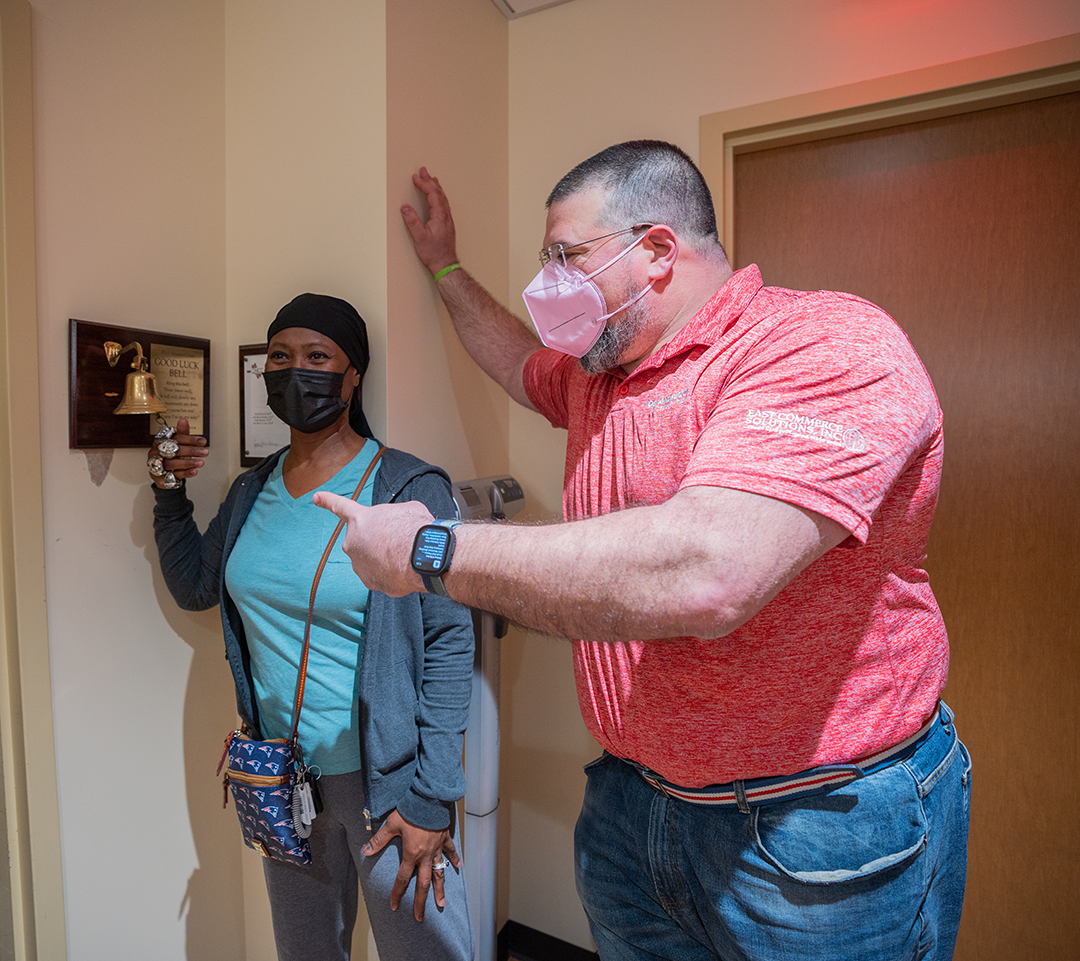 Greeting them at the door was a patient who had just finished her last breast cancer treatment and was preparing to ring the bell. Without missing a beat, Joe asked if he could stand alongside her and her husband to witness this moment and cheer her on. Smiling from ear to ear, the patient welcomed Joe to her side, and she rang the bell to cheers from the entire JAF team and all those within earshot!
Now for the chicken. JAF is blessed to have the long-standing support and friendship of Frank Galleshaw, owner of Wright's Farm Restaurant in Burrillville, RI (Fun fact: JAF's VP of Development, Nicole Anderson, worked at Wright's as a high school and college student!). This legendary Rhode Island eatery invited JAF patient recipients for their famous family-style chicken dinner as their guests.
The Foundation took this opportunity to highlight our Food Security Assistance. JAF Assistant Director of Programs, Shannon Gallanty, outlined the program and was later joined by patient recipients who shared their gratitude for food support. Dan Gill, President of AmpliX, and the Program's Presenting Sponsor spoke about why they support JAF: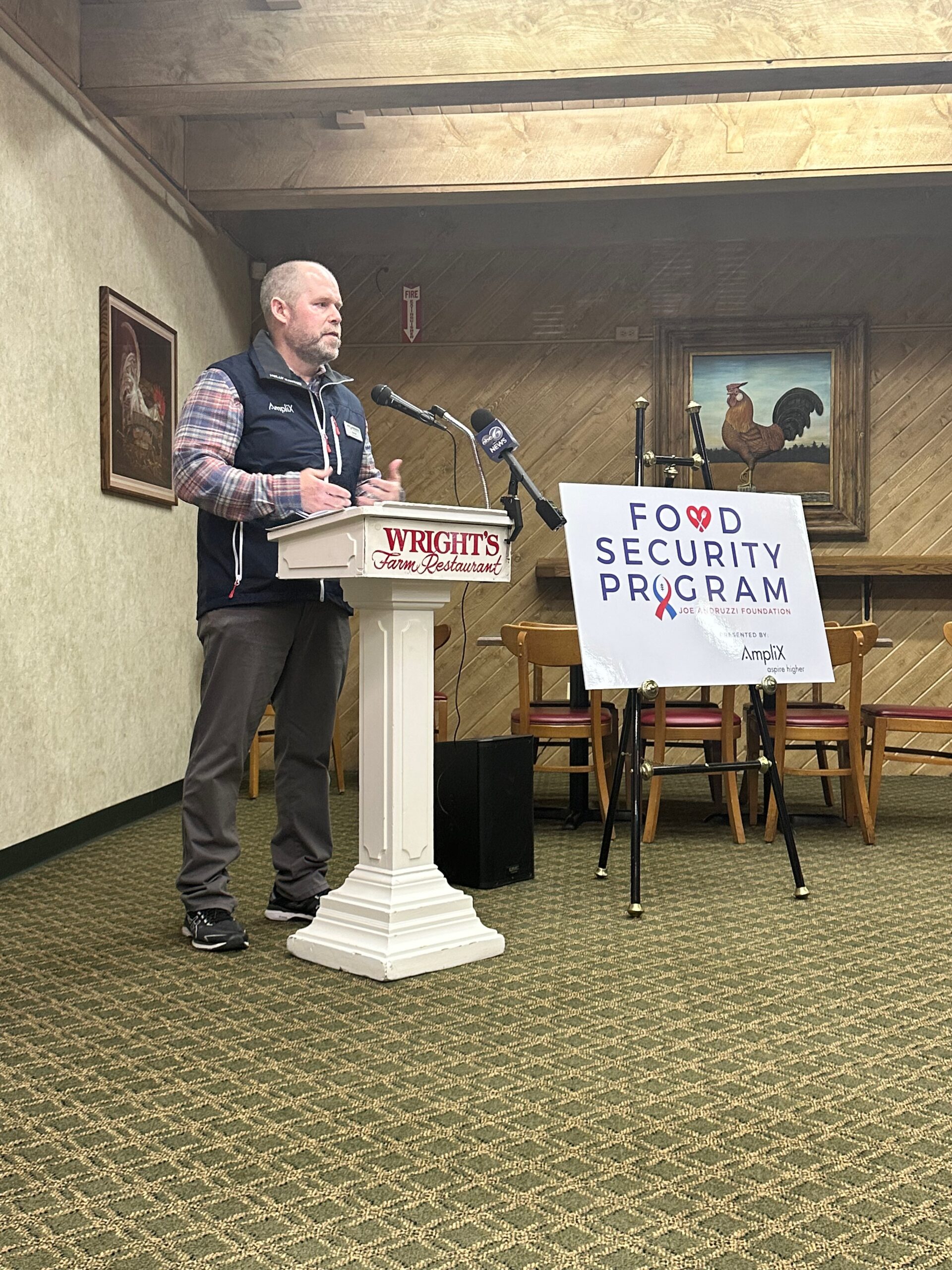 "Amplix has been a longtime supporter of JAF, and it started through the stewardship and incredible generosity of our CEO, Joe DeStefano, and his wife, Erin. We are strong believers in the overall JAF mission. As the pandemic impacted our communities, it was obvious this was going to have a profound impact on cancer patients experiencing financial toxicity. Nutrition and stress management are critical parts of survival and recovery; it is paramount that patients and their families have access to the right food opportunities to help them along in their fight. Nobody should have to choose between healthy food for themselves and their families and paying for treatment."
Friday: A Landmark, The Bachelor, and Some Trivia
On our third and final hospital stop, we went to Landmark Medical Center. Here, JAF visited with longtime supporter Mike Souza and his team, and Joe visited with patients aptly dressed in New England Patriots gear. Smiles all around as patients chatted with the 3x Super Bowl Champion. One doctor at Landmark was moved to tears by just how meaningful Joe and JAF's visit was to patient morale.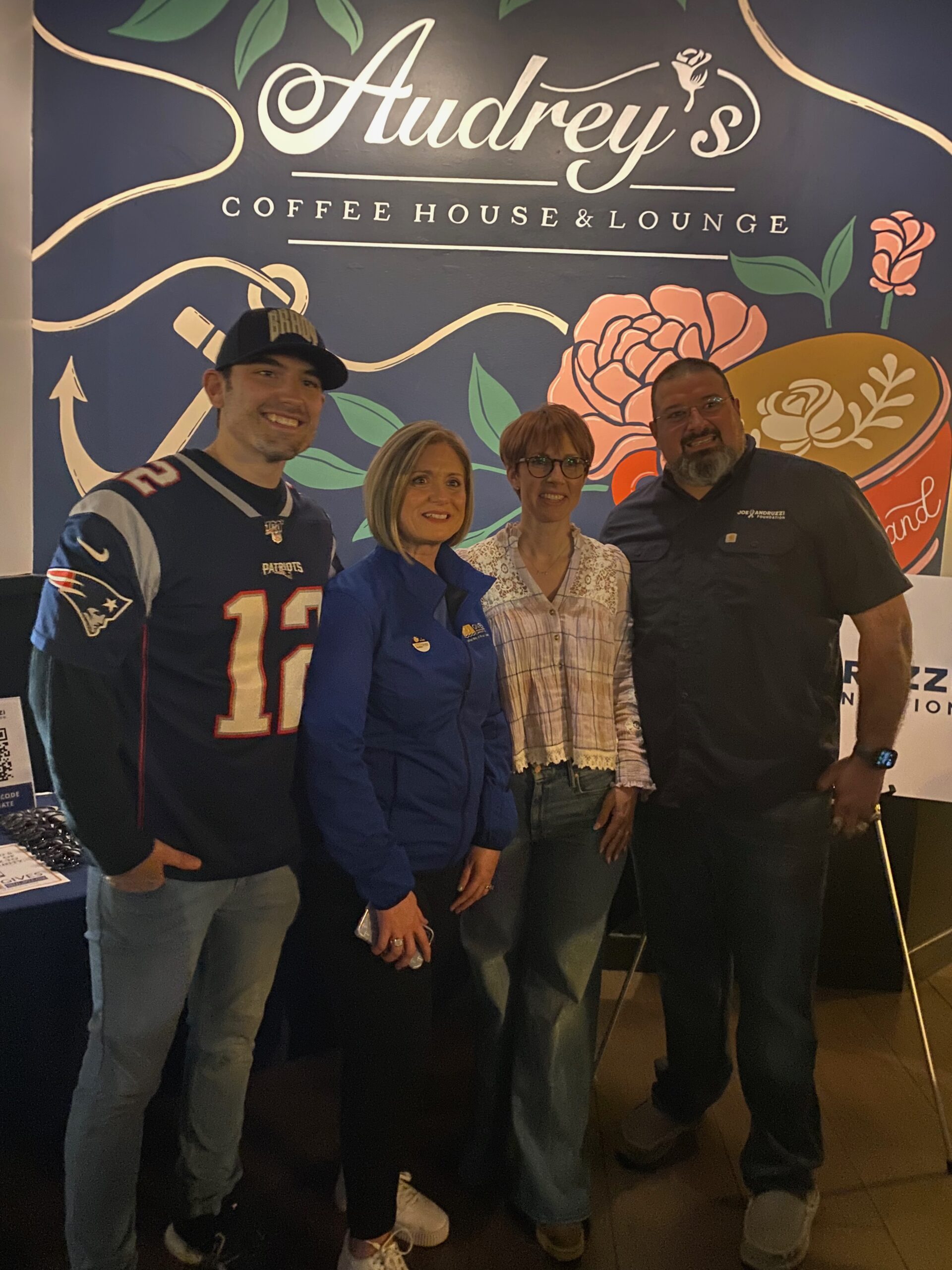 Later that day, the team drove to South Kingston to meet with Jared Haibon and Ashley Iaconetti of ABC's The Bachelor at their newest endeavor – Audrey's Coffee House & Lounge. This swanky little spot in the South County Commons filled up with loyal trivia night participants and some Patriots fans who came to support the Foundation and play some Patriots Trivia hosted by Joe and Jared.
"It's 15 years of my survivorship along with 15 years of paying it forward," Joe said to the crowd. "Cancer can take a toll on you and your family, and that's where JAF steps in and helps people keep going."
Special thanks to Courtney Nicolata and our friends at 401Gives, who supported us and encouraged everyone to participate in 401Gives. Good food, drinks, and great vibes – all for New England cancer patients.
Saturday: Day of Giving, Night for Running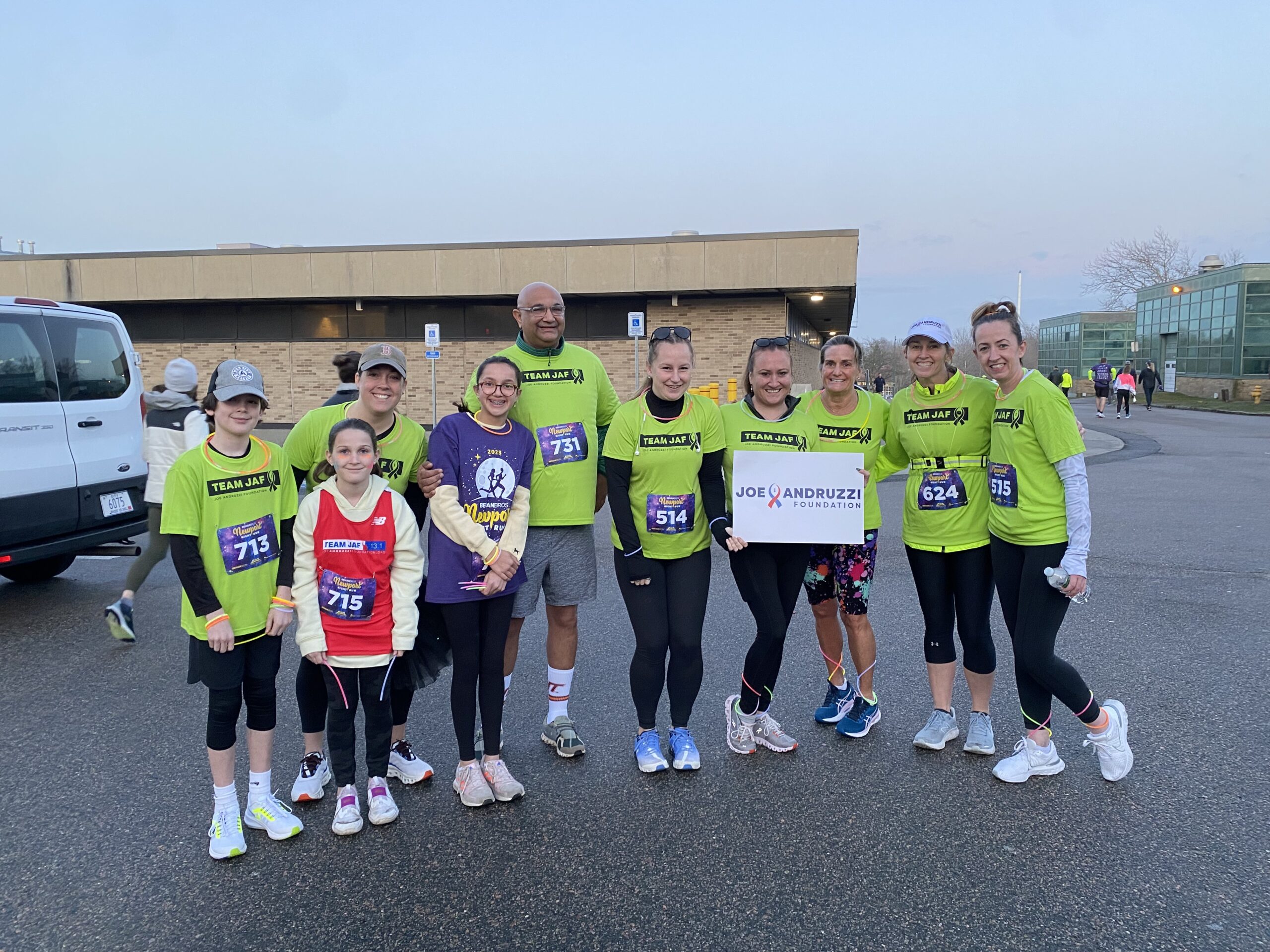 Rhode Island's day giving 401Gives started bright and early (and a day early!), and donors responded! After a week in the Ocean State, JAF earned 37 new donors and raised $20,000! Helping us was the Lawson Charitable Foundation, which matched all donations up to $10,000. In only our second year of participation, JAF landed in the top 30 organizations based on fundraising!
But JAF wasn't done yet! As the sun set in Newport, eight athletes laced up their sneakers and represented the Foundation in the Behan Bros. Newport Night Run. Raising more than $3,100, this fabulous team helped us finish strong and, most importantly, helped Rhode Islanders facing a cancer diagnosis.
Goodbye… for now!
To say the JAF team was exhausted in this first 'leg' of our Road Trip is an understatement. What kept us going was delicious Rhode Island food and coffee – lots of coffee.
But what truly inspired us were the patients we met, the dedicated healthcare professionals working tirelessly every day (we brought them coffee and treats, too!), and the discovery of so many generous businesses, organizations, and individuals who raised their hands to say they wanted to join in our mission. We'll be reaching out to you all very soon!
THANK YOU, RHODE ISLAND!