Mark Pangman and his family thought they were coming to the Stop & Shop Supermarket in Mansfield, MA, to support the Joe Andruzzi Foundation (JAF) and pick up a few essential groceries for themselves. However, what he didn't know was a surprise that awaited him that would leave him speechless.
Joe and Jen Andruzzi were at the supermarket to receive a check from Stop & Shop and Poland Spring in recognition of their contributions to the Foundation. Poland Spring donated a portion of proceeds generated from product sales to JAF. Stop & Shop, a longtime partner of the Foundation's, generously matched Poland Spring for a total of $50,000 towards helping New England cancer patients and their families.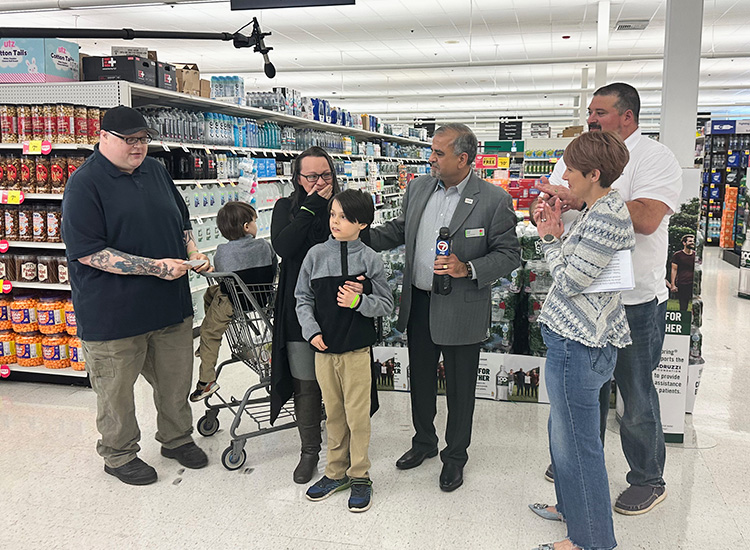 But wait, there was one more announcement. Toward the end of a check presentation, Vinod Israni, District Director at Stop & Shop, motioned to Mark and his family to come up.
"On behalf of Stop & Shop, we would like to present you with Stop & Shop gift cards for you and your family for the entire year," Israni said.
Poland Spring added to the magic, announcing they would give Mark and his family free water for a year. Cheers and applause erupted in the supermarket, with Mark's wife, Jessica, moved to tears.
"It's immeasurable and just fills my heart with so much joy," said Jessica. "It really gives us time and space to focus on my husband's diagnosis."
In May of 2021, Mark was diagnosed with nerve sheath sarcoma—a type of cancer in the peripheral nerves that grows in the body's soft tissue areas such as muscles, tendons, and blood vessels. Due to the tumor's rare large size and symptoms, Mark had to stop working—impacting his ability to financially support Jessica and their two young autistic sons, Wyatt and Jovan. It wasn't long before the family felt the stress of cancer financially, with bills such as their mortgage piling up.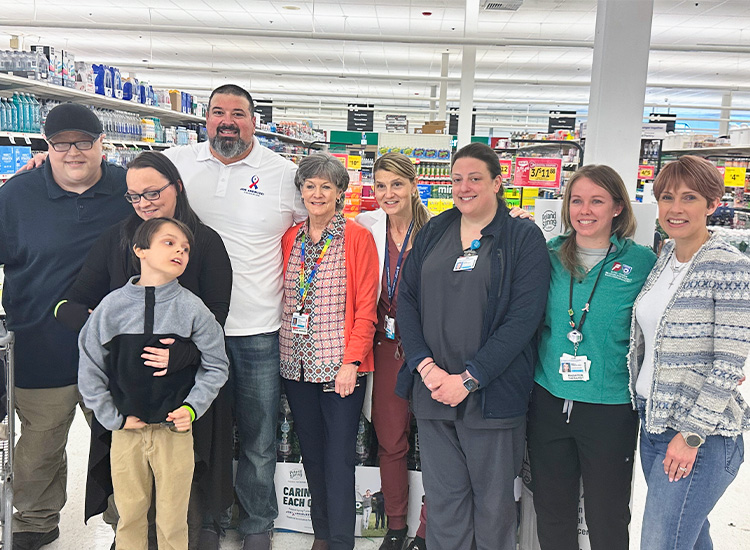 Thanks to Mark's care team, the family learned about JAF and how the Foundation assists patients in their time of need. JAF quickly stepped in and helped ease Mark and his family's financial worries, allowing him to focus on his treatment. It started an incredible relationship between Mark's family and JAF.
Upon discovery of Mark's new diagnosis in December 2022, his social worker at Brigham & Women's Hospital, Donna Tuleja, and his care team immediately recommended him to JAF for additional support. Among his loved ones and care team at Brigham & Women's and Sturdy Memorial Oncology Center, Mark was at a loss for words.
"It's just so much help," Mark said about the gift cards and water. "It'll help keep my two special boys fed for a long time. I couldn't be more thankful."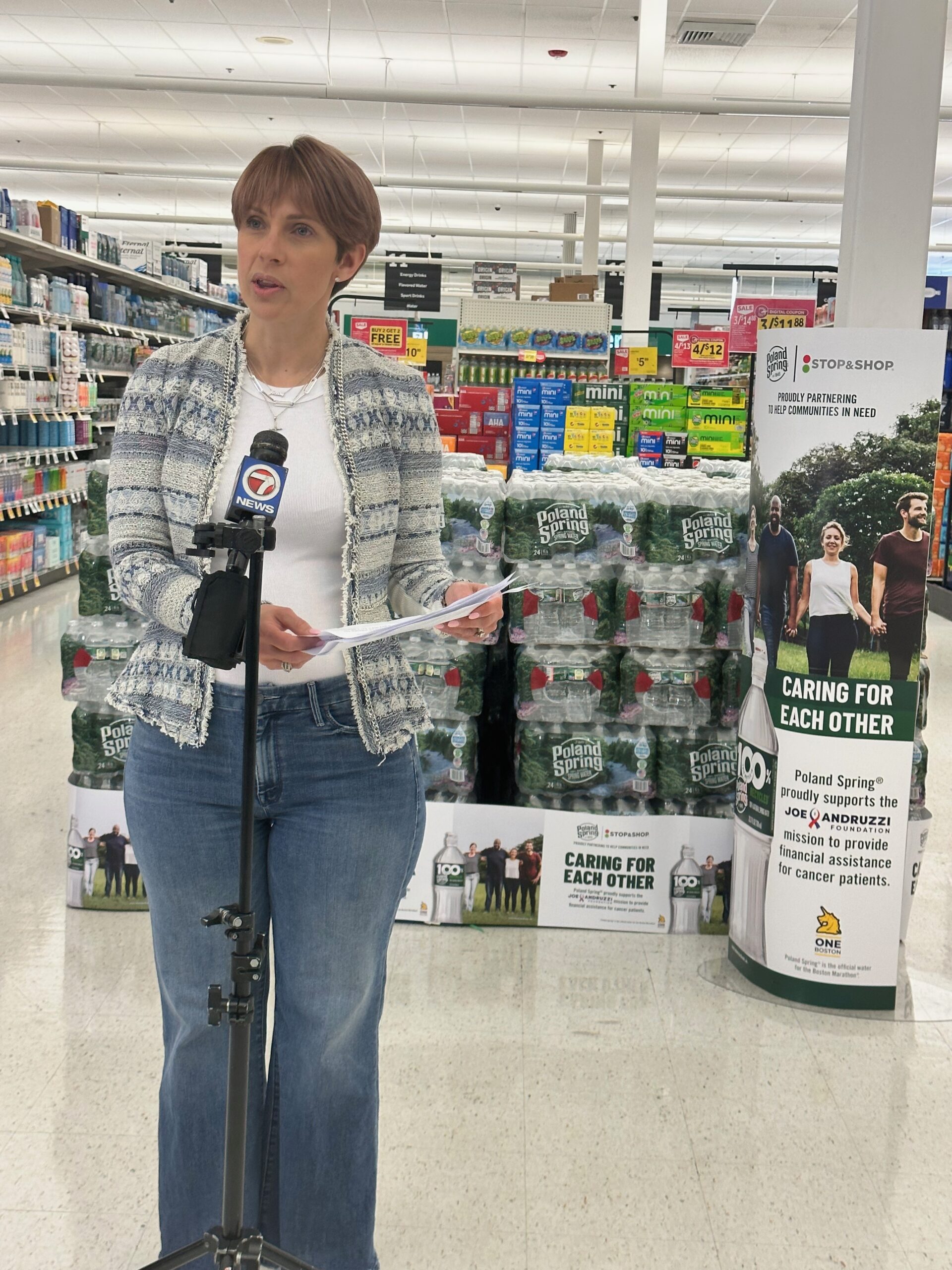 JAF's CEO and President Jen Andruzzi described the morning as an excellent opportunity for people to come together to support those like Mark going through a cancer journey.
"The need is incredibly real," said Jen Andruzzi. "We don't want a cancer patient to have to choose between putting food on the table or accessing treatment."
Joe Andruzzi, the Foundation's Chief Engagement Officer, echoed Jen's words, sharing how JAF has seen an increase in patient applications. Despite the growing number, Joe added that wouldn't stop the Foundation from 'helping pay it forward' for cancer patients across New England.
Mark and his family entered Stop & Shop believing they would be filling the cart with just the bare minimum of grocery items they could afford. Instead, they exited with more than they could ever have imagined—a year's supply of food and water—and the anxiety and stress of food expenses lifted from their shoulders.
"Thank you doesn't seem like enough," Mark said. "This is all just truly amazing."
Click HERE to watch WHDH channel 7 Boston's event coverage.