The Joe Andruzzi Foundation's (JAF) 15th Anniversary Road Trip headed north to Maine this month! From Portland to Lewiston to Bangor, those miles JAF spent on the road were worth it to visit our wonderful friends and supporters of the Foundation.
Sunday Smiles at the Sea Dogs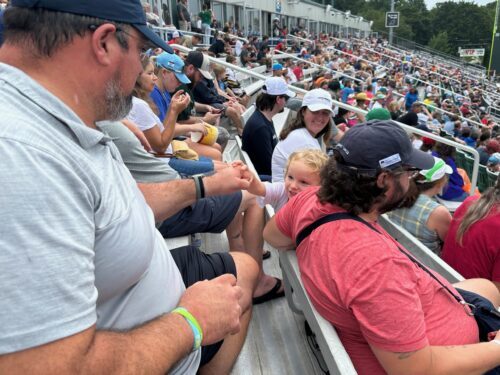 JAF's Maine trip kicked off Sunday, August 13, with a sunny and warm (Up)Beat Event at Haddock Field in Portland, ME, to watch the Portland Sea Dogs take on the Hartford Yard Goats. (Up)Beat Events are opportunities for cancer patients and their families to enjoy fun outings and experiences away from treatment.
Five patients and their families from the Maine communities of Lincoln, Bath, and Porter joined Joe Andruzzi and the JAF team to cheer on the Sea Dogs. Seven-year-old Spencer and his little brother Simon brought out Joe's inner child, sharing laughs and funny moments throughout the game.
"Saying thank you to JAF isn't enough to say," said Bruce, a JAF patient recipient from Lincoln, ME. "Today has been an awesome day for my family."
Patients and Partners
Monday started with a visit to New England Cancer Specialists (NECS) in Scarborough, ME. Joe spent time with several patients, such as Darlene, John, and Wally—who let out a joyous "I can't believe I'm trying these on!" as they slid on Joe's Super Bowl rings.
While at NECS, Joe also got to chat with Brian, a JAF patient recipient from Sanford, ME. When Brian was diagnosed with testicular cancer during college, JAF stepped in to help Brian with his expenses.
"A lot of people don't see a 19-year-old going through cancer," Brian said. "What JAF did was a big relief. It felt like a huge weight off my shoulders."
After grabbing lunch at Maine staple Gritty McDuff's, the Foundation stopped in Lewiston to check out Central Maine Medical Center's brand-new facility. JAF was warmly welcomed by Central Maine's Chief Oncologist, Dr. Hector Tarraza, and hospital staff decked out in Patriots gear. Dr. Tarraza showed JAF the facility's double helix-inspired infusion room and introduced Joe to the patients there that day.
"We designed it this way to symbolize giving life and hope, similar to what JAF does for patients," said Dr. Tarraza. "We can't thank JAF for the hope it brings to our patients."
You can read more about the Foundation's stop at Central Maine Medical Center by clicking HERE.
Members of JAF's Development and Programs teams also went out to see our partners at the Maine Cancer Foundation in Falmouth, ME. There, they met Executive Director Raymond Ruby and Director of Programming Katelyn Michaud to discuss the great work made possible through the two foundations.
"We are so fortunate and honored to be able to support Maine cancer patients directly through Maine Cancer Foundation's efforts," said JAF's Vice President of Development Nicole Anderson.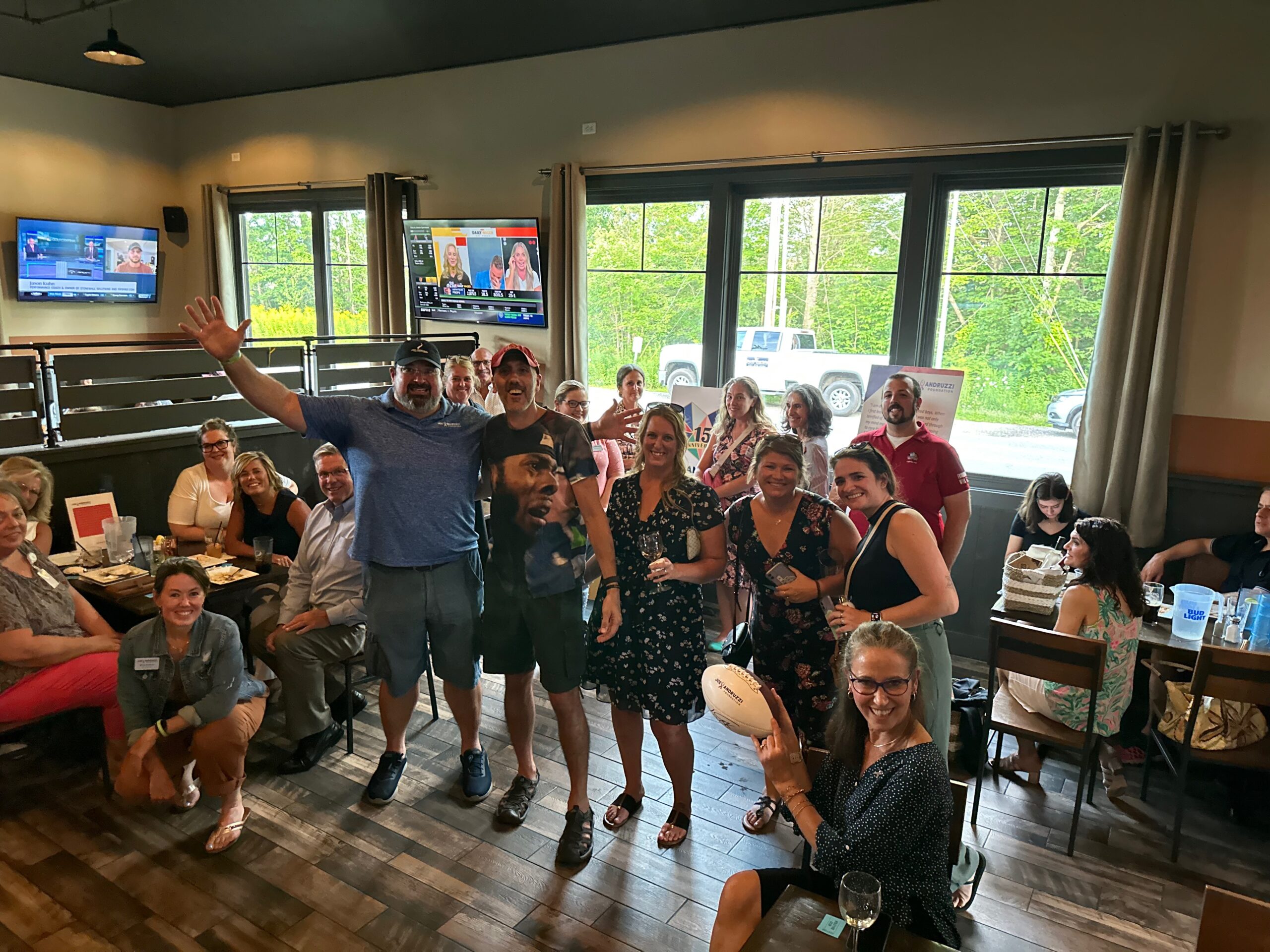 Later that night, JAF hosted an event in partnership with Rivalries Sports Pub in Falmouth, ME. More than 30 attendees enjoyed delicious food, beverages, and raffles.
One special guest was Julie Ann, a JAF patient recipient and longtime JAF Bridge Builder.
"Seeing JAF come up is big for the cancer community here," Julie Ann said. "Maine is a big state but also a small town. JAF's great work has and will continue to spread."
JAF Goes the Distance for Patients
The last day of the Maine Road Trip had JAF up bright and early to see our acquaintances at Northern Light Hospital in Brewer, ME. Joe spent time in the animal-themed pediatric wing with patients like Scarlett, Zachary, and Delayna. Delayna even witnessed her stuffed lion put on Joe's rings, too!
The Foundation then hopped to Bangor, ME, for a quick hello to Royce Cross and our fantastic partners at Cross Insurance. Click HERE to read more about the Foundation's visit to Cross Insurance.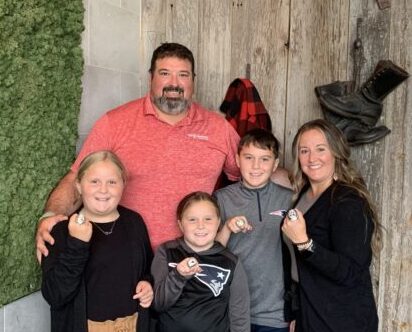 JAF's final stop in Maine was a special one, meeting up with the Pelletier family from Madawaska, ME. Mom Nicole and children Lucas, Dani, and Eva joined Joe and the team for lunch in Bangor. In 2017, Nicole's late husband, Wayne, was a JAF patient grant recipient who received financial assistance from the Foundation. The Pelletiers have kept their connection to JAF ever since.
When Lucas found out JAF was coming north, he ran to his mom, cheering, "JAF is coming to Maine! We got to see them!" Lucas even surprised Joe with a vintage Joe Andruzzi rookie card, which made Joe smile. Upon receiving a signed football from Joe, sister Dani had everyone laughing when she asked Joe, "Did you get this ball at Dick's Sporting Goods?"
JAF extends a big THANK YOU to the following for making our time up north so incredible:
Seth Blanchard, Ted Graham, Robin Letarte, and the entire team at New England Cancer Specialists
Deborah Gary, Dr. Hector Tarraza, and everyone at Central Maine Medical Center
Katelyn Michaud and Maine Cancer Foundation
Amy Meader and the entire staff at Rivalries
Deanna Thurston and those at Northern Light Hospital
Royce Cross, Elizabeth Libby, and the entire team at Cross Insurance
The Pelletier Family – Nicole, Lucas, Dani, and Eva
The people and places JAF visited on our trip to Maine confirmed our work is making a difference for many residents. The Foundation was so grateful to reconnect with our partners and look forward to all the good we can do together in the future.