On Monday, August 24, 2020, the Joe Andruzzi Foundation, its supporters, and a host of local athletes and celebrities, came together at Block Rock Country Club in Hingham, Mass., for the 12th Annual Joe Andruzzi & Friends Golf Tournament. Originally slated for June, the COVID-19 pandemic caused the Foundation to postpone the annual event until it was safe to do so.
We can't thank everyone enough for not only their generosity and support of JAF's mission, but each individual's commitment to following guidelines, protocols, mask-wearing, and social distancing Monday to ensuring we could safely host the annual event that raises crucial funds for the cancer patients we support.
Thanks to everyone's collective efforts, the tournament raised over $255,000, allowing the Foundation to provide financial assistance to more than 375 cancer patients and their family members. This also means that through a dozen years, our tournament has generated over $2.7 million.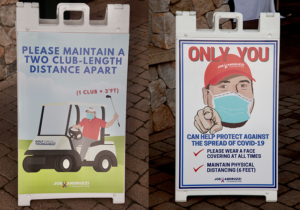 There's no "I" in "Team," and so much of the success of the tournament is due to our incredibly generous sponsors, led of course by our Presenting Sponsor (and long-time JAF supporter) East Commerce Solutions, Inc.! If you know our foundation, you know that Ed and Lisa Medeiros of ECS have been incredible champions of the work that JAF does. Our 2020 tournament marked ECS' tenth year as a supporter of the event and seventh as its Presenting Sponsor. It's because of believers like Ed and Lisa, and community-caring businesses like East Commerce Solutions, that we are able to relieve cancer's financial burdens on so many patients in need throughout the year.
Before they hit the links on Monday, Ed and Joe – the birthday boy – spent Sunday night kicking off the Foundation's first-ever virtual event. Dubbed the "19th Hole" in honor of the next day's festivities, the online event gave supporters who could not make it to the tournament a way to come together with like-minded friends to help remove the financial barriers negatively impacting cancer patients and their health outcomes.
Good morning from Black Rock Country Club in Hingham, MA for the 12th Annual Joe Andruzzi & Friends Golf Tournament, Presented by @EastCommerce!⛳

East Commerce Solutions CEO Ed Medeiros discussed his relationship with JAF's mission on last night's '19th Hole' livestream. pic.twitter.com/8ecuFK86B8

— Joe Andruzzi Foundation (@joeandruzzifndn) August 24, 2020
JAF President and CEO Jen Andruzzi then took over the hosting duties, introducing Brian Oates of Golf Fights Cancer – a non-profit organization dedicated to raising funds for cancer-related charities and research organizations with the goal of fighting cancer and making financial contributions that can make immediate, tangible differences.
Golf Fights Cancer had just hosted its own "Golf Marathon" tournament (100 holes in one day!) raising funds for JAF, but Brian completely surprised Jen with a $50,000 matching gift donation.
The moment when @GolfightsCancer's @ForeOatsie surprised @JenAndruzzi with a $50K matching gift donation to the Joe Andruzzi Foundation!

Donate now and double the impact you can make in the lives of cancer patients struggling with the #costofcancerhttps://t.co/P4chN6SdAP pic.twitter.com/e4Vvdm8vWp

— Joe Andruzzi Foundation (@joeandruzzifndn) August 24, 2020
Thanks to The Derenzo Charitable Foundation, our Mission Video Sponsor, we were able to capture and share the story of Greg Kundicz – a young brain cancer survivor and former JAF grant recipient – about his diagnosis, treatment, and the financial strain it caused.
"When you hear of a cancer diagnosis, all you think about is their health and well-being," Greg's girlfriend Brittany says in the video. "You don't think about the financial struggles that person is going through until you're experiencing it."
It's been tradition to host a patient speaker at each of our previous golf tournaments, and we were so glad to be able to still share stories like Greg's with our community even if it couldn't be in-person this year.
The "19th Hole", hosted by Nick "Fitzy" Stevens, co-host of WEEI-FM's The Greg Hill Show, also featured a hilarious skit you won't want to blink at and some surprise birthday wishes from some of Joe's friends and former teammates.
We can't thank everyone enough for supporting our first-ever virtual event. While we may have been socially distanced, we could still feel the warmth behind all the inspirational messages of support that were shared during the program. If you didn't have the chance to catch it live, you can still watch the show on our website.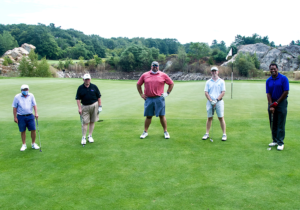 Sunday turned to Monday, and with it came a day full of socially distanced fun out on a beautiful golf course – all to support cancer patients and families in need. It was our first time being hosted at Black Rock Country Club, and we can't thank their entire staff enough for ensuring the day was such a big success. The course was in perfect shape, and everyone seemed to be putting for birdies.
We're always fortunate to have athletes and celebrities come out to play in the event, such as long-time supporter Jayme Parker, Boston Bruins alumni Bob Sweeney, singer Louie Bello, Joe's former Patriot teammates Russ Hochstein and Dan Koppen, WBZ's Steve Burton, NBC Sports Boston's Tom Curran, Bachelor star Jared Haibon, of course, Nick "Fitzy" Stevens, and so many more. Thanks for coming out to be a part of the day!
We also want to share our gratitude to so many other amazing sponsors who supported the event – including our Helicopter Ball Drop sponsor Aetna (and winner Mark L. who donated the money back to JAF!), Celebrity Sponsor Bob's Discount Furniture and its Chairman Ted English, Wormtown Brewery, DJ Gary Titus, EJ Gallo, our amazing board and committee members and volunteers – just a few of the numerous supporters who donated their time and resources to ensure we raised significant funds towards JAF's mission.
Congrats is also due to our golf tournament winners – the group of Dan Landers, John Myers, Mike Palmieri, Sean Hood who posted a -15 to claim the top spot! Well done!
Last – but not least – we want to say thank you to everyone who was able to make a donation and/or support our virtual event and golf tournament this week. Your generosity is appreciated more than we could ever share – especially in these times – and will allow our foundation to alleviate cancer-related financial stress for so many families across New England.
Thanks for being on our team!
(Be sure to check out photos from the 12th Annual Joe Andruzzi & Friends Golf Tournament over on our Facebook page here)
Charity golf a bit different during COVID, but the team @joeandruzzifndn did a great job hitting the safety protocols and putting together an awesome event to raise critical funds for families facing cancer.

Strong squad!

— Gary Sheehan (@gmsheehan) August 24, 2020