It was a picture-perfect day for the 14th Annual Joe Andruzzi & Friends Golf Tournament at Black Rock Country Club in Hingham, MA! On Monday, June 13, 2022, nearly 150 golfers and celebrities hit the links to raise money for New England cancer patients.
With the generous response by our donors, Monday's event raised more than $374,000. This will allow JAF to continue providing financial support for household expenses, food, extraordinary needs, and self-care. Within those funds, $62,000 was raised specifically for JAF's newly expanded Transportation Assistance that covers car payments, car insurance, repairs, and now transportation to treatment with rides through Lyft and GoGoGrandparent.
These totals made for a record-breaking year, becoming our most successful golf tournament to date!
Thank you to our presenting sponsor East Commerce Solutions, Inc., and our friends at Apotho Therapeutics for their continued generosity.  As always, our appreciation to Black Rock Country Club for hosting us on their breathtaking course creating a beautiful backdrop for good-natured competition and a great cause.
Participating celebrities were New England Patriots punter Jake Bailey, former Patriots Patrick Pass, Sean Sullivan, Russ Hochstein, former Patriots coach Dante Scarnecchia, former Red Sox stars Jim Rice, Tim Wakefield, Manny Delcarmen, Pittsburgh Penguin Brian Boyle, the voice of the Patriots, Bob Socci, and many more!
Before play began, golfers enjoyed breakfast sponsored by Majestic Construction in Black Rock's main dining area. Then, JAF Co-Founder Joe Andruzzi and President and CEO Jen Andruzzi, joined by East Commerce Solutions, Inc., CEO Ed Medeiros, delivered opening remarks to attendees while thanking JAF volunteers, staff, and supporters.
"With every swing, drive, and putt today – you are making sure cancer patients stay in their homes, have food on their table, keep the heat on, and have hope, knowing JAF is there to help," Joe Andruzzi told the crowd.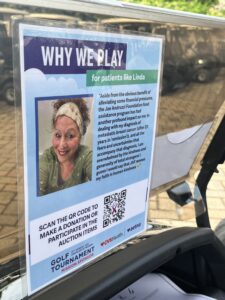 "In your carts, you'll find messages from our patients, grateful for your sponsorships and donations today. These are just a few voices representing the more than 30,000 patients and families JAF has helped since we started our journey 14 years ago," added Jen Andruzzi.
Those 'voices' were special patient stories with photos and messages of gratitude placed in every golfer's cart for the day, serving as a reminder as to 'why we play today.'
Golfers were treated to lunch on course, sponsored by The Home Depot as well as beverages on the course sponsored Landmark Medical. Guest also enjoyed products by Jim Beam courtesy of Horizon Beverage.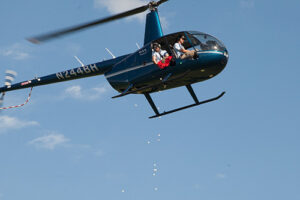 The Helicopter Ball Drop, presented by Phoenix Communications, wowed the crowd! Guests gathered on the clubhouse deck during cocktail hour to watch as 500 balls were dropped from a helicopter hovering above the green on hole #10.  While no ball dropped into the cup, one lucky player did win $1,800 for being closest!  Ultimately, our winner generously donated all proceeds back to JAF!
Inside, golfers and supporters at home were bidding away on the online auction presented by ROI Communications, ultimately raising more than $25,000 for JAF.  Items this year included exclusive dining experiences with The Lobster Trap and Eviva Trattoria, Patriots tickets, a Mac Jones autographed Patriots jersey, great getaways, golf outings, and much more! Three Chance prize winners also went home with one of three amazing prizes: a round of golf at Black Rock with Joe Andruzzi, four Red Sox tickets to enjoy from the Green Monster, and a two-night all-inclusive Island Retreat for two at the Attean Lake Lodge, ME.
Guests enjoyed a cocktail hour sponsored by Lane, Lane, and Kelley, LLP before heading to dinner sponsored by the Derenzo Charitable Foundation and participating in the live appeal program. There, Joe, and Jen explained how JAF is facing its greatest challenge with post-pandemic effects of increased and later-staged diagnosis creating incredible need, sharing that applications for assistance are up 68%.
"Last year, while COVID continued to dominate the headlines –  JAF was busy innovating and finding new ways to support patients and families," said Joe Andruzzi.
"Our dedicated staff – across all areas of the Foundation – is working like never before to tell our story, raise the needed funds, and to deliver them quickly to patients and families in need," Jen Andruzzi shared.
Following their remarks and a moving Mission Video sponsored by CVS Health-Aetna, WEEI-Sports Radio personality Nick "Fitzy" Stevens took the microphone to emcee the appeal. With his humor and undeniable Boston charm, he had guests raising their hands to help fund JAF's Transportation Assistance and making sure cancer patients have a ride to potentially life-saving treatment.
Thank you to all our attendees, generous sponsors and donors, dedicated staff, and volunteers for helping to make this a successful day. We hope you will participate in next year's tournament!