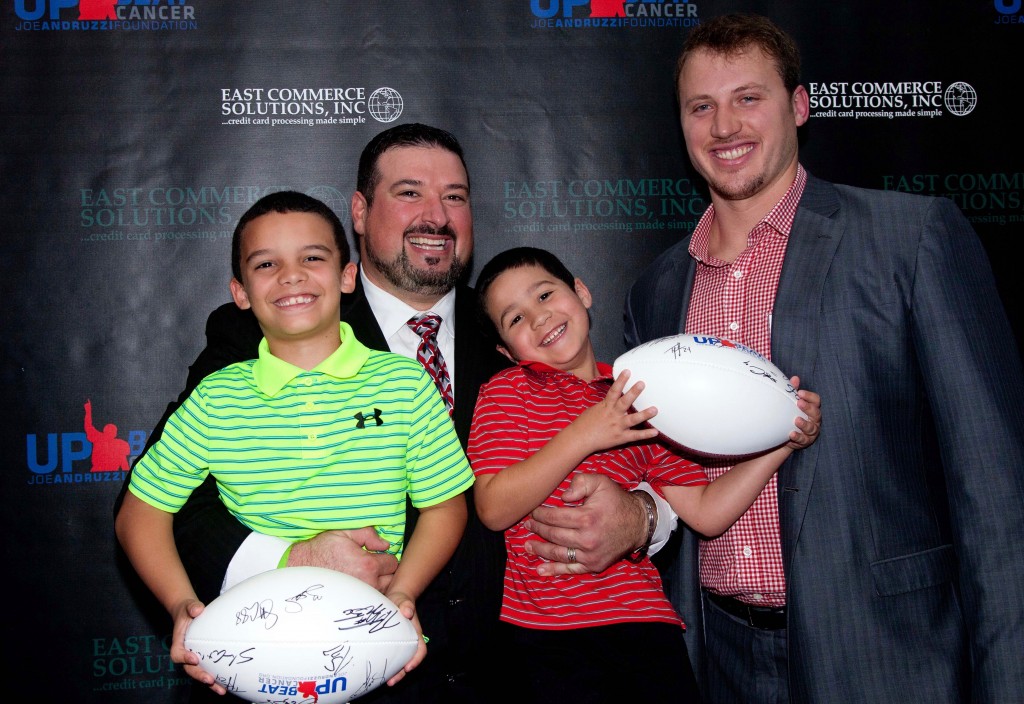 It's still hard to believe we just celebrated our eight annual gala on Monday night. A lot can happen in eight years, and we have been repeatedly blown away by the incredible generosity of our supporters.
Because of your collective kindness, we are THRILLED to announce that the 2015 Gratitude Gala set a new fundraising record Monday – raising more than $900,000 along the way. The theme of this year's gala – Above and Beyond – truly came to fruition, as the gala has now exceeded its previous fundraising record in each year of its existence. Monday night's generosity also means that our gala has raised more than $4 million itself since its inception in 2008.
It goes without saying, but bears repeating: the Joe Andruzzi Foundation could not be where we are today without your incredible support, and we – along with our patient recipients – thank you from the bottom of our hearts. Without you – our loyal supporters – none of this would be possible. You ensure that we can continue to help patients enjoy life outside cancer treatment and maintain an upbeat attitude – so important to both recovery and quality of life. As a former patient, I understand this is crucial, so we promise we'll end tonight on a positive note, showing you all the laughter and fun that families experience through our foundation.
We also want to thank Patriots co-captain and cancer survivor Nate Solder, our keynote speaker, for bravely sharing his own experiences with cancer – including the recent diagnosis of his three-month-old son, Hudson, which was revealed to the gala crowd Monday night.
"For the last four years, I have been to this event, sitting and watching families tell their stories about how the Joe Andruzzi Foundation has helped them," Solder shared during his keynote speech. "You never know if you will be thde one up here telling your story. Life is unpredictable and we will all be affected in one way or another by the devastating effects of this disease. All we can do is rally around each other when the tough times do come."
Nate, a testicular cancer survivor, and his wife, Lexi – both long-time supporters of JAF – have asked that those wishing to support Hudson's battle make a donation towards the Joe Andruzzi Foundation's Tough Like My Dad Fund, appropriately named after the adorable photo of Hudson the Solders shared with the gala audience Monday.
Proceeds of the Fund will benefit JAF's mission of providing financial assistance to cancer patients and their families – allowing them to focus on recovery, not mounting rent/mortgage, utility or other household bills.
"[Lexi] and I do not believe in accidents or coincidence – we believe that we all live for a purpose," Solder said during his speech. "Maybe part of the purpose of our brand new child getting cancer was because tomorrow somebody else will receive the same news. Maybe knowing someone else is going through the same thing as you can be a source of comfort and strength."
There are many others we would like to thank who made Monday night so special, including Presenting Sponsor East Commerce Solutions, Inc., and its fearless leaders – Ed and Lisa Medeiros – who we were honored to present with the 2015 Gratitude Gala (Up)Beat Award. Their commitment to our foundation over the years warms our hearts in ways we never thought imaginable.
We also want to send a huge thank you to our Platinum Sponsors: CVS Health, The Kraft Group, and Takeda Oncology; the Patriots players and New England sports stars and celebrities who came out to the event; and the Kraft family and Gillette Stadium, for welcoming us into this fantastic venue once again. You're all invaluable in helping us stay inspired and upbeat, and your efforts enable us to assist more patients and families, and fund more research.
We can't say enough about our incredible friends at ALEX AND ANI® – Gold Sponsors of the Gala – who generously donated their resources towards creating a beautiful video presentation to share with our attendees, which highlighted one of our young patient recipients named Cole. 
And, of course, we want to give a big thanks to our emcee, 98.5 The Sports Hub Midday Host & Patriots color analyst Scott Zolak, our amazing auctioneer, Paul Zekos, the Gala Committee members, our dedicated Foundation staff, volunteers and JAF's Board of Directors.
Finally – again – thank you to each and every one of you for all of your love, guidance, and generosity since the beginning of our foundation. We feel humbled and blessed to be part of such a strong and supportive community dedicated to helping others in need, and we look forward to continuing our upbeat adventures with all of you down the road.
With gratitude,
– Joe and Jen Andruzzi