Months ago, when we were brainstorming potential ideas for the Joe Andruzzi Foundation's ninth annual Gratitude Gala, a circus theme was floated. We immediately loved the idea, and the tie-ins seemed perfect. The bright lights, the excitement, the thrills – we were surprised at just how much our gala and circuses have in common.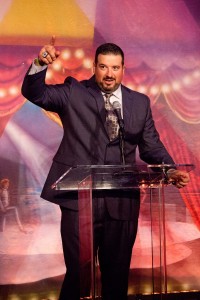 There was one final feeling of apprehension before we fully committed to the theme, though – circuses are always billed as "The Greatest Show On Earth". Could the ninth Gratitude Gala live up to the hype?
Today, we are thrilled to say that not only did Monday's Gala meet our lofty expectations, it far exceeded it as we raised $1 Million – a new record for the event!
 To be crystal clear: it's all thanks to YOU – our amazing supporters – who helped us reach these new heights. To borrow another circus idiom: you all "stepped right up" and delivered when we needed you most – and for that, we are forever grateful to have you in our corner.
If we said a million thank yous to each and everyone who contributed to making Monday night such an overwhelming success, it still wouldn't be nearly enough – but that's not going to stop us.
First and foremost, we want to talk about Ed and Lisa Medeiros and our amazing friends at East Commerce Solutions – our Gratitude Gala's Presenting Sponsor for the third consecutive year. They have long been more than just a corporate partner of JAFs – East Commerce is family, and over the years they have contributed well over a half million dollars towards hundreds of our patient families.
But it's not just East Commerce Solution's financial impact – they truly make life-changing differences in the lives of those who need it most.
On Monday night, East Commerce CEO Ed Medeiros aggressively bid-on, and won, our "Stop Dreaming and Start Driving" live auction item, featuring a two-year lease on a brand new 2017 Patriot Blue Chevrolet Equinox. Moments after winning, Ed came over to us and said he would like to donate the car to the Lopes Calado family – JAF patient recipients whose son, Sebastian, was diagnosed with Leukemia in 2014 and was the subject of the patient video we showed at the Gala.
Ed didn't want any announcement or fanfare made, and watching Sebastian's mother, Michelle, break into tears when Joe told her the news is an image forever engrained into our memories. That's what the Gratitude Gala is all about, and our friends at East Commerce Solutions perfectly represents what (Up)Beat Cancer is truly about.
A congratulation and "Thank You" is also in order for ALEX AND ANI – our 2016 (Up)Beat Award recipients. Since 2011, the Joe Andruzzi Foundation has invited its most benevolent sponsors and supporters to attend the Gala to receive the award – which recognizes an organization, team, or individual that particularly embodies JAF's positive attitude and philosophy.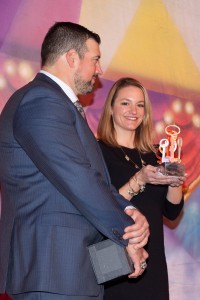 We were so happy to have Nicki Maher, Senior Vice President of ALEX AND ANI's CHARITY BY DESIGN division, with us on Monday to accept the award on behalf of the company. We first met Nicki in late 2012 at a non-profit event in Rhode Island, and we immediately started talking about how we could work together. Fast forward three plus years, and ALEX AND ANI's generosity has empowered the Joe Andruzzi Foundation to assist more than 630 patients. Check out ALEX AND ANI's recap for their take on attending the Gala and receiving the award.
The company also generously donated their resources towards creating the beautiful video presentation to share with our attendees (above), and we can't thank them enough for all that they do in support of our mission. (Be on the lookout for some amazing news about our partnership early next year)
We also want to send a huge thank you to our Platinum Sponsors: CVS Health and The Kraft Group; the Patriots players and New England sports stars and celebrities who came out to the event; and the Kraft family and Gillette Stadium, for welcoming us into their fantastic venue inside the Putnam Club once again. You're all invaluable in helping us stay inspired and upbeat, and your efforts enable us to assist more patients and families, and fund more research.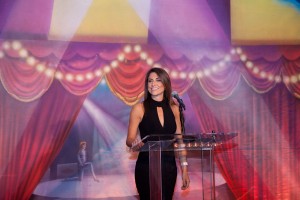 Of course, we want to give a big thanks to our emcee, CBS Sports reporter Jenny Dell, who was the perfect addition to our program. Her positivity and grace paired seamlessly with our mission, and we were so lucky to have part of the evening. Also, we want to shout out our amazing auctioneer, Paul Zekos, the Gala Committee members, our dedicated Foundation staff, volunteers and JAF's Board of Directors. Thank you all for everything.
And last, but certainly not least, we want to again say thank you to everyone that came out to support the event. This event continues to grow each year, and that can be directly tied back to your commitment to this foundation.
Especially during this holiday week, please know just how thankful we are to have you on our side.
With gratitude,
– Jen and Joe Andruzzi
P.S. – Check out our Facebook photo albums here and here from Monday night's Gratitude Gala!