On April 17, 2017 – Marathon Monday – Team JAF runners will take strides against cancer through the streets of Boston for the seventh straight year.
We are absolutely thrilled to announce that 19 runners will be making up the Joe Andruzzi Foundation's 2017 team – a mix of first time runners, veteran marathoners, and, of course, those running in memory of loved ones who have battled cancer: Katie Adelstein, Valerie Chirichiello, Lindsy Connolly, Joe Dimuccio, Melissa Frontino, Mike Garofalo, David Lennox, Michael Nelson, Amelia Patsalos-Fox, Amy Pepe, Jerika Phelps, John Ponte, Brenda Reynolds, Lorraine Reynolds, David Santoro, Frank Seyboth and Jase Simmons!
The team is mostly made up of runners receiving John Hancock Non-Profit Marathon Program Boston Marathon bibs for 2017, and all fundraising by Team JAF will once again directly support the Foundation's mission of providing help, hope, and a reason to smile for cancer patients and their families.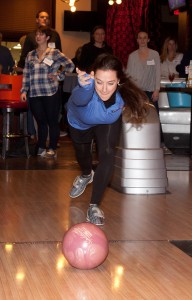 These runners join a growing group of Team JAF Boston Marathon alumni, which, to date, includes nearly 150 runners who have collectively raised over $1.25 million since the Joe Andruzzi Foundation's first team in 2011. That means Team JAF runners have raised enough funds over six-plus Boston Marathons to empower JAF to assist more than 1,700 cancer patients in need. (And we haven't even started the 2017 race yet!)
Keeping in line with tradition, on Monday, January 16 members of the 2017 team and their guests joined together at Splitsville Patriot Place in Foxboro, MA for our annual Marathon kickoff bowling party – where the team was able to meet each other, share the stories behind why they are running, and, of course, bowl!
Susan Hurley of CharityTeams – who will once again be reprising her role as Team JAF's captain; available to all of our runners for her expert training and fundraising assistance – was also in attendance, greeting our runners and sharing stories about what to expect leading up to Marathon Monday.
Ever since they were officially informed of their acceptance to the team late last year, our 2017 Boston Marathon runners have educated themselves on all things JAF – our mission, how Joe and Jen came to establish the Foundation, and how JAF aims to make a difference in the lives of those who are in desperate need of help, hope, and a reason to smile.
There is, however, one key element of our foundation that runners simply cannot connect with until they experience it first-hand: the impact of hearing directly from a JAF patient recipient. Someone who fully represents the purpose behind why the runners will spend the next three months training and fundraising, giving blood, sweat, and yes, sometimes tears, along the way.
At Monday night's kickoff party we were absolutely honored to have Sarah Roque on hand – a 34 year-old vibrant mother and wife from Attleboro, Mass. This past June, Sarah discovered an irregular lump in her right breast. After a series of tests in July, she received the news everyone dreads to hear from their doctor: it was cancer; stage 2 breast cancer, specifically. By August 2, it had progressed to stage 4.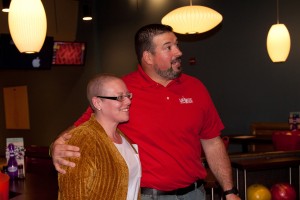 "It went from bad to worse in less than two weeks," Sarah shared with our group on Monday night. "It had spread to my pelvic bones and hip bones, and rather than discussing getting rid of the tumors, we were discussing containing them."
"I swear the world did stop…it was like a nightmare I couldn't wake up from," Sarah explained to the room. "The biggest thing [I could think of at the time] was: How do I tell my kids? Will my family be okay? What about bills and work?"
"So many things came to mind," Sarah recalled. "I remembered thinking, Now I have to fight cancer and still figure out how to keep the lights on and pay rent?"
"After I cried and cried, it was time to get the show on the road," she said. "I gave myself a pep talk…[my husband] John and I sat our kids down and told them the news, and then we picked my team of 'angels' (doctors). After that, the treatment started – this is my twenty-third week of chemo, or 'cocktails' as I like to call it."
"However," Sarah explained, "that was just the first hurdle. Then came the bills – how will those get paid if I'm out of work, sitting here hooked up to IVs and nauseous as a son-of-a-gun?"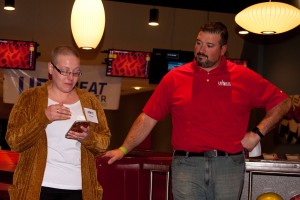 "Then, another blessing came…one of my 'angels', Kathy, who is a nurse navigator where I receive treatment. I was sitting with my mother, and Kathy came by and said I was picked to receive a grant from the Joe Andruzzi Foundation to help with my bills. I was elated, speechless even, and for those who know me, "speechless" is not something I'm used to," Sarah joked.
"My mom and I obviously started balling. We felt so honored and a sense of relief. It had been three months since I received a paycheck, and we were living off of my husband's income. My kids have played in sports fundraisers that benefitted the Joe Andruzzi Foundation, but never in a million years did I think I would be on the receiving end. At that moment, there was one less burden. One less bill. One less thing to keep me up at night. Thank you all for your hard work and dedication for making it possible, and forever stay Boston Strong."
Sarah's incredibly moving words filled the room with not just emotion, but inspiration. Though she fought back tears while speaking to the team, it was her infectious laugh and ear-to-ear smile that continually won-out. Sarah's spirit precisely represents what our (Up)Beat Cancer mission represents, and we were so incredibly honored to have her with us on Monday night.
Without a doubt, her words will echo through the hearts and minds of our 19 runners as they come down Boylston Street on Marathon Monday.
To make a contribution to Team JAF's 2017 Boston Marathon campaign, or an individual runner, please visit: http://bit.ly/TeamJAFBOS17