Considering the frigid temperatures New England has been navigating so far this winter, visions of a sun-soaked Boylston Street on Patriots Day seems miles away.
26.2 miles, to be exact.  
On April 16, 2018 (Marathon Monday) members of the Joe Andruzzi Foundation's "Team JAF" squad will take strides against cancer through the streets of Boston for the eighth straight year! We are absolutely thrilled to announce that 18 runners will be making up our 2018 Boston Marathon team – a mix of first time runners, veteran marathoners, and, of course, those running in memory of loved ones who have battled cancer: Melissa Angelini, Jessica Colangelo, Maura Healey, Jillian Hillman, Alexandra Kay, Matthew Kelly, Erin Kilduff, Robert Lalor, Stephanie Magni, Alexandra Pepe, Amy Pepe, Stephanie Riley, Dave Roche, Joseph Roche, David Santoro, Michelle Tsimtsos, Ryan Wendell, and Christine Woods!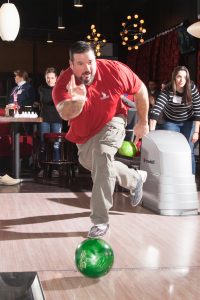 The team is primarily made up of runners receiving John Hancock Non-Profit Marathon Program Boston Marathon bibs for 2018, and all fundraising by Team JAF will once again directly support the Foundation's mission to provide help, hope, and a reason to smile for New England cancer patients and their families by contributing financial support when it is needed most.
These runners join a growing group of Team JAF Boston Marathon alumni, which, to date, includes 150+ runners who have collectively raised over $1.4 million since the Joe Andruzzi Foundation's first team in 2011.
As is tradition, on Monday, January 15 members of the 2018 team and their guests joined together at Splitsville Patriot Place in Foxboro, Mass. for the annual Marathon kickoff bowling party – where the team was able to meet each other, share the stories behind why they are running, and, of course, bowl!
2018 Team JAF runners heard from Joe Andruzzi Foundation President Joe Andruzzi, Executive Director Jen Andruzzi, Susan Hurley of CharityTeams – who will once again be reprising her role as Team JAF's training and fundraising captain – and, of course, a very special guest.
Carrie Letham, a Weymouth, Mass. resident and former JAF Patient Recipient, spoke to runners at the event about her cancer journey and the importance of the funds Team JAF is raising through the 2018 Boston Marathon. Originally diagnosed in 2003, Carrie navigated various health issues in early 2017 until scans uncovered some unfortunate news: her breast cancer had returned.
Carrie, who lives with her husband and 3-year-old son, has not been able to work due to the fatigue that so often accompanies cancer treatment. Essentially living off her husband's income for the time being, the Letham family applied and received financial assistance from the Joe Andruzzi Foundation for help with monthly household utility bills.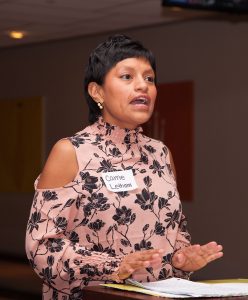 "Thank you all for your hard work, dedication, and determination in running the Boston Marathon to make strides against cancer," Carrie shared with the 2018 Team JAF members in attendance.
Carrie's courageous spirit and remarkable journey will certainly be on Team JAF runners' minds as they take to the streets of Boston this April – but she also provided an additional piece of motivation for our 2018 runners in the form of her favorite quote:
"She stood in the storm, and when the wind did not blow her way, she adjusted her sails," Carrie shared with the group – a reminder for the runners to stay positive and hopeful when they encounter difficult times.
Carrie's spirit perfectly embodies what our (Up)Beat Cancer mission represents, and we were so incredibly honored to have her with us on Monday night.
Undoubtedly, the winds of her powerful words will lift our runners as they 'sail' down Boylston Street on Marathon Monday this April.
To make a contribution to Team JAF's 2018 Boston Marathon campaign, or an individual runner, please visit: http://bit.ly/teamjaf18