Team JAF's road to the 127th Boston Marathon officially started Monday, January 16, as members of the 2023 marathon team and their guests gathered for the first time at Splitsville/Top Golf in Foxborough, MA. Hailing from throughout Massachusetts and Rhode Island, this year's group of 18 runners are united in one goal–raising money to support local cancer patients.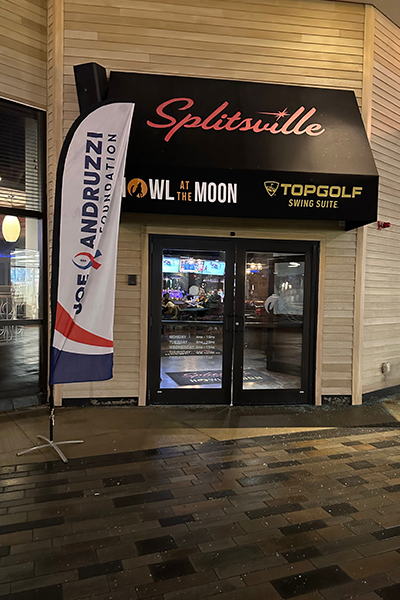 Before the evening even got started, runners hit the 'red carpet' for photos and videos, sharing why the run for JAF.  One story that brought smiles came from Team JAF runner Meghann Hagen who, during a recent tough 10-mile run on the treadmill at home, received a very special surprise boost from her two young sons:
"At about mile eight when I was really struggling, my boys came down and started jumping up and down and cheering for me," Meghann said. "It was really funny and cute. All the 'go mommy' and clapping and chanting. It really gave me the motivation to get through the last few miles."
In fact, all evening long runners chatted it up with their fellow teammates. Talk of how training has gone and how many miles they ran the past weekend echoed throughout the space. Team members enjoyed friendly competition emerged between running buddies out on the bowling lanes and TopGolf stations to see who could land a strike or hole in one.
Gillian O'Brien, who leads Team JAF for the Foundation, opened the festivities by introducing JAF's Chief Engagement Officer, Joe Andruzzi, who expressed his appreciation for the runners' efforts.
"You are our top ambassadors. You go out there and run, you raise money for [JAF] while killing your feet," Joe said with a chuckle. "But people see what you guys do, they know how challenging it is, and they see how you dedicated you are.  This shared experienced brings Team JAF together."
Building on that theme, runners watched an inspiring video emphasizing Team JAF's impact for the cancer patient JAF serves.  The motivation didn't stop there.  The team met Patient Inspiration Nikki, a JAF recipient from Massachusetts diagnosed with multiple myeloma (type of blood cancer) who shared her story.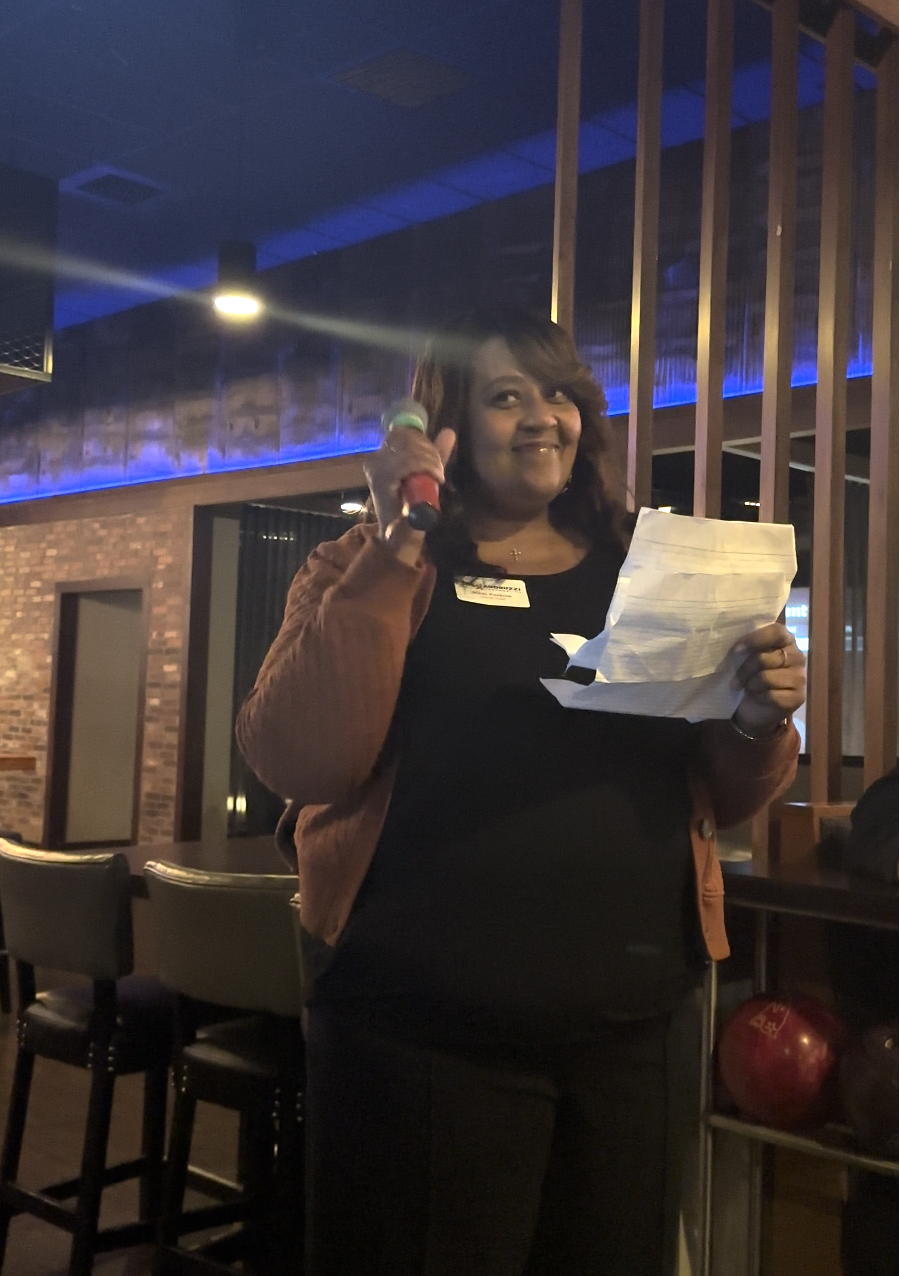 "Managing a rare disease, maintaining a home, and raising a family is a difficult task to accomplish, and that is why the Joe Andruzzi Foundation is critical to cancer patients," Nikki said. "[JAF] helps [cancer patients] manage unexpected challenges and focus on treatment. I received a grant that covered a major bill for several months, and I'm grateful for that help that came at just the right time."
JAF President and CEO, Jen Andruzzi shared  how 2022 proved to be the most challenging yet for JAF, revealing that, for the first time ever, the Foundation had to close its application portal during the due to overwhelming demand.
"We saw 100 applications come within a four-day period," said Jen. "Those are usually numbers we see in the course of a month."
Jen also shared her gratitude to all the runners and what they've committed to do for JAF.
"What you do matters. Every step you take, every muscle you pull, you're helping thousands of people. By committing to Team JAF, you are helping people across six states that are going to treatment."
As with any JAF event, we are so appreciative of everyone who contributed to make it a success. Thank you to the following people who made this evening extra special:
Staff at Splitsville for always providing a great food and a fun atmosphere for us to celebrate our Marathon kickoff event
Team JAF runners and their guests/supporters for joining us and being a part of the Foundation's efforts
Patient Inspirations who joined us, Deb, and Nikki, who will be cheering on our runners alongside countless others
Team JAF alumni David Santoro and John Ponte for sharing their tip and tricks about training and fundraising
Susan Hurley and Patrick McMahon of CharityTeams for sharing your stories and the support you will be providing our athletes throughout the season
JAF Staff for always coming out to help host this event for our runners
Anyone in attendance could see and feel the growing camaraderie of this year's team.  These amazing runners are not only motivated to run 26.2 miles on April 17 but motivated to strengthen JAF's mission with raising funds to support cancer patients across New England.  JAF will be sharing their stories and reasons for running leading into the marathon.
To make a general donation to the 2023 Team JAF Boston Marathon team, a specific runner, or to read our runner's stories,  click here