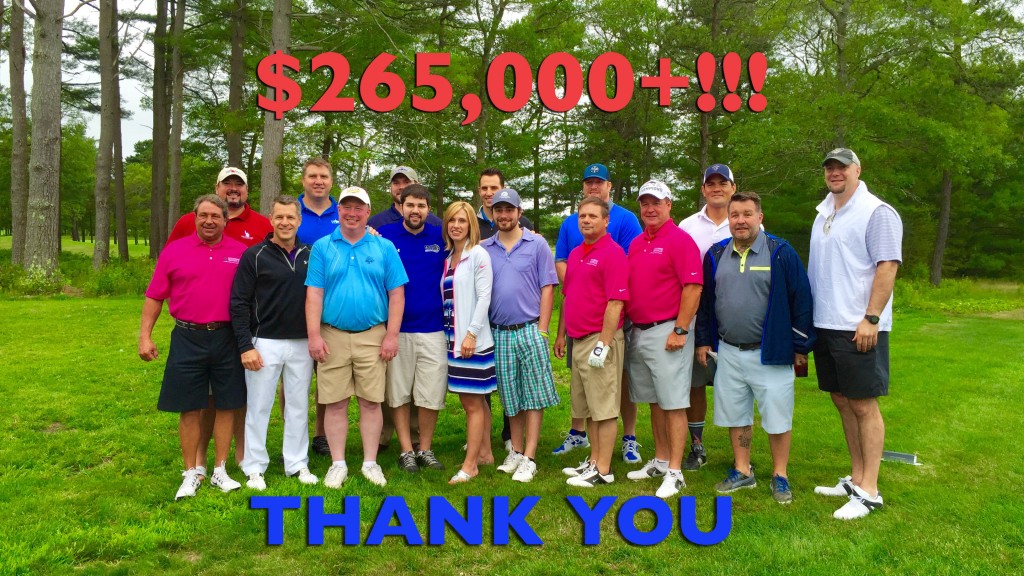 "Nights like tonight are a vehicle to help pay it forward."
– Joseph Keating, JAF Recipient & Golf Patient Speaker
Seven years is a long time – things change, families move, people change jobs – but one thing that hasn't differed is the collective generosity of those who believe in our mission and support our cause.
This past Monday's SEVENTH (yes, seventh!) Annual Joe Andruzzi & Friends Golf Tournament was an inspiring collection of our biggest supports, and a touching reminder of what can be accomplished when we all come together to pay it forward.
The event was a huge success, and when it was all said and done, more than $265,000 had been raised in support of JAF patients and their families – allowing the Joe Andruzzi Foundation to provide financial and emotional assistance to a growing number of those battling a cancer diagnosis.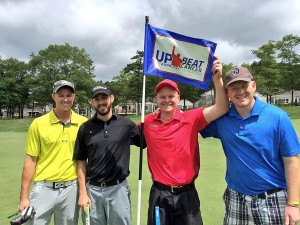 It was truly a magical day at the always-beautiful Pinehills Golf Club in Plymouth, Mass. for our annual "scramble" format, where a foursome chooses the best of their shots for the next shot, and repeats the process until the ball is holed. Everyone had a blast, and it was only fitting that our Nicklaus Course winners included two golfers who have battled cancer – Richard Powers and Matt McSweeney – both part of a larger group of patients generously sponsored to play in the event by East Commerce Solutions, Inc., Bob's Discount Furniture, and J Calnan & Associates.
And speaking of which, we hope you will join us in sending an enormous THANK YOU to all of our benevolent sponsors, led by the event's presenting sponsor (and long-time JAF supporter) East Commerce Solutions, Inc. We could not have put together such a wonderful event without their support – led by CEO Ed Mederious – as well as the backing of our breakfast sponsor – Majestic Construction, our lunch sponsors – Randstad Technologies & Walmart, our dinner sponsor – J. Calnan & Associates, and, of course, our auction sponsor – Bob's Discount Furniture. These are just a few of the numerous supporters who donated their time and resources to ensure we raised significant funds towards JAF's mission, and we are forever grateful.
We were also honored to host, and hear the moving words from, our patient speaker: Joseph Keating – a former JAF patient recipient, who leapt at the chance to "pay-it-forward" and share his motivational story with our golfers. Joseph, joined by his wife and two boys, talked about the burden that comes with a cancer diagnosis, and how JAF's help provided much needed emotional relief for his entire family.
Joseph's story was inspiring, but the most touching moment of the dinner program came during the live auction, when Ed Mederious of East Commerce Solutions and Mike Skirvin of Bob's Discount Furniture bought amazing experiential items – including batting practice at Fenway with a Big Papi meet-and-greet and a Patriots game day experience – only to promptly donate each back to Joseph for the entire Keating family to enjoy. Both Ed and Mike's generosity is unparalleled, and the two perfectly represented what it means to pay it forward
I'd be remiss to not also thank the all-star list of attendees that donated their time to support the event, including former Patriot greats Tedy Bruschi, Dan Koppen, and Matt Chatham; current players Dan Connelly, Brian Stork, and Duron Harmon; Dropkick Murphys frontman Ken Casey; former Heavyweight Champ John Ruiz; WEEI's Mikey Adams; and many, many others.
The whole JAF crew also wants to send a special thank you to Dalen Cuff, anchor and reporter for Comcast SportsNet New England, for playing in the event and then serving as master of ceremonies during the post-round celebration.
And last, but certainly not least, we want to thank all the participants and volunteers who generously donated to the event and auction, both with their time and resources. This annual event enables us to keep on giving to those whose lives are affected by cancer, and we are forever grateful to everyone who joins us in this mission.
We hope to see you all again next year!
– Jen Andruzzi
P.S. – CHECK BACK LATER THIS WEEK FOR PHOTOS FROM THE EVENT ON OUR FACEBOOK PAGE!