Play ball! On Friday, September 23, JAF brought its batting gloves and mitts to the Polar Park in Worcester – home of the Worcester Red Sox (WooSox) – for an (Up)Beat event for nine cancer patients and their families. (Up)Beat Opportunities are special experiences for patients and their families to focus on having fun and not have to worry about treatment.   
Guests arrived at the ballpark alongside the Foundation team to watch the WooSox take on the Syracuse Mets. While it was chilly night for all at the park, there were priceless memories made that warmed everyone's hearts.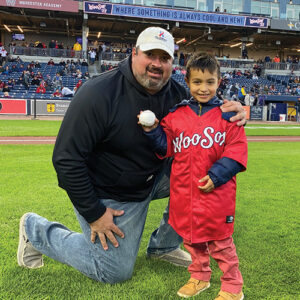 One such moment happened with five-year-old leukemia patient and JAF patient recipient Dylan Velez. Alongside his family, Dylan took to the mound to throw out the first pitch as the WooSox "player of the day" and even signed a contract with the ballclub—making him an honorary WooSox player for life. Dylan also watched batting practice and met top WooSox players such as infielder Jeter Downs and outfielder Jarren Duran. Way to go, Dylan! 
At the top of the second inning, Joe Andruzzi headed to the broadcast booth alongside WooSox broadcasters Tyler Murray and Jim Cain. With the WooSox being televised regionally on New England Sports Network (NESN), Joe got to share JAF's mission. 
"We [brought] patients here tonight and [help] get their mind off cancer," Joe said during the broadcast. "Any age, any type of cancer, we're here to help." 
Joe also spent time meeting excited supporters and fans at the park's Sherwood Diner—signing pictures and taking pictures with everyone that came in. Joe even got to meet Woofster, one of the WooSox mascots. After that, Joe headed over to the berm to watch the rest of the game with patients and their families in attendance. Each family was given a meal voucher to be redeemed at The Sausage Guy cart. Thanks to David Littlefield and his team, we were able to feed all our attendees a warm dinner as they enjoyed the game and Hollywood-themed fireworks afterwards.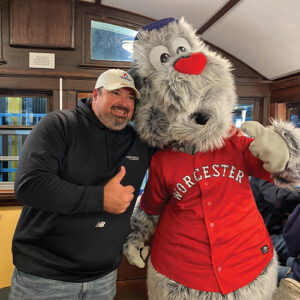 JAF sends a big thank you to everyone at the WooSox organization and Polar Park for an unforgettable night for JAF and the patients we serve.  Special thanks to Dan Rea, General Manager, and Joe Bradlee, VP of Baseball Operations, and their respective teams for making us feel at home in their spectacular park.  This partnership was not only a homerun for our patients but allowed the Foundation to raise awareness and nearly $1,000 towards our mission. 
While the game turned out to be a tough 5-4 loss for the WooSox, it was a winning night in so many other ways. For a couple of hours on Friday night, patients and families cherished the time of enjoying America's favorite pastime with their loved ones and forgot about cancer for just a little while.