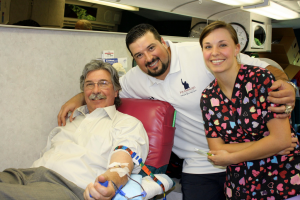 As January draws to a close, Joe and I want to remind everyone that there's a fast and easy way we can all help cancer patients (and those fighting other life-threatening illnesses) right away: GIVE BLOOD!
January is National Blood Donor Month – a wonderful excuse to support your local blood banks and start the New Year off right with a uniquely life-saving gift.
Joe received so much donated blood during his treatment for non-Hodgkin's Burkitt's lymphoma, and we'll be forever grateful to the anonymous angels who made those transfusions possible. Unfortunately, as a cancer survivor, Joe can't donate. But I make a point of giving several times every year and we're both huge advocates for the cause. Recently, Joe attended a big drive at the Kraft Center, where he was thrilled to see so many people committed to meeting this crucial need.
To put the importance of blood donation into perspective: the Red Cross estimates someone in this country needs blood EVERY TWO SECONDS. That means 44,000 pints must be collected every day; in the Northeast, the Red Cross aims for 3,000 donations per day. In our region, that's a daily goal of 650 pints.
More than 1 million new people are diagnosed with cancer every year. And many of them – like Joe and the patients we help – will need blood, sometimes daily, throughout their chemotherapy treatments.
You can learn more about blood donation – and find local drives – through the American Red Cross. (To make an appointment to give blood or platelets, you can also call 1-800-RED-CROSS.) Most healthy people who are at least 17 years old and weigh at least 100 pounds can give; more information about eligibility can be found here.
Winter is a tough time for donations, as snow storms, cold weather and illnesses can keep people inside – not giving as much or as often as they might during less challenging seasons. That's why it's more important than ever to get out and give now, when the need is most critical.
I hope you'll join me in donating blood this month – and encourage your friends and family to give too. Joe and I both thank you for finding yet another way to give to people struggling with cancer and other serious illnesses, as we welcome a new year filled with generosity, kindness and caring!
-Jen Andruzzi