2010 flew by and I can't believe it's time to enter a new calendar year already. What an amazing year of transition and growth for the Joe Andruzzi Foundation. To date we have raised $400,000 for the purpose of helping cancer patients and their families. From that total, we donated $75,000 to Dr. Mark Kieran at Children's Hospital for pediatric brain cancer research.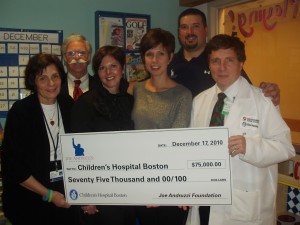 We invested this year in getting our messages out to more people by launching a website www.joeandruzzifoundation.org, sending out two newsletters about our activities and increasing the frequency of our blogs to let you know what's happening. Joe and I have visited dozens of patients undergoing treatments, connected with many families going through the treatment/recovery process and spoke at other organization's fundraising events.
The Second Annual Joe Andruzzi and Friends Golf Tournament at TPC and the Third Annual New England Celebrities Tackle Cancer Gala at Christina's both brought communities of supporters together to raise money for a great cause. We also held our first events for patients like Dream Camp and Codzilla as well as two successful blood and bone marrow drives. The Foundation even had a booth at the Sports and Fitness Expo over marathon weekend, formed a Boston Marathon Jimmy Fund Walk team and rode with the Patriot Platelet Peddlers in the Pan-Mass challenge.
We are getting the right people in place and growing as an organization thanks to the contributions of our tremendous Board of Directors. They are helping us to clarify our message and share our passion for inspiring others to strengthen our organization.
There are many more families we would like to help, so please consider making a end of year, tax-deductible donation now on our website. Our 2011 is looking bright. The Joe Andruzzi Foundation plans to help more cancer patients and their families, donate more funds to support pediatric brain cancer research and move closer to extending awareness for our mission and vision.
On behalf of the entire Andruzzi family, I wish you a happy and healthy new year,