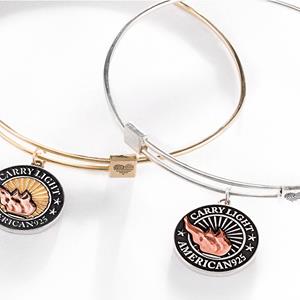 Thanks to our incredible partnership with ALEX AND ANI | CHARITY BY DESIGN, patients, family members, supporters and friends of the Joe Andruzzi Foundation from around the globe have been wearing "Positive Is How I Live" bangles on their arms as a reminder of the Joe Andruzzi Foundation's (Up)Beat philosophy and as a source of inspiration every day.
As you may know, twenty-percent of the proceeds from every bangle directly supports JAF's mission of providing help, hope, and a reason to smile for cancer patients and their families by contributing financial and emotional support when it is needed most.
Needless to say, ALEX AND ANI has been a huge supporter of our mission for years, and we want to share just how proud and excited we are for their amazing new Liberty Copper Collection – featuring pieces containing original copper preserved from the Statue of Liberty's centennial restoration. Just as the Statue of Liberty shines her perpetual light of positivity, JAF and ALEX AND ANI encourage everyone to spread their own light to the world.
You can help us #CARRYLIGHT for cancer patients in need through ALEX AND ANI's online store – purchase items from now until December 31, 2016 by clicking through this link [http://bit.ly/2caTdh4] and 10% of your sale will be donated back to the Joe Andruzzi Foundation!
Today, ALEX AND ANI is also celebrating the first ever Global Day of Light – where individuals are asked to share on social media what they
#CARRYLIGHT
for. Personally, I #CARRYLIGHT to help provide bright futures for family, friends, and mission based organizations!
We also polled the Joe And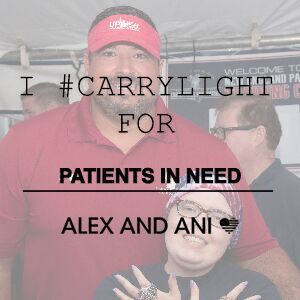 ruzzi Foundation office to find out what they #CARRYLIGHT for – check out their responses:
Erin Chatham, VP, Finance and Operations
"#CARRYLIGHT to me means that you live your life to the fullest using whatever talents you've been blessed with to make an impact in the world, even if it's a small footprint. It's about igniting all of the uplifting energy inside of you and using it to proudly pursue your hopes and dreams, making your family and friends proud, providing hope and inspiration to others, and, ultimately, living life in a positive way."
Valerie Chirichiello, Programs Manager
"To me, #CARRYLIGHT is about bringing a ray of hope, help and a reason to smile to the countless people that are in the dark days of their cancer diagnosis and are hopeful to find light."
Gillian O'Brien, Special Events Manager and Volunteer Coordinator
"#CARRYLIGHT to me is living a more positive life and paying it forward. This could be as simple as helping someone else who looks like they are struggling or having a bad day, offering words of encouragement, a compliment, or even just sharing a smile!"
Sandy Clinton, Development Coordinator
"My grandfather came over from Italy in 1912 when he was 16 and landed at Ellis Island. He came hoping for a brighter future. He created a family here and filled the house with love and laughter. He is my reason to #CARRYLIGHT."
Deana DeSilva, Programs Coordinator
"#CARRYLIGHT means to always remember what inspires you most, and to be a reflection of it every day.  If you carry your own light, you can share that with others simply by being a product of your inspiration."

Laura Dunn, Office Coordinator
"#CARRYLIGHT to me means the opportunity for a new beginning. With just $17.00 in his pocket, my grandfather immigrated from Italy, as a young man, through the portal at Ellis Island. No matter how bad things may seem, there's always hope, and an upbeat side to everyone's story."
 So, what does #CARRYLIGHT mean to you? Comment below, or on our social media channels, using the hashtag #CARRYLIGHT!
And remember: shop ALEX AND ANI's Liberty Copper collection and a portion of the proceeds will benefit the Joe Andruzzi Foundation – but only if you click through this link first! http://bit.ly/2caTdh4
– Jen Andruzzi