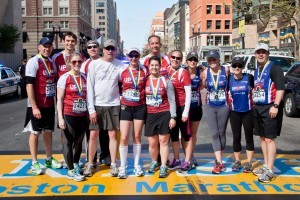 Nearly a month after the tragic events at the Boston Marathon, we, like the rest of the nation, struggle to understand what turned an otherwise amazing day of sport and celebration into a national tragedy. As the Marathon investigation continues and the suspects are brought to justice, we hope to find a sense of relief and understanding from this tragedy. But we don't know that we ever will – this act was so incomprehensible, so horrifying, that we will probably never fully understand the reason behind the events of Monday, April 15.
What we do know is that in the wake of so much destruction, so much panic, so much evil – amazing acts of heroism and selflessness emerged. From first responders, who ran towards the chaos to help the injured, to the residents of Boston, who opened their homes to devastated runners and spectators, to the entire nation, that sent their thoughts, prayers and donations, we witnessed the resiliency of the American spirit. Because of this outpouring of support, we became Boston Strong. Because of it, we became a nation stronger.
We also know how grateful we are for the love and support of our Joe Andruzzi Foundation family, and how blessed we are to be able to share this message with you today. On any other Marathon Monday, the results from our 2013 Boston Marathon would certainly be cause for celebration, and we would be remiss if we didn't share with you the hard work and dedication that Team JAF runners committed in support of the Foundation.
This year's amazing team of 21 runners trained for months to complete the incredible feat that is the 26.2-mile Boston Marathon. From cancer survivors to high school athletes, veteran marathoners to those who despise running, our team was a diverse mix. While our runners were each unique in their own way, they all shared a common goal – to ease the burden that cancer has on patients and their families. Our team's commitment never wavered during their months of training and fundraising, and we thank them for their dedication.
With this in mind, we are pleased to announce that the fundraising efforts for this year's Boston Marathon resulted in a total of $172,623 raised. We are humbled by this achievement, which sets a new fundraising record and surpasses last year's total raised of $100,000.
As a result of Marathon Monday's tragedy, countless runners (including some of ours) were stripped of the opportunity to "officially" complete the Marathon. As our supporters well know, it is not the JAF way to leave any task unfinished. Therefore, 12 Team JAF runners returned to Boylston Street last Saturday to run the final mile of the Marathon, as friends and supporters cheered them on. It was a beautiful, sunny day and it meant so much to our team to complete their run. As we cheered on our runners as they crossed the finish line, we reflected on their final mile as being symbolic of closure – for themselves, for the entire JAF family, and for all those who didn't get the chance to run those final steps.
Joining us was Gina Chupka, a premier marathoner who was among those unable to complete the Marathon due to the tragic events of the day. The Boston Marathon was to be her 50th Marathon in 50 states – entering her into the elite 50 States Marathon Club – the final leg of an achievement that had been years in the making. Gina ran with us on Saturday, then headed out to West Springfield, Mass. on Sunday to complete the Walter Childs Memorial Race of Champions Marathon and become officially recognized by the club. We know, as well as she, that the 117th running of the Boston Marathon was the true culmination of that goal. We couldn't be more proud to have Gina as a member of Team JAF. 
Despite the tragic events of the 117th Boston Marathon, tremendous good prevailed in the weeks that followed. In true JAF fashion, we have decided to embrace our UpBeat philosophy and focus on these inspiring stories as we move forward. We pledge, as many of our patients do, to never take the days given to us for granted. Thank you so much for your support, and we will see you next year in Boston, for the running of the 118th Boston Marathon.
– Joe and Jen Andruzzi