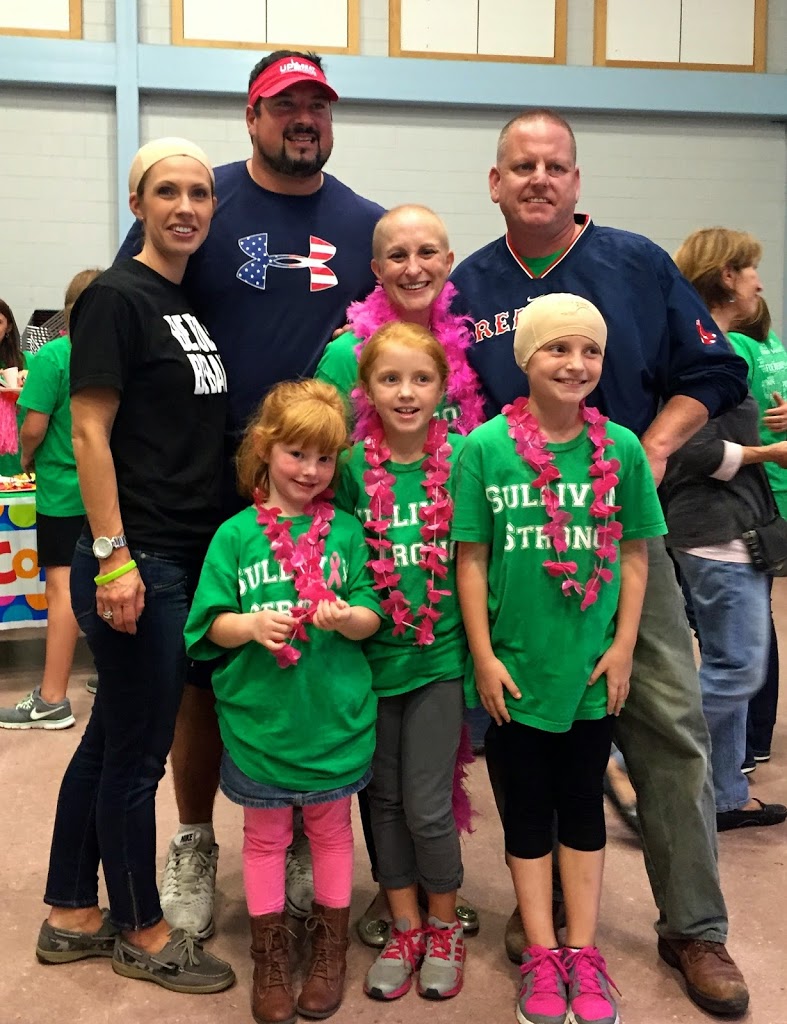 "Amazing, amazing, amazing!"
Those were the first three words that Colleen Sullivan, a fifth-grade teacher at Mansfield's Jordan/Jackson Elementary School and breast cancer patient, used to describe a surprise, "Be Bold, Be Bald," celebration held in her honor on Friday, October 17.th The surprise brought together nearly 100 school staffers, family members and friends – including me, Joe and the JAF team – as Team Sullivan Strong to wear "Be Bold, Be Bald" bald caps in celebration of her last day of radiation!
The event was part of the national "Be Bold, Be Bald" movement on the 17th which invited any and all who have been affected by the disease to put their hair on the line for a day to raise money and awareness for the fight against cancer.

As if wearing bald caps showing solidarity with Colleen wasn't tribute enough, four of her male colleagues went even further by shaving their heads!

The inspirational event also included a slide show chronicling Colleen's life since her March 2014 diagnosis.
Terri O'Connell, a close friend and fellow teacher, organized the "Be Bold, Be Bald" event and knew that Colleen would love the fundraising component, which generously benefited our Foundation.
"Throughout this whole ordeal we talked a lot about it and Colleen always expressed the desire to give back to people," said Terri.

It's going to mean the world to her that in addition to celebrating this milestone, we were also able to help her pay it forward by raising $2,475 for the Joe Andruzzi Foundation."
In truly (Up)Beat fashion, Colleen described the afternoon as, "the most wonderful and touching of maybe my whole life," and she is already embracing a positive outlook as she prepares to visit her oncologist next month.
"I really feel great, I feel myself," she says enthusiastically.

"I don't have any of the side effects that they associate with radiation.

I feel like this is my normal life again."
It's that sort of positive attitude that makes Team Sullivan Strong a perfect embodiment of our Foundation's upbeat spirit and gives us such pride to be the beneficiary of their "Be Bold, Be Bald" fundraising campaign.

It's with this spirit that Colleen thinks of all her fellow patients during Breast Cancer Awareness Month.
"Go for your mammograms," she says.

"In my case it was my primary care physician who found the lump I had so I also feel it's truly important to go for your yearly physical or check-up."
Her advice gives us another reason to applaud her and all the other courageous women bravely fighting and looking to the future with positivity just as Colleen has done.
Visit
bit.ly/1D2cAPP
to watch the Sullivan Strong surprise video. Vote for our video in the Bold Surprise Video Contest, and the Foundation could win a $5,000 donation!