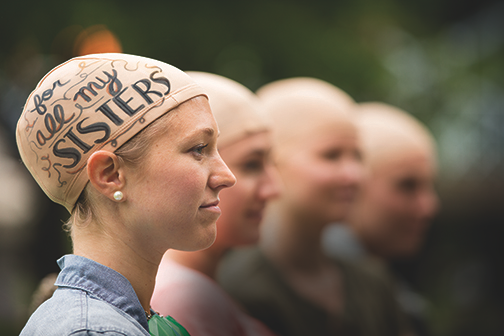 Each year on the third Friday in October, you might come across people wearing bald caps. What is this all about? The Boston-based Be Bold, Be Bald! charity provides a means for anyone to share in the boldly supportive act of being bald, if only for one day. Participants wear a bald cap or very boldly shave their heads to honor those who fight cancer and raise money to help fight back. Participants get sponsored, and choose the charity they want their proceeds to benefit.
Jeff Freedman started the event after a devastatingly up-close view of cancer. In 2005, Freedman's business partner at Boston advertising agency Small Army, Mike Connell, was diagnosed with Stage Four cancer.
When Connell tragically lost his battle in November of 2007, Freedman and his colleagues wanted to determine a powerful way to honor such a heroic fight.
"We wanted to do something to honor that strength that we saw and that's when the idea for Be Bold, Be Bald! came about," Freedman says. "Mike specifically did not want people to shave their heads so we thought, what if we just asked people to wear a bald cap for a day?"
Similar to a walk or bike ride, participants simply sign up at

www.beboldbebald.org

and commit to wearing a bald cap for the day. They are then asked to reach out to friends, family and co-workers to sponsor them for their bold move; there is no minimum fundraising amount and a bald cap and fundraising materials are provided for a mere $10.
"The bald cap is really just a conversation piece," explains Freedman. "You go into work, you go into a store, you jump on the train, and people might look at you and maybe start a conversation… that's a great way to talk about it and get the story told."
There are roughly more than 60 beneficiaries of Be Bold, Be Bald!, one of which is our Foundation. We are so proud to be a part of the movement and one of the beneficiaries.
If you sign up, we encourage you to join in solidarity with us as we stand up against cancer, and stand with those who are fighting. All the proceeds from your bold move will go directly to the cancer patients and families we serve.
"My life has obviously changed since Mike died," Freedman says. It's been an incredible experience – not one I'd recommend, but an eye-opening experience that changed my life, and led me to so many amazing people."
And now we hope you'll join us in helping to change others' lives. For more information on the Be Bold, Be Bald! event on Friday, October 17th, please visit

www.beboldbebald.org

.