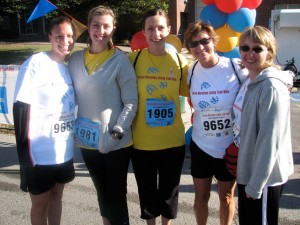 Some moments in our lives we remember more than others. Registering as part of the Boston Marathon Jimmy Fund in August 2007 was one of those moments for me. Joe was recently diagnosed and two months into his treatment for non-Hodgkin's Burkitt's lymphoma. I wanted to do more than take care of my family. I needed to find a way to help others and myself during an emotional struggle.
That September, I started the 13 mile walk with four other women. We all were chatting about why we were there. Then, as the journey continued, we passed walkers on crutches, parents pushing strollers, children and grandparents. We also saw survivors and those who have lost loved ones. Nothing would stop these determined walkers and I knew nothing would stop me either from pushing on to help others.
This year, the walk will take place on Sunday, September 12. You still have time to join the Joe Andruzzi Foundation walk team; there are four different walking routes. Joe and I will be walking the 5 mile route with our four children. To join our team, visit http://www.jimmyfundwalk.org/2010/joeandruzzifoundation. Or, you can sponsor a walker. It doesn't need to be a big contribution. Please consider taking the money you spend on a morning coffee or a bagel and use it to sponsor our team http://www.jimmyfundwalk.org/2010/jenandruzzi. Please tell your friends and family, too. All funds raised by the Joe Andruzzi Foundation walk team benefit the Office of Patient and Family Assistance. I know these families appreciate your help.
-Jen Andruzzi