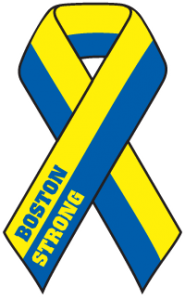 It's been one week since we stood at the finish line of the 117th Boston Marathon, waiting for our team to cross and join us in celebrating months of hard training and dedicated fundraising.
We were so excited, as we held our first-ever marathon viewing party and fundraiser at FORUM – a restaurant on Boylston Street – surrounded by our friends, supporters and Team JAF's family members.
We all expected Monday to be about our runners' incredible accomplishments – how strong they finished, how much they raised for cancer patients, how committed they were to both their personal goals and those of the Foundation and instead, we are left wondering how this unspeakable act could mar such an inspiring and beautiful occasion. It is a miracle that none of our runners, volunteers, supporters or friends were seriously injured. For this, we are grateful.
Our thoughts today remain with the victims of this horrific attack and their families. They also remain with Boston's first responders – paramedics, police, firefighters – and the everyday citizens, who rushed into action with bravery, speed and selflessness.
As our supporters know, Joe's brothers are New York City firefighters, and this experience echoed the morning of September 11, when emergency responders in the city rushed into burning buildings, bringing victims to safety. Boston's first responders acted with the same heroism; they ran towards the danger, putting the safety and survival of others above their own.
We can't express how impressed and grateful we are for their remarkable ability to spring into action – to help without stopping, to assist without thinking.
We are further amazed by the spectators who rushed to help those injured by the explosion that occurred directly outside FORUM – including many from our own party.
We remain in awe of the runners who never broke stride, running past the finish line and straight to nearby hospitals to donate blood.
They are all our heroes.
We don't yet know why this senseless attack happened, but we do know that the resiliency of the Boston community has never been stronger. Along with the rest of the city, state and country, we anxiously await answers and know those responsible will be brought to justice.
Despite our grief, we must recognize and thank our team of dedicated fundraisers for their tremendous effort. Our 21 runners raised more than $170,000 for the patients and families we serve, once again surpassing our goal and setting a new Foundation marathon fundraising record. That money will help us pay critical household bills for families struggling with cancer throughout the year.
We believe all of the runners completed the Boston Marathon, whether they crossed the finish line or not. They trained many months for that moment, and they all deserve a medal. Especially those who ran for charity.
We're so proud of our team – and all of this year's runners – and of how our community is coming together to help the victims of this tragedy. Now, more than ever, is the time to pull together.
On a personal level, our family has supported The One Fund, established by Governor Deval Patrick and Boston Mayor Thomas Menino. We also – along with our dear friends Matt and Erin Chatham, who were with us on Monday – are supporting the Kraft Family's pledge to match $100,000 in donations for the families of the victims. We encourage you to join us in supporting these important fundraising initiatives.
To our team: we know that there are countless causes to run for, and we're immensely grateful that you chose to support the Foundation. Your superhero training and fundraising on our behalf, and your deep commitment to our cause, is truly humbling. We can't thank you enough.
Like the rest of New England, we're still struggling to wrap our minds around this tragedy – still hugging our kids tight, still wondering how we all managed to escape serious harm.
Our hearts are with those who did not.
The events we've endured have not broken our spirits, but rather, have reaffirmed the need to tackle life's challenges with an upbeat attitude. And so, we will move forward with our work – providing comfort and hope to those who struggle with cancer. We are grateful for that opportunity.
–    Joe and Jen Andruzzi