Beth and her family love the outdoors. The 43-year-old Needham, MA, native regularly visits Meredith, NH, with her husband and two young daughters for hiking trips and to enjoy nature. She also loves being in the classroom, having been a high school math teacher for many years.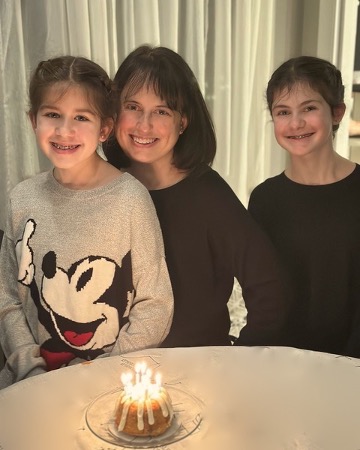 On the last day of school in mid-June 2015, Beth was looking ahead to a summer and spending quality time with her family until the discovery of a lump under her right arm changed everything.
Beth immediately made an appointment to see her doctor. Though she was concerned about the lump, the thought of cancer hadn't entered her mind, as Beth had no prior history of cancer in her family.
Within a couple of days, scan results revealed that the lump was cancer found in her right breast and had also spread to her liver. Beth was soon officially diagnosed with Stage IV metastatic breast cancer.
"I was shocked," Beth said. "It was all really scary, especially the findings in my liver."
The days after her cancer discovery were mentally a whirlwind for Beth, thinking about where to get treatment, her young children, and coming to terms with now being on a cancer journey.
In July 2015, Beth began chemotherapy treatment at the Dana-Farber Cancer Institute in Boston, MA, where she continues to be in active treatment. At first, she was nervous about how the treatment would go and its effect would be. Once she met with her care team, those anxious feelings decreased.
"I went into chemo thinking it was going to be awful because of what I saw on TV and movies," said Beth. "My team of nurses comforted and supported me through every step, and I learned that the reality of getting chemotherapy was very different from images that I'd seen on media."
Chemotherapy can have many terrible side effects on a cancer patient, such as memory loss, fatigue, and nausea. During her first year in active treatment, Beth needed to take a leave of absence from the classroom.
After a long stretch of treatment, Beth's cancer spots had started to shrink or disappear, and she felt progress was being made. In December 2019, things unfortunately took another turn. Beth went in to have scans done of her cancer regions, which revealed the cancer had returned to her liver once more.
Devastated, Beth returned to a more frequent and stronger chemotherapy regimen involving weekly treatment. While the news of the reemerging spots in her liver was discouraging, Beth pressed on, even though the strain of cancer would begin to take a new toll on her family.
Now only able to teach part-time, the family's finances took a major hit. While insurance fortunately covered the majority of her medical bills, household bills kept adding up.
Amid her financial challenges, Beth was a part of a metastatic breast cancer support group who faced similar ordeals. When Beth mentioned her worries about the loss of income and mounting bills—specifically her heating and oil payments—one person in her group brought up how the Joe Andruzzi Foundation (JAF) specializes in alleviating those concerns. That person was Katie Crowell, JAF's 10,000th patient grant recipient. (Sadly, the JAF community lost Katie in 2021 to cancer.)
"I remember Katie talking so highly about the Foundation and the help it brought to her and her family," Beth said. "It really felt like something that could help my family too."
Beth's social worker at Dana Farber submitted a grant application on her behalf, and that help what Beth talked about become a reality. Thanks to JAF's Assistance for Household Expenses, the cost of a heating bill was one less thing for her and her family to worry about.
"It was incredible," said Beth. "It's uplifting news, and the knowledge that people care and want to help really made such a difference."
Since receiving the grant, Beth and her family's relationship with JAF grew as they participated in the Foundation's (Up)Beat Events, such as the charity games at the Worcester Red Sox (WooSox). JAF (Up)Beat Events are special opportunities for cancer patients and their families to spend time away from thinking about cancer and having fun. That WooSox game is a cherished memory for Beth and her family, as her daughters still talk about it today and how much fun it was.
At this time, Beth is still undergoing treatment for her cancer. Though her cancer journey continues, Beth is motivated to keep pushing through the hike that is a cancer journey. All of us at JAF are right behind Beth as she makes her way to the mountaintop.