Luane loves to play card games, especially the game Pitch. The retired 71-year-old Worcester, MA native and her husband often head to the local senior centers to play with friends.
"It's a lot of fun for us," Luane said. "We've met some great friends and do exercise classes there too. We have a good time every week."
In January 2022, Luane went to her doctor for a scheduled mammogram. During the appointment, they discovered a spot on her right breast and wanted to do a follow-up in six months. Luane returned to her doctor in late July, and the scans showed that the spot had grown. A biopsy confirmed that the spot was, in fact, cancerous, and she was officially diagnosed with stage III metastatic breast cancer.
"I was in complete disbelief," said Luane. "It didn't feel real and that it wasn't happening. I was in total denial."
Luane started chemotherapy at UMass Memorial Medical Center, going in once every two weeks for a total of eight rounds of chemotherapy. On a typical treatment day, Luane would spend around eight to nine hours at the hospital for treatment. For Luane, those first two chemotherapy sessions brought home the reality of cancer.
"After those first two appointments, my hair had fallen out, and that's when it finally hit me," Luane said. "I kept thinking, 'Oh my gosh, I really have breast cancer.'"
By the end of her course of chemotherapy, Luane and her family faced cancer's mental and physical toll and the financial impact. With both Luane and her husband retired and on a fixed income, she had to decide between paying for her treatment or everyday bills.
The financial situation became so frightening that Luane went to her social worker for guidance. Her social worker mentioned how the Joe Andruzzi Foundation (JAF) specializes in easing the financial burdens of cancer patients.
The social worker applied for Luane to become a recipient of JAF's Household Expenses Assistance and Food Security Assistance presented by AmpliX—receiving a gift card to Stop & Shop. Luane's worries about how her family would pay the mortgage or purchase groceries had shrunk.
"It was just such a relief," said Luane. "I didn't have to worry about going into my savings and depleting that to pay for everything. What the Foundation did for me was just wonderful."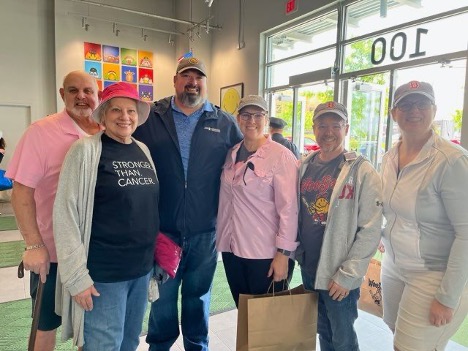 In addition, Luane mentioned how JAF is a well-known name in her breast cancer support groups. "Everybody at the meetings always has positive things about [JAF]," Luane said. "They would share how the Foundation did this and this for them. You can tell the Foundation helps so many people."
Luane and her family would later attend a JAF (Up)Beat Event at a Worcester Red Sox (WooSox) game in May 2023. JAF (Up)Beat Events are special opportunities and occasions for patients and their families to spend time away from treatment and have fun. Luane and her family enjoyed a beautiful, sunny day at Polar Park and met Joe Andruzzi.
"Joe was so great," said Luane. "We had a lot of fun talking to him. He seems larger than life but is such a down-to-earth guy."
Luane eventually had a mastectomy to remove the cancerous lump and lymph nodes and is taking chemotherapy medication. While she has one last bit of road to travel on her cancer journey, Luane maintains a positive mindset with support from her family, support group, and JAF.
"You just have to stay positive during times like these," said Luane. "Thankfully, it's all gone well for me, and the support I've gotten from everybody, especially from the Foundation on the financials, has helped me get through this nightmare of a cancer journey. I'm really grateful for everything."
Thanks to JAF's help, there's more hope and strength in Luane's journey to becoming cancer-free.