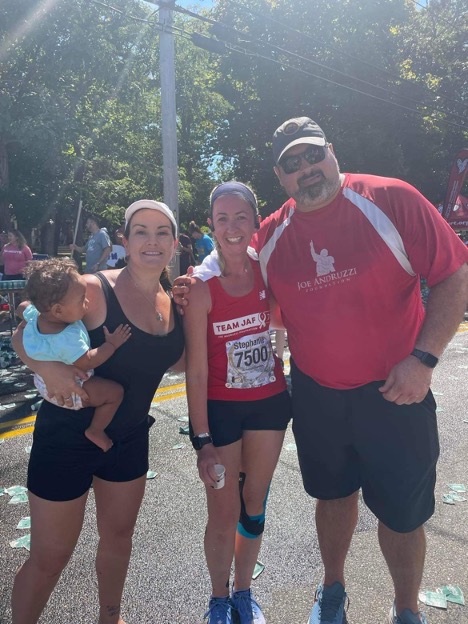 Initially, Stephanie McHugh thought she would run the 2023 Falmouth Road Race for the Joe Andruzzi Foundation (JAF) in honor of her Uncle Kenny and Nonnie. Then a discovery on her birthday on May 30 changed everything.
Stephanie found a lump on her breast that day and immediately scheduled a doctor's appointment. For weeks, the Braintree, MA native hoped for the best but braced for the worst.
On July 3, Stephanie received a call from her doctor's office confirming that she was officially diagnosed with breast cancer.
"It's definitely not something you ever want to hear," Stephanie said. "It really makes you stop and think, 'Oh wait, I have cancer.' That's something I have now."
A cancer diagnosis can certainly impact a person's perspective for the worst, but not for Stephanie. What's helped Stephanie keep a positive mindset is thinking about her Uncle Kenny and Nonnie's cancer journeys.
Uncle Kenny was a retired Braintree fire chief who was diagnosed with advanced-stage lung cancer. Stephanie's Nonnie (grandmother) was diagnosed with leukemia in July 2022. While her uncle passed, Nonnie remained a constant in Stephanie's life and motivation for her for the Falmouth Road Race.
"Now that I've been diagnosed, she's taught me that I have to keep going, that there's a finish line when this is all said and done," Stephanie said. "She's really been a fighter and has been incredible for me as always."
JAF has been a cause that Stephanie has supported for a long time as a Team JAF athlete – Falmouth Road Races, the 2021 Boston Marathon, and even as a volunteer at JAF water stations. Her connection to the Foundation and what JAF shares with its supporters was a catalyst for Stephanie to get checked quickly.
"I wouldn't necessarily have had the confidence to advocate for myself if not for being around JAF," said Stephanie. "Having that knowledge from reading the patient stories and seeing the statistics, that shows you why what JAF does is needed."
August 20 will likely be more of an emotional day for Stephanie and her family than she thought it would be when she decided to run Falmouth. However, she's determined to dash through the finish line and celebrate with family.
"I tell people a donation to JAF is big no matter the amount because that money can help a patient get a ride to treatment or help pay for their food at Stop & Shop. That money is going to help so many people more than they realize."
Stephanie McHugh may have cancer, but cancer does not have her. Stephanie is currently in treatment yet fully intends to run through the streets of Falmouth carrying her Nonnie's words of wisdom and strength.
Though she said there will be those long days during her cancer journey, she will continue to live her life' stride by stride' in true runner form.
"I'm not going to let cancer dictate my life."
Click HERE to learn more about Stephanie and the 2023 JAF Falmouth team.