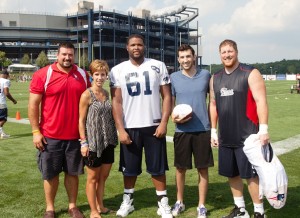 Football, sun and forgetting about cancer: on August 2, Joe and I once again got the chance to help cancer patients leave treatment behind for an afternoon and focus on fun. More than 30 Jimmy Fund Clinic patients and their families joined us for our annual JAF Dream Camp visit to Patriots training camp, an opportunity made possible through the generosity of the Kraft family and New England Patriots Charitable Foundation.
This year, Pats stars Rob Gronkowski, Dan Koppen, Stephen Gostowski and Marcus Cannon – among many others – made their way over to our VIP tent to sign autographs and pose for pictures. Patients got an up-close view of practice from our prime location, right on the Patriots' practice field at Gillette. Everyone also had a good time trying on Joe's three Super Bowl rings and playing in the Patriots Fan Zone, an interactive gaming area.
Marcus, an offensive tackle who successfully battled non-Hodgkin's lymphoma last year – was especially inspiring to watch. He's in remission and has amazed his teammates and fans with his strength, tenacity and speedy recovery.
But for me, one of the best parts of the day was meeting a 3-year-old named Marty. It was the first time a patient liked me more than Joe!
It was hysterical. I kept asking Joe, "Isn't Marty adorable?" And Joe would say, "He doesn't like me." Marty could have cared less about being at Patriots training camp. All he cared about was playing with the ice from the drinks cooler. And when I taught him to play basketball with the ice he went mad! It was so much fun. And when it comes down to it, as long as we can help the kids forget what they are going through, even for a couple hours—even with ice!—it's all worth it.
There's no doubt – patient outings are some of Joe and my favorite "work" at the Foundation. We treasure our ability to give patients and their families these unique experiences, when they're going through so much. We know we're giving everyone a break from the cancer battle, and creating happy memories that will last a lifetime. There's no better feeling.
After all, we are all on the same team here in New England. Go Pats!
– Jen Andruzzi